Field Trip
Tonsil guillotine
The Russell Museum chronicles decades of medical care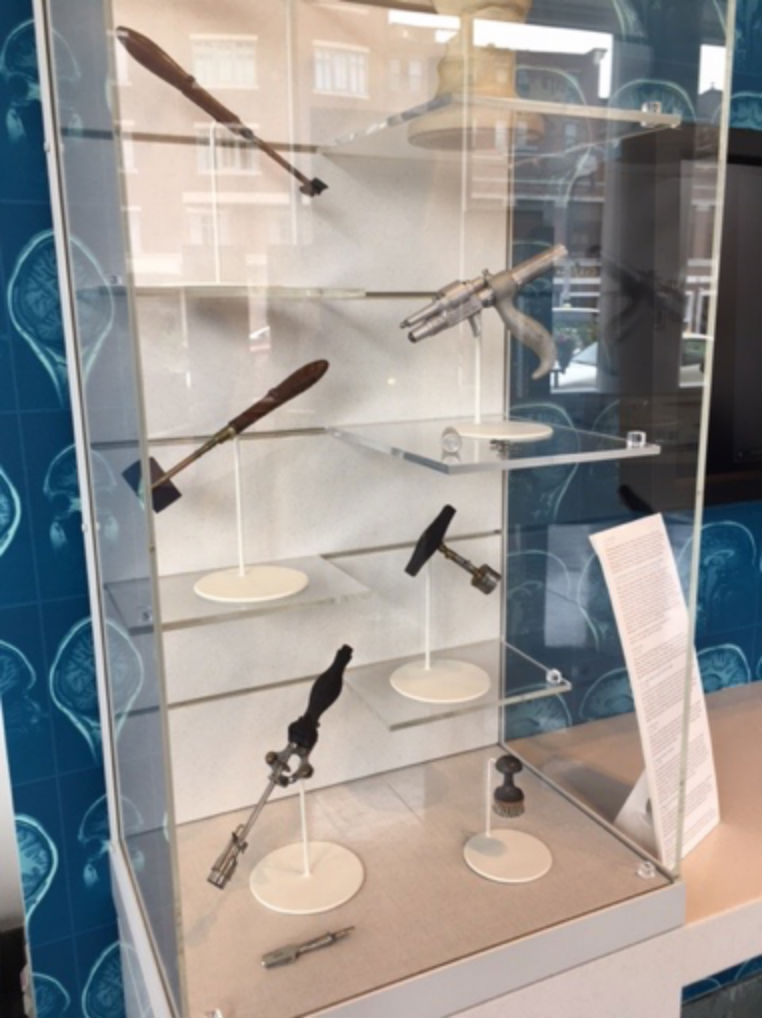 Old-school medical tools at the Russell Museum. [Image courtesy of the Russell Museum]
Dr. Charles Gordon's surgical kit lies open. Inside the wooden case are small silver scissors, nine knives with ivory-colored handles, and a matching saw for amputations. Dr. Gordon was born in 1809, and his medical equipment is nearly 200 years old now. I can't help wondering about the body parts these tools prodded, sliced, and removed before arriving at their quaint museum home.
The museum is the Paul S. Russell, MD Museum of Medical History and Innovation, a lesser-known
museum
in Boston's expansive curatorial consortium. It chronicles the 200-year history of research and care at Massachusetts General Hospital.
The hospital opened in 1811. At the time, New York City and Philadelphia already had hospitals, but the only option for the New Englanders in between was to pay for an expensive house call or else go to the unsanitary, understaffed alms house.
In addition to the hospital's history, the museum displays panels that demonstrate how the hospital has evolved in terms of diagnosing disease, pain management, military breakthroughs, neuroscience, dentistry and oral surgery, holistic care, and medical education.
In the back corner is an Anatomage Table, a futuristic "virtual dissection table" that allows doctors and students to virtually investigate the body's anatomy. The museum volunteer guided us through a dissection, stripping away virtual layers of skin, tissue, and bone.
This sleek technology stands in stark contrast to the old-fashioned medical devices that wrap around the museum's walls. A soft brown surgical cushion that kept needles and thread for stitches in the 1850s. A gold syringe that doctors used to help with bladder stones in 1870. A "bone saw brush" that cleaned away bone dust throughout brain surgery from the 1870s.
The tool with the best name is the "tonsil guillotine." That's the nickname for a device called the tonsillotome, which removed a patient's tonsils in the 1850s. The display plaque vividly describes the procedure: "Physicians would line up the open metal frame against the diseased tonsils or uvulas and close them, slicing off the infected area. This tonsillotome features a forklike attachment that would catch the sliced tissue so it wouldn't obstruct the patient's airway."
Part of what makes these instruments so interesting to see is that they're built from materials like wood and ivory. As the medical community learned about sterilization, these materials were swapped for today's metals. As I peer at the old tools —cutting-edge devices in their time — I wonder which of today's conventional tools and procedures will be deemed unsafe and backwards in the future. We'll have to revisit these glass cases in 2100 to find out.
Paul S. Russell, MD Museum of Medical History and Innovation | 2 North Grove Street, Boston, MA 02114 | Monday – Friday, 9-5. April – October, open Saturdays, 11-5
About the Author
Discussion