Environment
Watching trees to track climate change
Kerissa Battle's enthusiasm for nature is contagious. She's getting New Yorkers outdoors to track climate change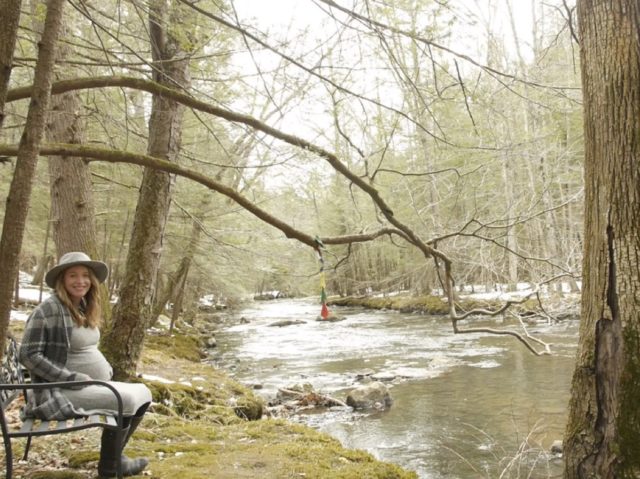 Kerissa Battle keeps a close eye on the trees in her backyard — a 27-acre plot nestled in the Catskills. She is working to find out how warming climates are changing the timing of seasons. [photo taken by Chloe Williams]
Patches of lingering snow crunched under Kerissa Battle's boots as she walked along a wooded trail behind her house near Woodstock, New York. Under a red maple tree that she's marked with a string of prayer flags, she pulled down a branch to take a closer look at its buds. By late March, the tree's buds were swollen, but they hadn't yet burst open.
This year, spring seems to have come later than last, she says. If anyone knows the timing of bud break, it would be Battle. As a trained phenologist, she tracks the timing of the blooming of trees, the hatching of bugs and the migration of birds. For the last four years, she's kept tabs on the progression of seasons on her 27-acre plot of land in the Catskills. Nearly every day she walks down a trail that she built when she first moved, which winds through her backyard down to a river. From one season to the next, she has noticed shifts in the onset of spring. "Year to year, you can see changes in weeks," she says.
There's science to back her up: Spring comes a full week earlier in North America than it did 150 years ago, according to a 2008 study published in Ecological Society of America. This seasonal adjustment, thought to be linked to the warming climate, causes the seasonal behaviors of birds, bugs and the plants they depend on for food to fall out of sync. The timing mismatches pose risks for some species' survival, like the Pied Flycatcher, a bird found in Holland, whose population has declined by almost 90 percent in the past 20 years.
In New York, Battle is concerned about how changing climate patterns affect species like red maples and their native bee pollinators. Bees' seasonal activities, like when they come out of hibernation in the spring, have shifted earlier with warming climates, but perhaps not to the same extent as the red maples they depend on for their first meals of the spring, according to a 2011 study. Because red maples are especially sensitive to warming temperatures, Battle says, bees may not alter their behavior enough to match the trees. The relationship between spicebush, a common understory shrub, and the spicebush swallowtail caterpillar is similar, Battle says: If the plant tracks changing temperatures, but the larvae that feeds on its leaves doesn't, it may bode poorly for the future of the caterpillar species.
Phenology monitoring allows researchers to identify these cyclical mismatches. But there aren't enough scientists or funds to track every species. "That's where citizen science becomes really important," Battle says.
In 2012, she started the New York Phenology Project, a statewide effort to collect data on the timing of seasonal changes in plants and pollinators. She has been involved with the set-up of nearly 30 monitoring sites and trained hundreds of teachers, land managers and volunteers to observe the tell-tale signs of seasonal change.
The observations in New York feed into a larger, national phenology dataset that parks managers and researchers can use for all kinds of tasks: from scheduling festivals that coincide will bloom times to studying the effects of a warming climate on plants, birds and bugs.
The network's dataset goes back about 70 years — long enough to see some changes in seasonal timing, says Theresa Crimmins, assistant director of the USA National Phenology Network, which manages the nationwide phenology dataset. Using that information, scientist found that lilacs, apple trees and grape vines in the Northeast bloomed two to eight days earlier in 2001 than they did in 1965.
For Battle, though, the close observation that phenology requires has rewards beyond data collection. "It's an opportunity for an intimate relationship with nature that I think is rare," she says.
She treasures that relationship because she mostly grew up without it. Raised in Queens, the daughter of a hair colorist and a martial arts teacher, she discovered the outdoors as a teenager.  As an eager, science-loving student, she remembers being disgruntled that environmental science education had not been prioritized in high school. "I was outraged by the sense that I hadn't had more exposure or opportunities to be in the natural world," Battle says.
Battle has been trying to address that oversight ever since. "She's very versatile in figuring out how to engage with different groups," says Dan Meharg, a park ranger at New York's Gateway National Recreation Area who worked with Battle to set up a monitoring site and a pollinator garden. "Plus, she knows a lot about science," he adds.
While working on a Ph.D. in environmental science at Oregon's Portland State University, Battle started working with citizen scientists. She was studying plants in the city to see if they were blooming earlier than plants in rural areas and needed help gathering data. She set up three phenology sites: one in a forested preserve on outskirts of city, one in a residential park and one in the middle of the University's urban campus. The project made her realize that phenology monitoring could appeal to a broad mix of people and that volunteers with no prior experience could be trained to accurately collect data.
When she moved back to New York, she began dreaming of starting a similar project, but bigger. "New York was exciting," Battle says, with so many environmental organizations interested in the same things she was. She ended up working with the Environmental Monitoring and Management Alliance, a group of ecology education and research centers in the region, on a project that would become the seed of the New York Phenology Project. Some of the organizations already had monitoring projects in place, but they weren't sharing information or working towards common goals. "I was sort of the catalyst," Battle says.
At the start, New York Phenology Project took up a significant portion of Battle's spare time. While working as the director of the Ashokan Center, an environmental and outdoor education center in the Catskills, she devoted her evenings and weekends to the project for its first few years. The project eventually became part of her own nonprofit, specializing in social networking for ecology projects. But she wanted the project to become self-sustaining. She put resources online, hoping that New Yorkers would hear about the project or stumble onto the website, and start doing their own phenology monitoring.
In 2016, that's exactly what happened. "I started to see this evidence of self-replication," she says. Now, over 150 people are involved in the state-wide monitoring project. Last year, they logged over 376,620 observations — approximately 12 percent of the USA National Phenology Network's data.
Battle doesn't spend as much time on the project anymore. But she still, continues to contribute to phenology research. She recently finished the Ph.D she started in Portland and currently, she is investigating a set of historical phenology records alongside the Hawthorne Valley Farmscape Ecology Program in Ghent, New York, that date back to 1825, one of the oldest datasets in the country.
These records were also taken by non-scientist observers — students at academic institutions across the state collected the information until 1872. Now, Battle is working to compare the historical records to the New York Phenology Project's data. She expects to see more evidence that spring is getting earlier.
Battle thinks these historical datasets show the value of modern-day citizen science monitoring. "A lot of the stuff we know about climate change has come from these amateur datasets," she says. "You don't need to be a professional scientist to create something of serious import."
*Correction, June 26, 2018: The following errors have been corrected from the originally published version of this story:
The original version of this article stated that Kerissa Battle is working to finish her Ph.D. She received her diploma in March.
The number of observations the New York Phenology Project logged last year was 376,620 and not 40,000.
About the Author
Discussion