Health
Why those most at risk for HIV avoid a drug that prevents it
PrEP is over 90 percent effective at preventing HIV — yet only four percent of gay and bisexual men take it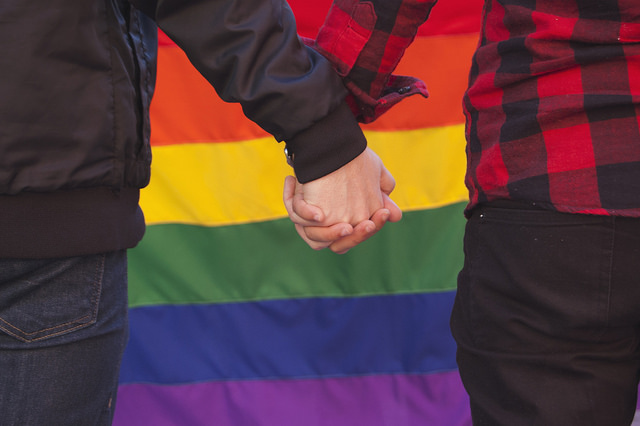 "There's this stigmatizing 'PrEP whore' narrative," says sexual identity researcher Phillip Hammack. "People think, 'Why would you take PrEP unless you want to be a whore?'" [Credit: Flickr user ong somos | CC BY-SA 2.0]
Noah, a bisexual college student, was in an open relationship with a man when his friends told him about PrEP, a drug that protects against HIV infections. But when he asked the student health center, they had never heard of it.
"There really weren't doctors to talk to about this," says Noah, who asked that his real name not be used to protect his privacy. "I had a frustrating conversation with a health official and didn't follow through from there. I think that was a mistake."
Last week, researchers reported they'd cured an HIV infection for the second time in history, but approximately 40,000 people in the United States still contract HIV each year, according to the Centers for Disease Control and Prevention. Almost 70 percent are gay and bisexual men.
PrEP, a pill also known by its brand name Truvada, is 99 percent effective at preventing HIV infections transmitted through sex when taken daily, according to a 2012 study, one of the first to examine the treatment's efficacy. In a 2015 study of more than 900 gay and bisexual men on PrEP for two and a half years, none who maintained their PrEP use contracted HIV.
The CDC does not recommend PrEP use for all queer men — only those who have had sex with a man in the past year and are under 60, which accounts for just 25 percent of gay and bi men, according to a 2015 CDC report. Yet only four percent of sexually active (in the past five years) queer men under 60 take PrEP, according to a recent study of 470 queer men across the U.S.
"There's a lot of men who are falling through the cracks," says Phillip Hammack, a sexual identity researcher at University of California Santa Cruz, who co-authored the study, which was published last September in the journal PLoS One.
So why aren't more high-risk queer men taking PrEP? One reason is that many medical professionals aren't trained to talk about it, says Hammack. They might not introduce the drug as an option to their patients.
Pup Wilshire, a 25-year-old PrEP user from Boston, heard about the drug from his gay friends six years ago. But just as with Noah, his doctor was unfamiliar with PrEP. When Wilshire switched to a gay-focused health center last year, his says, the new provider wasn't informed about PrEP, either.
Doctors may be especially unaware of PrEP in rural areas, says Hammack, where access to quality healthcare overall is lacking.
"They think, 'This is a gay person's disease and there's no gay people here,'" says Hammack, even though 35 percent of LGBT adults in the U.S. live in the south, according to the Williams Institute at UCLA.
Queer men often don't know to ask about PrEP, either. About 30 percent of gay and bi men are unfamiliar with PrEP, according to Hammack's study.
Another barrier to PrEP access is the cost. While all private insurance covers PrEP, according to prepfacts.org, patients may have deductibles and copays. Without insurance, the drug costs up to $13,000 per year in the U.S. As of now, it is unclear how many people who could benefit from PrEP do not have insurance that would cover these costs, though LGBT people in the U.S. are less insured than their straight and cisgender peers, according to a 2014 Gallup poll.
Gilead, the manufacturer of PrEP, runs a cost-assistance program that lowers copays for men with insurance and provides the drug at reduced or no cost to men without insurance. But signing up for cost assistance can be complicated and time-consuming when patients and doctors don't know how to navigate the system, says Dr. Kevin Ard, who directs the sexual health clinic at Massachusetts General Hospital.
The various requirements of PrEP also raise difficult barriers for prospective users. First, patients must identify that they're at risk for HIV. This can be difficult if they don't know what the risk factors are.
Part of the reason Noah didn't pursue PrEP was that he didn't think he needed it, even though he was in a non-monogamous relationship with someone who had a lot of sex with other people. Looking back, Noah says, "I think it was a mistake not to start it."
Once patients identify their risk, they must find a doctor willing to assess their need for PrEP, which involves taking a detailed sexual history. Then the patient must test negative for HIV. If they pass, they must continue to get tested every three months because taking PrEP while positive can cause resistance to HIV treatment drugs. And insurance might not cover those extra visits to the doctor's office, Ard says.
"We live in a country with huge structural barriers to regular healthcare access for people at the margins," says Steven Kurtz, a health disparities researcher at Nova Southeastern University in Florida. "This is one biomedical prevention tool that has even more barriers than, say, if you had diabetes or heart problems."
Take for example Hunter Baoengstrum, an 18-year old gay man who has been on PrEP for about a year. For a while he wasn't on the drug, even though he was "hooking up a lot," he says. "You had to do all this paperwork and stuff, but I was kind of lazy." Baoengstrum is not alone — many potential users are deterred by the process, such as the HIV tests required every three months.
When Baoengstrum started taking PrEP, he found it difficult to remember to take it every day. One French trial has found that taking PrEP only on the days surrounding possible HIV exposure is 86 percent effective in preventing HIV. But the CDC still recommends daily use, which is 99 percent effective.
Another major reason why men don't take PrEP is that they're afraid of the stigma of being a 'Truvada whore.' Some people in the queer community believe that only men who sleep around and have condomless sex take Truvada. Gay and bisexual men might not take PrEP because they don't want to be cast in that light.
Baoengstrum hasn't experienced stigma himself, though he is well aware of it.
"People assume if you're on PrEP, then you must do all these other things," Baoengstrum says. "If someone has HIV, people think they have a bunch of unprotected sex and went to a lot of sex parties. It's very similar for PrEP, which is weird because PrEP is meant to prevent HIV."
Wilshire, who is now on the drug, also hasn't felt stigmatized personally, but his PrEP-using friends have been called "sluts" and "whores" on social networking and hookup apps like Grindr.
While it's unclear exactly how this stigma developed, some blame the AIDS Healthcare Foundation, a global nonprofit organization and the largest medical care provider for HIV/AIDS in the U.S. The AHF has been criticized for alleged anti-PrEP campaigns and opinions, including those of its president, Michael Weinstein.
"If something comes along that's better than condoms, I'm all for it, but Truvada is not that," Weinstein told the AP in 2014. "Let's be honest: It's a party drug."
Critics have tied Weinstein's infamous "party drug" comment to the 'Truvada whore' stigma surrounding PrEP. Many also reference advertisements the organization released in 2014 that implied PrEP has low effectiveness in preventing HIV.
These types of campaigns are "completely in the face of scientific evidence, driven purely by personal views of the person running the organization," says Hammack at UC Santa Cruz.
Ged Kenslea, Senior Director of Communications for the AHF, disagrees with how the organization has been portrayed: "AHF's stance on PrEP has been painted in very black and white terms, when in fact there's far more grey." He also says, "There is no dispute whatsoever that AHF and our president, Michael Weinstein, are aware that PrEP prevents HIV acquisition."
The AHF believes in focusing on providing PrEP to high-risk groups like men that can't or won't use condoms, transgender women, and sex workers, Kenslea says. But Hammack thinks every sexually active, HIV-negative queer man should be on PrEP.
The challenge is that there's a limited amount of money available to treat and prevent HIV. Instead of making PrEP more accessible to queer men who may not be at high risk for HIV, the AHF believes those funds are better spent identifying and treating people who are HIV-positive. Over half of HIV-positive people in the U.S. aren't being treated and don't even know they have the virus, according to 2014 data from the CDC.
Finding and treating HIV-positive people not only extends their lives, but also prevents them from spreading the virus. Treatment medications, called antiretrovirals, lower the level of HIV in positive people's bodies and usually make the HIV undetectable within six months. When levels are that low, they can't transmit the virus to partners.
Ard, from Massachusetts General Hospital, falls somewhere in between Hammack and the AHF. He agrees that treating HIV-positive people is a crucial part of ending transmission of the virus. He also sees PrEP as an important part of the prevention toolbox, though he doesn't think it's right for every sexually active queer man.
"There has to be some risk stratification of who's on PrEP and who's not. A gay man in a 40-year marriage that doesn't have outside partners is not going to benefit from PrEP," Ard says.
There may soon be alternatives to Truvada for HIV prevention. Last year the FDA approved a generic version of the drug. If a generic hits the market, it could lower the price of PrEP significantly. Scientists are also researching alternatives that bypass the problem of remembering to take a pill every day, such as injections and inserts that work like birth control implants.
"Other medications will reduce the cost of the one we already have," Ard says. "There may also soon be options that people get that last for eight to 12 weeks, which would really change the landscape of what PrEP delivery looks like. Expect in a year or two, it's going to be different."
Editor's note: Noah attended high school with the author.
About the Author
Discussion