Environment
Georgia must stop obscuring Providence Canyon's history
It's not a "Little Grand Canyon." It's a scar from slavery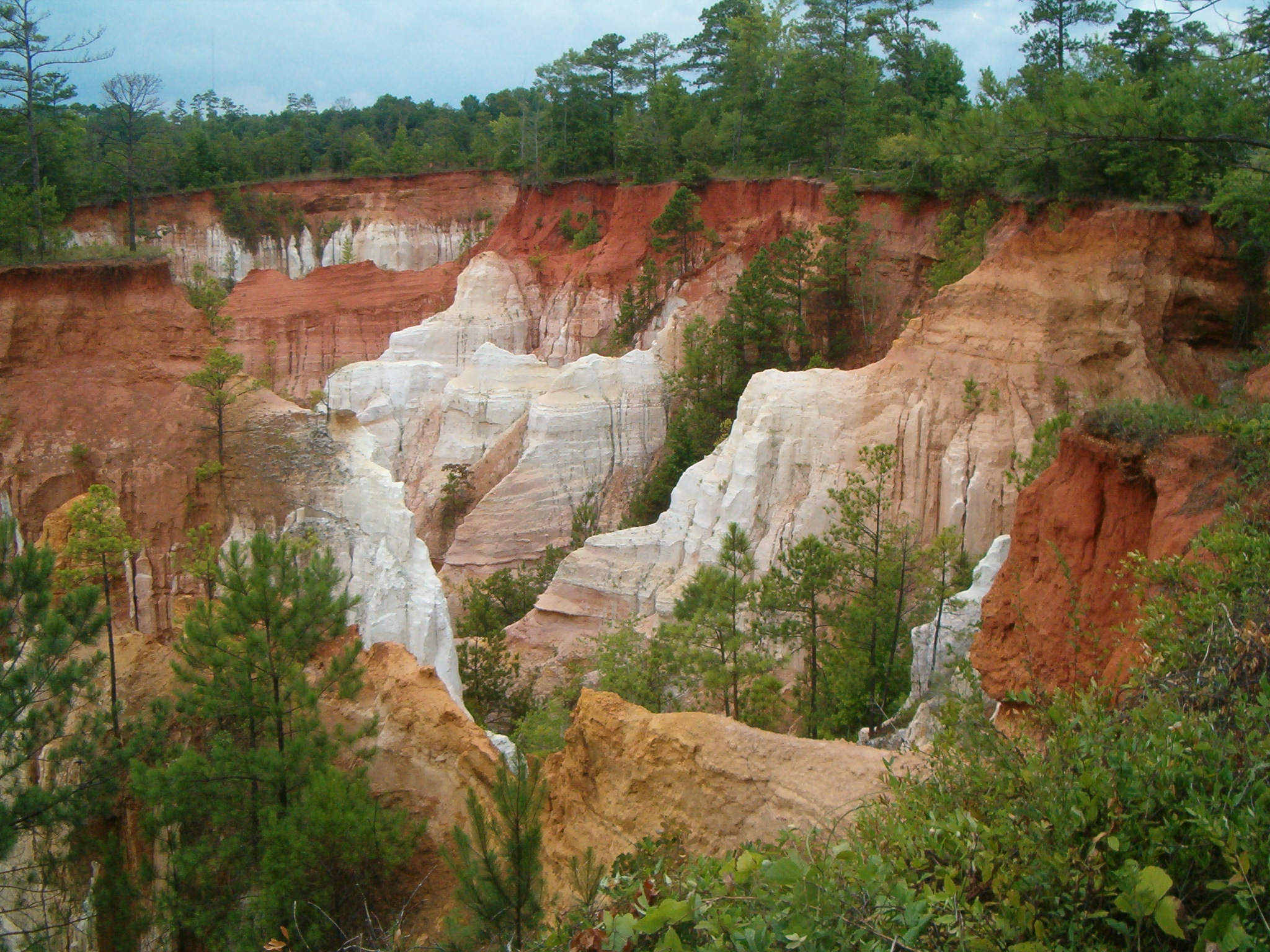 Poor soil management during Georgia's slavery era eroded the land to create Providence Canyon. [Wikipedia | Free Commercial Use]
The unwitting visitor could easily call Providence Canyon State Park sublime. The tall triangles of red, orange, tan, white and sometimes even purple earth are called gullies, and they span the 7-mile hiking trail throughout the park. Trees have managed to take hold in the loamy soil and it makes for a pleasant excursion in a seemingly natural setting. 
I have visited Providence Canyon twice. Its floor smelled of dirt, mineral water and iron-rich Georgia clay. Footprints from that day's few dozen visitors stippled the dusty trail paths. People's names were etched into gully sides: "JQ <3 BL," and at least three different Johns were there. I have made a small scratch on a gully too. The dry clay gave way easily underneath my fingernail, the dust fell to my feet. 
Georgia State Parks goes so far as to call Providence Canyon the state's "Little Grand Canyon," but the truth is far more ironic and unnerving. Providence Canyon did not form from a river slowly eroding rock for millions of years, like the Grand Canyon in Arizona. Instead, Providence Canyon formed over a few decades due to slaveholding plantation owners improperly managing their land, causing deep gashes in the earth onto which Georgia slapped a "state park" sticker in 1971. 
The state park does not own up to its history with slavery or clarify that the "poor farming practices" listed on signage consisted of cotton monoculture. In fact, the park's website appears to laud its destructive origins, saying that Providence Canyon "is a testament to the power of man's influence on the land." This is fundamentally misleading. Georgia must declare slavery's role in the creation of Providence Canyon instead of dancing around its origins. 
Providence Canyon is in Stewart County, near the Alabama border. Wrested from Muscogee (Creek) indigenous people's land in the early 1830s, the county was briefly prosperous thanks to cotton — 7.6 million pounds were produced in the county in 1850. In fact, Stewart County was among the top three cotton producers in Georgia around this time and the tenth most populous county. But as noted in the Georgia Encyclopedia, the "European-influenced farming practices of the time led to devastating soil erosion in Stewart County," wrecking the once fertile earth. As the soil quality diminished, so too did the county's population, making it now the ninth least populated in the state. 
And what were those euphemistically named "European-influenced farming practices?" They were cotton fields tended with forced African American slave labor, comprising what Charles S. Aiken calls "the plantation crescent" in southwest Georgia. Paul S. Sutter, an environmental historian at the University of Colorado Boulder, describes in his book how slaveholders resisted advice from agricultural reformers to protect the soil by rotating their crops and manuring the land. Doing so would have diverted precious land and labor from the cotton cash crop. Thus, "slavery and the plantation system led to agricultural methods that depleted the soil" and eventually destroyed it, as Eugene D. Genovese succinctly summarizes in his book. 
So what the park service calls a "testament to the power of man's influence on the land" actually came from greed, exploitation, cruelty and apathy toward sustainable land practices. Of course, you could argue that this was the essence of antebellum Georgia – and the rest of the Deep South — before King Cotton fell. Providence Canyon's creation can be chalked up as just another scar of history, another example of the economically motivated degradation of land. 
But that doesn't excuse Georgia State Parks' concealment of the racist origin of Providence Canyon.
Even the parks department's use of the word "simply" in the phrase "massive gullies as deep as 150 feet were caused simply by poor farming practices during the 1800s" is misleading. It diminishes the role of plantation farming in degrading the land. Worse still is the park service's "historical" description of the canyon:
"The farmers who scratched out a hard living growing mainly cotton out of the soil here 170 years ago did not know about soil conservation practices such as contour plowing, crop rotation and cover crops. They would be astounded if they could see today what they started with their mule-driven plows." 
"Leave it to southerners to turn a scar into a point of pride," writes Sutter in a 2010 article about Providence Canyon and other gullies in the Journal of Southern History. 
Those who visit Providence Canyon are essentially visiting a more obscured version of Stone Mountain State Park, which contains a memorial carving of Confederate figures etched into the side of a mountain. The difference is the Stone Mountain website acknowledges who those people were. Stone Mountain doesn't dance around the issue, so those who visit the memorial carving understand that they're there to see a product of Georgia's racially fraught past, not a naturally produced wonder. 
Georgia State Parks do a disservice to their visitors by withholding Providence Canyon's true origins. Georgia can't un-erode Providence Canyon just like it can't undo its racist history. The state needs to own up to its past and accurately describe how Providence Canyon formed on its websites for the sake of its visitors. They deserve to know the truth. 
About the Author
Discussion