Environment
Webcams offer citizens a peek into the lives of bald eagles
Growing public awareness and engagement have played a part in the birds' recovery, experts say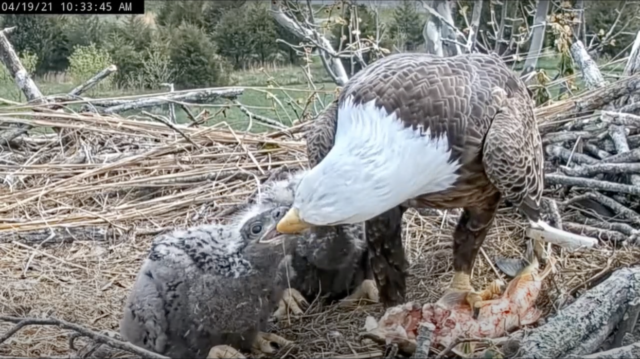 Smitty the bald eagle feeds a fish to his four-week-old eaglets. The action was livestreamed through a webcam and was watched by people across the world. [Photo courtesy of EagleCam hosted by NCTC and Outdoor Channel]
Deb Stecyk has been a captive viewer as parent eagles Bella and Smitty feed and care for their eaglets, Talon and Spirit. She's watched the parents nest, lay eggs, and observe eaglets grow their adult feathers and get ready to leave the nest. 
Stecyk, a Saskatchewan resident, started watching bald eagle nest livestreams nearly 20 years ago after reading an article about a webcam being installed in Shepherdstown, West Virginia to livestream a bald eagle family. Now, there are at least 49 livestreamed bald eagle nests in the U.S. according to Stecyk, who keeps a running spreadsheet of active eagle cams. 
"They're such a majestic species," Stecyk says. "There could be lots of life lessons learned for everybody watching the bald eagles… they're so diligent, they're dedicated, they're very protective of their babies."
Pesticide pollution, habitat loss and hunting nearly drove bald eagles to extinction in the U.S. during the early 1960s. However, with six decades of conservation efforts and legislative protection, the national symbol is rebounding — A recent U.S. Fish and Wildlife survey published in March 2021 found that bald eagles in the U.S. quadrupled since 2009, to a total population of 316,700 eagles across the lower 48 states. And some researchers say that public engagement, including interactions through webcams, has helped the birds' continued recovery. 
The camera at the nest in Shepherdstown that Stecyk watches first started livestreaming in 2006. Researchers initially installed the equipment for data collection and public education, according to Randy Robinson and Clayton McBride, who maintain the webcam and educate the public about bald eagles from the U.S. Fish and Wildlife Service's National Conservation Training Center in Shepherdstown.
The feed is now hosted in partnership with Outdoor Channel. In 2020, the peak single-day streaming volume for the webcam in Shepherdstown reached 23,528 viewers. 
People love watching bald eagle nests because "it's an escape from our human existence, it's a fascinating look into wild animal behavior, and it's a way to see a part of nature that we've never seen before," says Robinson. 
Watching animal livestreams has been found to generate a positive emotional connection to wildlife: in one study that surveyed over 5,000 people, researchers found that watching brown bears, whether in person or in videos online, led to greater emotional connection with the animals. 
And emotional connection with animals can lead to advocacy efforts, which help protect threatened species, Robinson says. "I think it's definitely developed a greater public enthusiasm, increased the public's awareness of how animals survive in the wild, and it's helped the general public to develop an appreciation for what these state and federal agencies do to protect wildlife and to manage wildlife," he adds.
Robinson says greater visibility can also translate into more direct action, citing a 2019 incident, where a woman spotted a drone flying near a nest she was watching from the ground in North Fort Myers, Florida and notified authorities, who launched an investigation.
But the public's attempts to save bald eagles don't always result in intervention. In March 2021, Stecyk observed one of Bella and Smitty's eaglets ingest a fishing line that had been caught in the nest. She notified U.S. Fish and Wildlife officials, but they decided not to intervene. "Our basic policy is kind of hands-off — let nature take its course," Robinson says about this and similar incidents. 
Fortunately, Bella was able to pull the fishing line out of the eaglet's throat, but after the incident, the line was still lingering somewhere in the nest. "That's kind of a scary thing," Stecyk says. "I'm concerned it's going to happen again."
Webcams and public participation can also help wildlife researchers monitor wild birds, according to Peter Sharpe, an ecologist at the Institute for Wildlife Studies, a nonprofit organization for wildlife conservation. Sharpe and his team monitor eagle nests, recording how many eggs are laid, how many eaglets take flight and when, and other behaviors. Public involvement allows Sharpe to catch up on events in the nests through viewer comments and participation throughout the day that he might otherwise miss.
"If we would have had the monitoring in the fifties, then we probably wouldn't have lost the birds because we would've known that something was going on," says Sharpe.
In the 1950s and '60s, bald eagles suffered a severe threat of extinction. After World War II, the wide use of the pesticide DDT rampantly contaminated fish — a major food source for bald eagles — poisoning many of the birds. By 1963, less than 500 bald eagle nesting pairs remained in the U.S.
Conservation efforts ramped up in later decades, and the DDT ban in 1972 and a litany of protective laws passed soon after contributed to the eagles' recovery. 
Researchers also worked to actively restore local populations. Between 1980 and 1986, Sharpe relocated 33 baby bald eagles from Northern California, Washington, and British Columbia to the Channel Islands off the coast of Southern California in order to repopulate the Southern California bald eagle population, which had been completely devastated due to DDT. 
Bald eagles were taken off the list of threatened and endangered species in 2007. Today, consistent monitoring by researchers like Sharpe helps ensure that the species will continue to thrive. Even though DDT is much less of a concern for bald eagles now, some researchers are concerned that the species is still exposed to other harmful chemicals like rodenticides, and are continuing to monitor populations.
And citizens like Stecyk will continue to help them keep an eye on the birds, at least digitally. 
"I can't imagine not watching them regularly," Stecyk says. "It's woken me up just as an individual … It's made me an advocate for taking better care of the environment."
About the Author
Discussion