Environment
Chasing 'ghosts' in the bay
A Florida captain's creative solution to the global problem of marine debris: Let's rodeo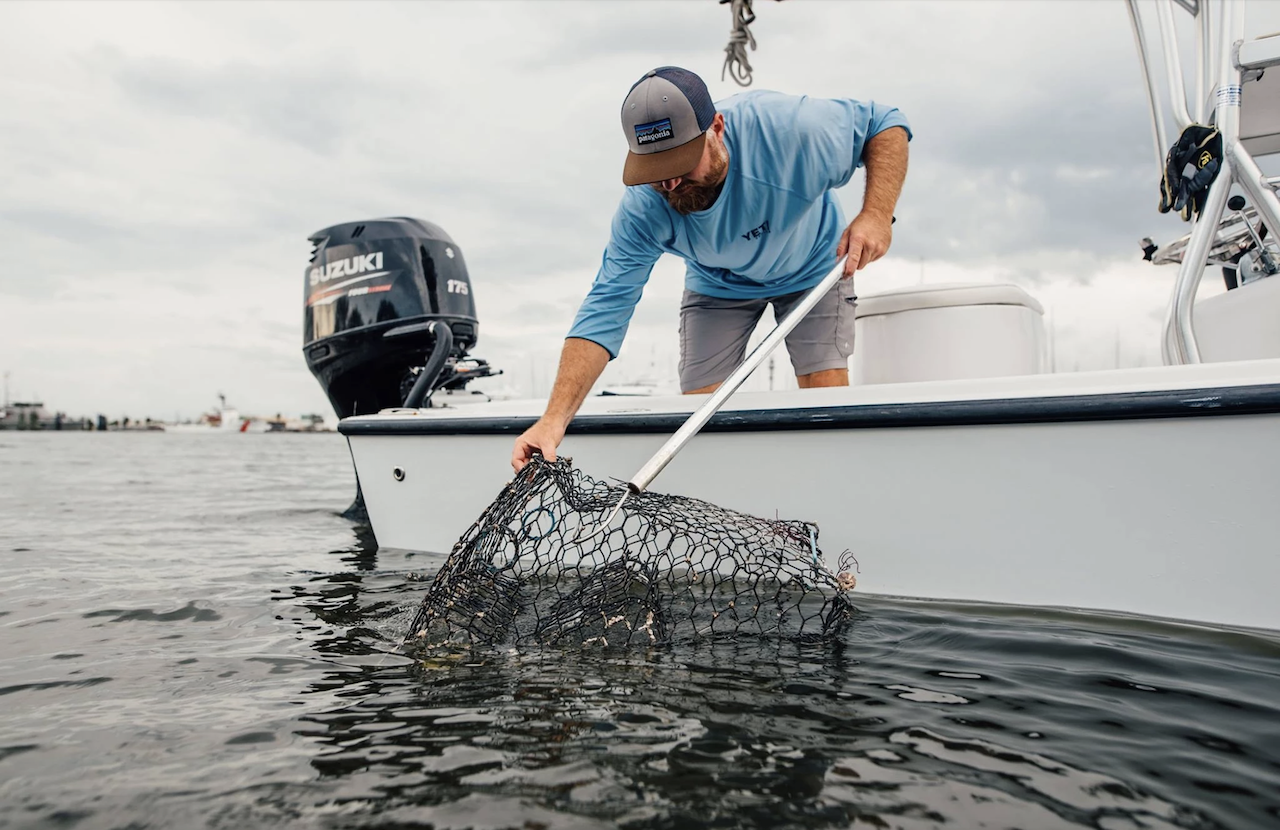 Captain Neill Holland organizes ghost trap rodeo events to clean up the abandoned fishing gear and other marine trash in the Tampa Bay estuary. [Photo courtesy of Ocean Aid 360]
On a typical rodeo day, captain Neill Holland pulls his Ford F-150 pickup truck into a beachside parking lot at 6 a.m. Following him are a few more vehicles, a dozen volunteers and a large blue trash trailer. Once the tents, banners and freshly brewed coffee are set up, another competition is ready to go — with nary a cow or cowboy in sight. 
With the indigo Tampa Bay in the backdrop, Holland's rodeos are a surf version of the roundup. Coastal residents join for free and compete to collect derelict fishing gear known as ghost traps from the bay waters. The rules are simple: Whoever snatches the most ghost traps brings home the biggest prize, which ranges from dinner for two at local restaurants to rod and reel combos and fancy coolers. Participants rarely go home empty-handed. 
A charter captain, Holland has witnessed firsthand the damaging effects of derelict fishing gear and other debris on the marine environment. When he founded Ocean Aid 360, a non-profit dedicated to marine preservation, the idea of using rodeo events to mobilize local boaters and anglers to help catch ghost traps also struck. Now, he's bringing those ideas to life.
In most events, as many as 50 people — mostly boaters and anglers from the nearby St. Petersburg — have arrived by 8 a.m. ready to rodeo. Holland, who is 6 feet 4 inches tall with a slight tan, a sturdy build, a sports cap and a pair of fishing sunglasses strapped around his neck, fits right in with the crowd. 
"We're there to bring some excitement, fun and fanfare for this one weekend," says Holland. "In addition to that, our aim is to bring some awareness to the impact of ghost gear." 
There is a reason why people use the word "ghost" to describe derelict fishing gear and traps: They continue to haunt wildlife. Gillnets and crab traps are the most common types of derelict fishing gear, according to a 2015 federal report. Boat propellers and storms cut lines and sink fishing gear so frequently that worldwide about 6% of nets, 9% of traps and 29% of fishing lines are lost every year worldwide, according to one recent estimate.
Unfortunately, being lost doesn't mean these traps stop working. "They are designed to catch crabs," says Kirk Havens, director of the Center for Coastal Resources Management at Virginia Institute of Marine Science. And there's often a domino effect, he adds — the trapped crabs die, attracting more animals to come to eat them, only to be trapped and killed themselves.
Havens and his colleagues estimate that in Chesapeake Bay alone, at least 145,000 abandoned traps continue to catch crabs. Using a computer model, the team found that by removing 34,408 ghost traps in Virginia waters, the crabbing industry could increase yields by 27%, creating $21.3 million worth of additional harvest over six years. 
Holland is working at a smaller scale. He estimates that the 15 rodeos he has organized in Tampa Bay since 2018 have removed 85,000 pounds of marine debris, including about 1,500 ghost traps and other debris — from abandoned folding chairs to cut-off buoy lines — from Florida waters. Experts say that even modest efforts can make a difference. "Any program that raises awareness and leverages volunteer effort at very low or no cost is probably going to be pretty impactful," says Andrew Scheld, a fisheries economist at Virginia Institute of Marine Science who led the Chesapeake study. 
"The beginning of getting a real solution on the ground is public awareness," agrees Donna Bilkovic, another marine ecologist at the Virginia institute. "Having a rodeo like that can increase the attention to the problem and lead to additional solutions." 
But rodeos are not the right answer in every situation, says Havens. For instance, water temperatures in the Chesapeake Bay may be too cold for clean-up rodeos outside of the summer months. And clean up is even trickier on the West Coast, where Dungeness crab pots have to be removed by professional divers on constant alert for great white sharks. 
Tampa Bay, though, with its year-round warm weather and shallow, calm estuarine water near shore is an ideal home base for Holland's rodeo events. More than a thousand people have participated so far, he says.
Holland, 31, sees his involvement as a culmination of his lifelong love of fishing, especially in Tampa Bay. Born and raised in St. Petersburg, Florida, he got his boat captain's license at age 17. As a teenager, Holland was the champion of the annual Tampa Bay tarpon tournament, having caught a 130-pound tarpon with a fly-fishing rod, he recalls.
Beneath his champion fisherman's Patagonia and YETI swag lurks a writer. As a high schooler, Holland was hired by Terry Tomalin, the former outdoors editor at Tampa Bay Times, as a junior reporter focusing on local fishing events and tournaments. His love for writing propelled him to Columbia University, where he majored in English and non-fiction writing.
Even in New York City, Holland never stopped fishing. When he wasn't reading or writing at Caffe Reggio in Greenwich Village, he was fishing at the East River or Jamaica Bay. After college, he — like many journalists — struggled to find a full-time staff writer job. To pay the bills, he worked at a bait and tackle store by the Hotel Chelsea in Manhattan while freelancing. 
New York was also where Holland met his partner, Danielle Dawley, who later became instrumental in his environmental initiatives. "He has very kind eyes," Dawley recalls her first encounter with Holland. The two quickly hit it off, and soon decided to buy a motorhome and move out of New York. 
"He asked if I would want to travel with him together in a motorhome," Dawley recalls. "Does a shark shit in the water? Of course, I want to do this," she answered. After traveling along the East Coast for the better part of the year, the couple eventually settled down in Holland's hometown, St. Petersburg. 
One day, as they were relaxing in the waterfront park down the street from their house, Dawley, as usual, started to pick up trash by the water. "He said to me as I was picking trash, 'Do you want to maybe do something bigger?' " Dawley says. "I was like, 'Yes, absolutely!' " That's when the couple decided to establish Ocean Aid 360. 
Their first grand idea was the ghost trap rodeo series. They submitted a grant application to the federal Marine Debris Program, and it was approved. "We were elated," says Holland.
"I think having a debris removal event that is just like a fishing tournament is such a cool idea," says Ashley Hill, the Florida and Caribbean regional coordinator for the federal program. "You have boaters involved, you have anglers involved, you have people who care about the ocean involved that may not normally go to a beach cleanup." 
To Hill, a cool idea is just the beginning. What she is more impressed with is how much marine debris is collected at each of Holland's events. In one January rodeo, for instance, a fleet of volunteers removed 4,000 pounds of plastics and 78 ghost traps in a span of just four hours. 
Despite his success, Holland thinks there is a long way to go. He hopes rodeos can be organized not just in Florida but all over the U.S., and internationally, too. More importantly, he hopes his rodeo events can inspire people to pay attention to the marine environment and take action on their own.  
"Sometimes just getting started and being the little spark can surprise you," says Holland. 
Update: This story has been edited to include more recent data on the number of derelict traps in the Chesapeake Bay and to clarify the time period of economic impact of the trap-removal project.
About the Author
Discussion