Tech
Today's gamers may be tomorrow's agricultural experts
Educators are taking advantage of Minecraft's popularity to engage and teach students about modern farming and its impact on the environment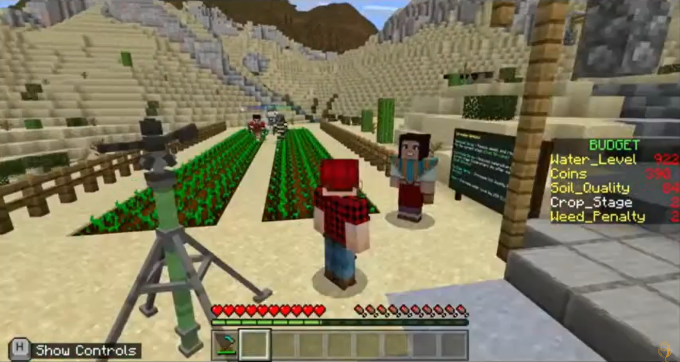 Videogames as a teaching tool? Yes please, say educators, the U.S. Department of State, and students from all over the world who played NASEF Farmcraft in 2021. [Credit: NASEF | Youtube]
If you're a parent, you might have the opinion that video games are a waste of time. But the U.S. Department of State, educators and other experts think that gaming might actually be the best way to engage students  — especially during the isolation of the COVID-19 pandemic  — on important issues, like where the food we eat comes from and how agriculture can impact climate change. 
By using Farmcraft, a tweaked version of the popular game Minecraft that focuses on modern farming practices, students from around the world were able to compete in teams to see who could build the best farm. The next round of competition starts in February!
Join Scienceline reporter Deborah Balthazar on a trip to the virtual farm.
You can also listen to this episode of the Scienceline podcast on Apple Podcasts, Spotify or Stitcher.
(Minecraft sound effects, fantasy music plays)

Deborah Balthazar: Minecraft is the most popular video game in the world, with 238 million copies sold as of 2021 according to its developer. 

William Balthazar: It's a game where you can be creative, you can interpret it in many ways if you want to.

Deborah Balthazar: What do you mean, "You can interpret it in many ways if you want to?"

Deborah Balthazar: This is my brother William teaching me about Minecraft, because even though it's popular, I know nothing about it.

William Balthazar: First of all, I can dig blocks. You can do anything to any block with your hand, so now you can craft things that are more complex, like a sword or an axe, pickaxe, shovels and hoes. Now let me show you how farming can work…

Deborah Balthazar: So would you say that Minecraft focuses on the realistic?

William Balthazar: You know, there are farms, but it's mostly fantasy because you know monsters. 

Deborah Balthazar: Yeah?

William Balthazar: You gotta fight a dragon in the end.

Deborah Balthazar: Oh, there's an end?

(NASEF Farmcraft theme song fades in)

Deborah Balthazar: For those who aren't as tapped into the gaming world as my little brother, there's one thing you should know about video games: over the years it's turned into a competitive sport called esports, with fans, teams and even a dedicated channel to watch your favorite "gamers" play. 

For decades, parents have scolded their children for playing too many video games, warning that too much of it will rot your brain. But that hasn't stopped kids from following their passion. Now educators and the government are trying to harness that passion by using Minecraft to teach kids about farming.

Erik Leitner: Farmcraft was a joint effort between NASEF and the U.S. Department of State in order to use and leverage the passion for video gaming and esports in order to deliver educational content around modern farming practices. 

Deborah Balthazar: That's Erik Leitner. By day he is a STEM and computer science instructional facilitator for Broward County Public Schools in southern Florida. He organized a competition called Farmcraft, where students use Minecraft to build the best farm, while at the same time tackle complex agricultural issues.  

Erik Leitner: It became apparent, even in my teaching career, how frequently our students didn't know where their food came from or even what that food looked like before it was on their plate.

Deborah Balthazar: Erik had organized Minecraft competitions before and thought it would be a great way to continue teaching students during the pandemic. 

Erik Leitner: We wanted to make sure that students still had an opportunity to engage in STEM learning. And those opportunities, even when they were not sitting in their classroom and hands-on learning, was kind of limited.

(Whimsical adventuring music fades in)

Deborah Balthazar: At about the same time, Adam Cornish, a biotechnology advisor in the office of agricultural policy at the U.S. Department of State was troubleshooting a problem. 

Adam Cornish: And we were just talking about how there is a bit of dearth of an understanding of agriculture because, at the end of the day, most of us are strongly dissociated from it. Few people are coming from an agricultural background, because we've moved into cities and there hasn't been as much of a need to support yourself through farming or even gardening.

Deborah Balthazar: He and his colleague Kate Furby, who's in charge of education and cultural awareness and exchange, continued to spitball ideas. They thought about a gardening program where schools could start community gardens and then connect across borders.

Adam Cornish: And then COVID hit and we're like, well that's not going to happen. People aren't even in school anymore.

Deborah Balthazar: Then the State department thought about using Animal Crossing?

Adam Cornish: And she's like, "I don't know what it is, I don't know video games, but wouldn't it be kind of interesting if we had something like 'Plant Crossing'?"

Deborah Balthazar: That didn't work out. 

(Sound of surprise like a piano dropping, music fades out)

Deborah Balthazar: But eventually, they connected to Erik Leitner through the North American Scholastic Esports Federation and were excited to bring Farmcraft to students around the world.

The first official Farmcraft Competition took place between March and June of 2021. Students ages 8 to 18 from 36 countries competed in teams to see who could yield and harvest the most amount of crop depending on the biome they were in.

Diamond Hoes from Farmcraft Video: What I like most about Farmcraft was that I could make new friends. 

(Sounds of students from Farmcraft competition in the background)

Erik Leitner: The farming that's in Minecraft already, some of it is somewhat real, like crops need water and some of it is not so real, in that I can fertilize it and it grows within seconds. So modifications to those things were made to make it a little bit more realistic to farming practices, including having things like insects attack crops that we have to manage or being dependent on soil quality, which is a big factor within the game.

Deborah Balthazar: Students were given an overall score, which is not normally in Minecraft, based on the decisions they made, like how much of their crop was destroyed by weeds or insects, how well they managed their water or how effectively they used herbicides and pesticides. 

Adam added that the program is also a window into how other people live their lives and how farming is different based on their location, like in a Savanna or in Siberia.

Adam Cornish: How does agriculture actually get executed in Siberia? That's my hope is that this sparks some curiosity and piques interest.

Deborah Balthazar: That was certainly true for the Farmcraft team Jamcases, which won 2nd place in the junior division of this year's competition. 

(Background music from Jamcases Farmcraft video)

Jamcases from Farmcraft Video: … Building the barge got us thinking a lot. We have to think about how to use the power of nature in farming, really. Solar power to take care of the plants. Wind power to get us from one place to the other and distillation, reverse osmosis to water our plants.

Deborah Balthazar: The winners by the way won HyperX headsets, which apparently is a pretty big deal in the gaming world, but I wouldn't know. Oh, and of course, I love this group name. This team is called the Diamond Hoes.

Diamond Hoes from Farmcraft Video: I will remember this experience. I will also remember that if we take care of the world we live in, we all will be happier. We had so much fun!

Deborah Balthazar: Having fun is great and all, but really, are video games the way to go and teach such a complex subject? To answer that I asked Anastasia Bodnar, USDA biotechnology coordinator. 

Anastasia Bodnar: It helps to meet people where they are. And we know that right now, young people are watching live streams of video games. They're playing Minecraft, Roblox. I know that my daughter is. So, yes, I think that Farmcraft can be a very effective way to communicate about agriculture and get people thinking about some of the challenges that farmers are facing.

(Fast paced farming mood music fades in)

Deborah Balthazar: The next generation of competition, Farmcraft 2.0, is expected to come back in 2022, but everything for right now is being kept close to the chest. The next round of competition will focus on climate change, sustainability, and how to reduce greenhouse gas emissions since agriculture can contribute anywhere from 10 to 29 percent of global emissions. Gameplay might also introduce new innovations like digital agriculture, where farmers can rely on data, like weather patterns, testing soil for nutrient composition and observing the migration of insect pests to save money and help the environment.

My video game-loving little brother William is unfortunately too old to compete in Farmcraft since he's in college.

William Balthazar: Well, I guess it's fine. I don't want to beat down a bunch of kids anyways. (laughs)

Deborah Balthazar: For Scienceline, I'm Deborah Balthazar.
Music:
Dreiton from Minecraft Volume Beta by Daniel Rosenfield (c418) | Used with Permission
Farmcraft Theme by North America Scholastic Esports Federation | Used with Permission
Adventures in Adventureland by Kevin Macleod | Filmmusic.io Standard License
Hillbilly Swing by Kevin Macleod | Filmmusic.io Standard License
Sound effects:
Surprise – Animal Crossing: New Horizons | Nintendo content guidelines
Music (or sound effects) provided by Minecraft
About the Author
Discussion