Environment
For Black farmers, climate change magnifies existing inequality
Global warming does not discriminate, but the system that prepares farmers for it does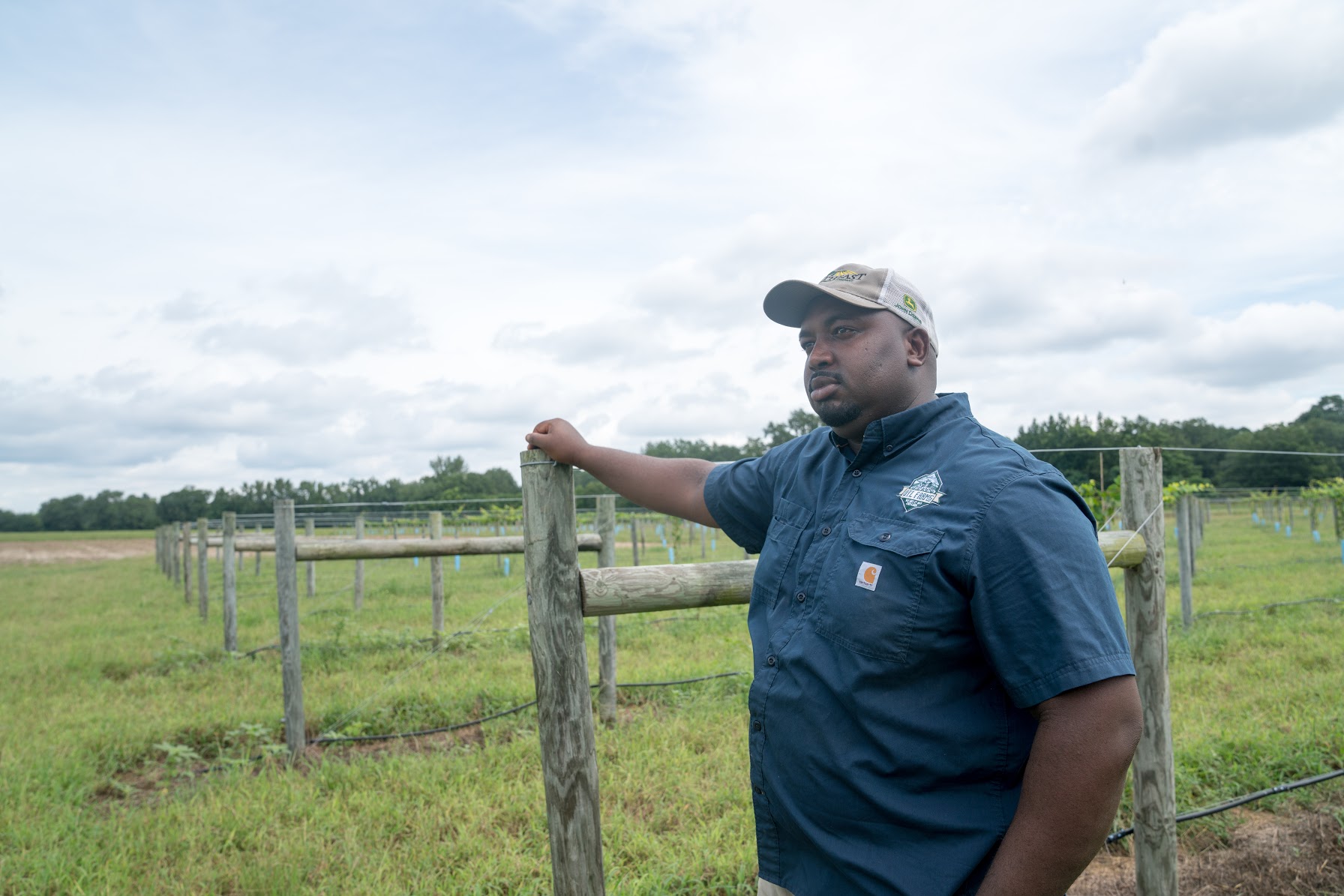 First-generation Black farmer Davon Goodwin operates his 42-acre farm in Laurinburg, North Carolina. Image courtesy of [Davon Goodwin]
Davon Goodwin tended his first grapevines in 2013 — three years after he was injured by a bomb in Afghanistan during an Army mission. A first-generation Black farmer, Goodwin sees farming as a way to serve his community. But since he started farming, racial inequality in agriculture has put him back on the front lines, this time battling against climate change. 
"It's been hell," says Goodwin, who has experienced many major hurricanes in the last six years. Still, he has persevered. After first managing someone else's crops, Goodwin bought his own 42-acre farm in 2018 with his wife, Kenya Fuller, in Laurinburg, North Carolina where they now grow grapes, blackberries and mixed vegetables. 
Repeating hurricanes and storms have damaged Goodwin's crops and washed away soil nutrients, but Goodwin and his wife cannot afford to invest in the "high tunnel" greenhouses they need to shield their crops from extreme weather. A single tunnel costs between $8,000 and $15,000 — according to Goodwin — which is way over their budget. After building the farm with his wife from the ground up, they are already more than $400,000 in debt. "When we have that type of debt, how can we keep buying more climate-resilient infrastructure?" Goodwin asks. 
Goodwin's struggle is all too familiar to the U.S.'s estimated 48,000 Black farmers, who are particularly vulnerable to climate change because they tend to own and run smaller operations. Additionally, a long history of discriminatory practices means Black farmers frequently do not have ready access to loans and other resources they need to prepare their farms for changing weather. 
Now, with a new Democratic administration about to take over the presidency and Congress, many Black farmers are pressing for substantial changes to the current system.
Many Black farmers struggle because they earn slimmer incomes from their smaller farms. The 2017 Census of Agriculture — conducted by the U.S. Department of Agriculture — found that 85% of Black-operated farms are smaller than 180 acres, compared to the national average of 70%. The census also found that more than half of Black-operated farms in the U.S. had sales and government payments of less than $5,000 per year, and only 7% had an income of at least $50,000, compared to 25% of farmers overall. 
The lower average incomes of Black farmers mean their operations are less resilient to severe storms, droughts and other extreme weather events exacerbated by climate change. A 2014 USDA Economic Research Service report showed that smaller farms were receiving a dwindling percentage of federal crop insurance money and government commodity payments as large farms swell to dominate the agricultural industry. According to the report, farms with less than $50,000 in annual household income received only 27% of federal crop insurance payments in 2009, down from 47% in 1997. A study published in 2014 by researchers from the University of Georgia also concluded that Black farmers in the American South were more vulnerable to drought due to their small landholding size and poor access to disaster-mitigation resources such as credit, insurance, loans and irrigation. 
"When there is a drought, many Black farmers just endure it and hope to save some of their crops," says Valerie Grim, an African American and African Diaspora Studies professor at Indiana University Bloomington whose research focuses on African American agriculture. 
The wealth disparity between Black and white farmers is rooted in racial inequality. Unlike many white farmers Goodwin knows, whose families have been farming their own land for generations, he and his wife had to borrow money to purchase their land. "I started farming with nothing," he says. "So, it's almost crazy to think that the game is equal." Goodwin worries that if the next hurricane wipes out his entire production, he will have to take out more loans and banks will insist on taking his assets as collateral.
"As a black farmer, I was always told to never put your land up for collateral to take out money," Goodwin says. "That's an easy way to get the land taken."
To control his own financial future, Goodwin has to work more than 40 hours a week at a non-farm job — he manages a food distribution center. His wife, Fuller, works full-time, too, as a nurse. On top of that, they together put in another 40 hours a week tending their crops during busy seasons.
It is not true that Black farmers never owned land in this country. In the early 1900s, there were almost 950,000 Black growers in the U.S. owning more than 16 million acres. Stunningly, 98% of them subsequently lost their land due in part to the systemic racism that is still bankrupting Black farmers today, evidenced by the lack of financial resources such as loans, credit and subsidies. Additionally, because many Black farmers inherited their land from ancestors without legal wills, their property has become a target for those stealing land through predatory or partition sales. 
Black landowners were also frequently forced off their land by threats of violence. During the so-called "whitecapping" movement in the late 1900s led by white supremacists in the South, Black landowners were beaten and intimidated into abandoning their land. 
Today, with the population of Black farmers down to just 48,000, white people account for 96% of all farmers and control 98% of all private farmland in America. 
Climate change assistance is a new source of inequality. The same 2014 University of Georgia study that reported Black farmers' lower resilience to drought also found that agricultural agencies disseminating climate information and funding opportunities online had failed to reach many older Black farmers living in rural areas. 
"The government is going to tell you that all these things are online, and you can go into the county offices. Nothing's wrong. But many Black farmers aren't online," says John Boyd Jr., the president of the National Black Farmers Association.
"It's hard to apply for something if you don't know about it," agrees Lovay Wallace-Singleton, another veteran-turned farmer in North Carolina. Wallace-Singleton leads a one-and-a-half acre non-profit urban farm near downtown New Bern, North Carolina. When Hurricane Florence struck in 2018, her farm was inundated by four feet of water for four days. Wallace-Singleton tried to apply for assistance from the Federal Emergency Management Agency, but she missed the first deadline because, she says, the application process "was so complex until we didn't understand what was required." After going back and forth between the insurance company and the agency, her farm was finally approved for about $10,000 of disaster funding.
As a Black farmer, Wallace-Singleton still feels uneasy when she goes to meetings about funding opportunities and sees "a room full of Caucasian people." Many minority farmers, she says, never even know these funding opportunities exist. 
Black farmers' distrust of the USDA and its local farm extension agency, rooted in decades of discrimination by the agency, is also part of the problem. "The farm extension agency was racist throughout its history," says Jeannie Whayne, an agricultural historian at the University of Arkansas who studies the relationship between Black farmers and farming agencies throughout the 20th century. "It was an agency created in the era of Jim Crow, and it never really got beyond that."
The USDA has been slow to change, says Boyd of the National Black Farmers Association. In 1997, Boyd and over 400 other Black farmers sued the USDA in the landmark class-action suit Pigford vs. Glickman for discriminatorily denying their loans and ignoring their complaints of racism from 1981 to 1997. The USDA settled the case in 1999 for $1 billion to compensate almost 16,000 Black farmers, making it one of the largest civil rights settlements in U.S. history. 
Still, the disparity continues. An investigation conducted by The Counter, a non-profit independent news organization focusing on American agriculture and food, revealed that since Trump started a trade war with China, the USDA allocated almost all (99.4%) of the bailout money to non-Hispanic white farmers, leaving minority farmers behind. 
USDA officials said they're working to improve the agency's record by providing access to capital for "all farmers, including historically underserved," as an agency spokesperson stated in an email to Scienceline. The spokesperson also said that the USDA is working through community-based organizations and institutions that have close ties to minority farmers. 
Boyd, however, says the agency's assurances are just "a song and dance for Black farmers," especially under the Trump administration. Therefore, he and other black farmers are hoping for much better with the incoming Biden administration. 
"The last four years have been a bunch of bullshit," says North Carolina's Goodwin. "In the next four years, Biden better get [it] together. He has a lot of work to do."
Biden, so far, has shown some initiative. His 26-page plan to advance racial equity — released during his presidential campaign — includes several proposals focused on farming. It calls for establishing an equity commission for minority farmers, protecting heirs' property, assisting minority farmers in purchasing and succeeding on the land and improving the transparency and accountability of the USDA. 
The plan also mentions that Biden will make sure agency programs for "climate-smart" production, risk management and research and communication are tailored to subgroups of farmers "who are as different and varied as the landscape of the country." 
The incoming President, however, is off to a rocky start in the eyes of some community members. Many activists and civil rights leaders have already expressed their disappointment with Biden's selection of Tom Vilsack for USDA Secretary over Ohio Rep. Marcia Fudge, who would have been the first African American woman to lead the role.  
Meanwhile, three Democratic Senators — Cory Booker of New Jersey, Elizabeth Warren of Massachusetts and Kirsten Gillibrand of New York — proposed a bill in November 2020 that would move to reverse Black land loss and amend the USDA's discriminatory practices. Named the Justice for Black Farmers Act, it would enact civil rights reforms within the USDA and establish land grant programs for Black farmers. While the outlook of this bill is still unclear, Booker says that he is planning to work with the USDA and the Biden administration to achieve his goals, according to a Politico report. 
Regardless of whatever future reforms may bring, the struggles of black farmers persist today. Goodwin, desperate to raise more money for his overleveraged farm to improve the infrastructure, recently resorted to crowdfunding and created a GoFundMe page. However, he's never forgotten that a fifth-generation white farmer who inherited family land once criticized him for asking for free handouts. If his father handed me 42 acres of land, Goodwin responds, he would not have to ask people for help.
"We made it from slavery, we made it from sharecropping, we've even made past the discriminatory USDA," Goodwin adds. "How much more resilient do you want me to be?"
About the Author
Discussion