Environment
2022 could be the beginning of the end for open-net fish farms in Canada
A federal mandate to phase out open-net fish farms and the announced closure of a hatchery signal the practice is on its way out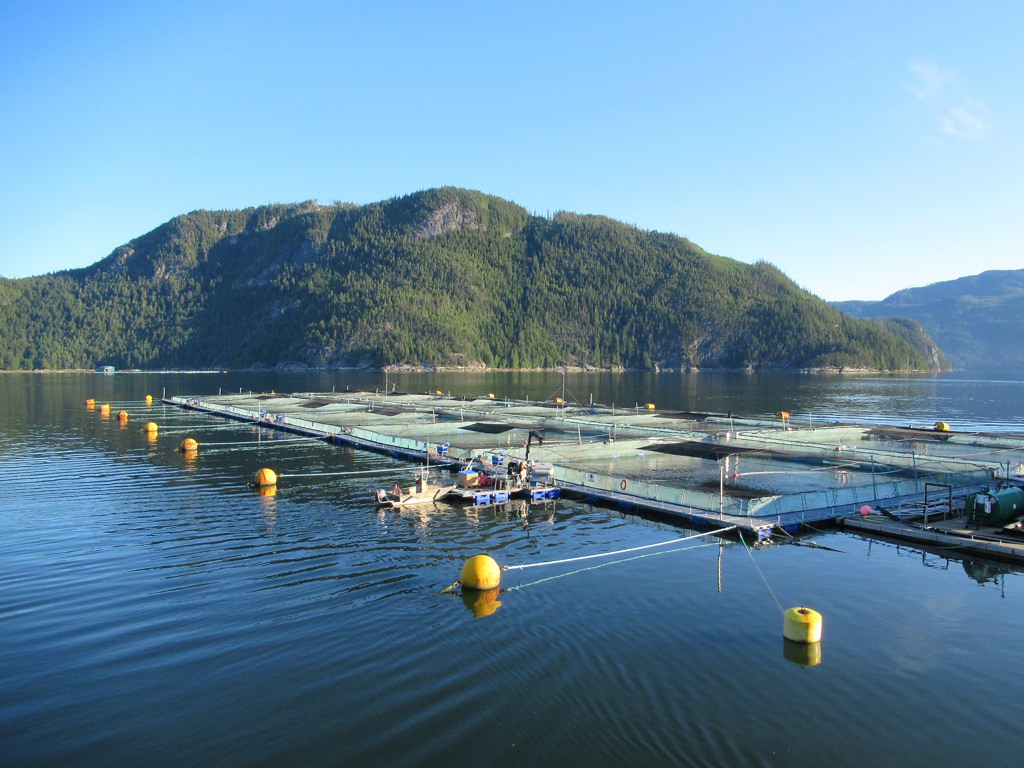 At this British Columbia farm, nets separate farmed Atlantic salmon from the wild Pacific salmon that migrate through the region, but they can't necessarily contain the sea lice that can accompany farmed fish. [Credit: David Stanley | CC BY 2.0]
Some 40 years ago, Don Svanvik fished a Pacific Ocean flourishing with salmon. Then ocean temperatures rose, open-net fish farms moved into British Columbia and the salmon populations all but vanished in front of him. Currently the elected chief of the 'Namgis First Nation, Svanvik is at the forefront of a fight against the one variable he might be able to control: the fish farms.
Across the islands and coastline of British Columbia, tensions over dwindling wild salmon populations have simmered for decades. Some environmental advocates say Atlantic salmon farmed in the Pacific Ocean pose a significant risk to British Columbia's wild salmon populations. Others point to a wider range of human impacts from habitat loss to climate change causing wild Pacific salmon declines.
For opponents of the controversial fish farms, 2022 could be the year the tide turns in their favor, as some open-net fish farms face government-ordered closures at the end of June. Officially termed "open-net pen fish farms," these enclosures hold Atlantic salmon raised as a food source. This fish farming method remains a common practice in British Columbia, despite being banned along North America's Pacific coast in California, Washington and Alaska. 
On Oct. 26, 2021, aquaculture company Mowi Canada West announced the May 2022 closure of a fish hatchery. "This is a sign that the industry is in retreat," says Alexandra Morton, science advisor for the 'Namgis First Nation. Mowi Canada West declined to comment.
As the region's wild salmon populations plummet, some point to open-net farms as an issue for the fish. In addition to the Atlantic salmon they're meant to raise, they also hold sea lice and pathogens that routinely accompany a large number of confined fish, says Morton. 
The open net allows ocean currents to remove waste and provide oxygen. But nets can't stop wild Pacific salmon juveniles from picking up sea lice and pathogens as they migrate past the farms. 
"The problem for our little pink and chum salmon here is that they enter the water [weighing] less than half a gram," says Morton. "They can't take any lice at all." 
Prime Minister Justin Trudeau addressed this controversial fish farming practice in a 2019 mandate letter directing the former Minister of Fisheries, Oceans and the Canadian Coast Guard Bernadette Jordan, to transition away from open-net fish farming by 2025. In response, in December 2020 Minister Jordan decided not to renew open-net pen fish farm permits in British Columbia's Discovery Islands beyond June 30, 2022. 
Mowi Canada West, along with other aquaculture companies operating in the area, brought a federal court case over the denied permits. Mowi estimates that 30% of their production takes place in the Discovery Islands. Their case was heard in mid-October 2021 and a final ruling has not yet been made. 
Shortly after the federal case hearings, Mowi announced the May 2022 closure of a hatchery, which supplies some of the company's fish farms. They say the closure would come at the expense of 17 people employed at the hatchery. Morton says this decision would signal that Mowi doesn't see a future for open ocean aquaculture in the Discovery Islands.
The Discovery Islands have become a focus in the aquaculture fight because they are a dense migratory zone for salmon coming from the Fraser River. 2020 saw a recorded low for sockeye salmon returning to the Fraser River at an estimated 283,000 fish, down from a high of 28.2 million in 2010.
North of the Discovery Islands, an agreement between several First Nations, including the 'Namgis First Nation, and two fish farming companies has led to the decommissioning of several farms. Mowi's announced closure is, "the first hatchery we know of" impacted by Candian federal government decisions against open-net pen farming in the region, says Morton. 
Some scientists say changes in the ocean, such as rising temperatures due to climate change, may play a bigger role than the presence of open-net fish farms. "Salmon spend most of their life in the ocean … 98% of their growth occurs there, a very large fraction of the overall survival is determined there," says David Welch, president of Kintama Research Services, who has studied Pacific salmon.
Research has yet to prove a single cause for declines in Pacific salmon, which are observed in areas with and without open-net fish farms, says Welch. 
Multiple factors can interact to cause salmon declines, says Stan Proboszcz, science advisor for the Watershed Watch Salmon Society. "Changing marine conditions … may make them more susceptible to parasites, viruses and diseases from salmon farms." Along the Pacific Coast, a range of human impacts negatively affect wild salmon including habitat loss, pollution and presence of hatcheries, according to research from the Northwest Fisheries Science Center.
With the evidence available, the Trudeau premiership is moving toward a phase-out of open-net pen fish farming. Following his 2021 reelection, Prime Minister Trudeau restated his goal to transition from the practice by 2025 in his December mandate letter to Minister Joyce Murray, who replaced Jordan as minister of fisheries, oceans and the Canadian Coast Guard. 
Whether former Minister Jordan's decision to set a June 2022 deadline in the Discovery Islands will hold under new governance remains an open question.            
As for the future of British Columbia fish farming as a whole, "there's an opportunity now to do this on land," says Svanvik. The 'Namgis First Nation started Kuterra, a land-based salmon fish farm, in 2013 to show that open-net pen fish farming isn't the only option for raising salmon in British Columbia.
For the 'Namgis First Nation and other First Nations, protecting Pacific salmon means protecting the environment and their culture. "We're salmon people," says Svanvik, "salmon has been an integral part of our diet since time immemorial … that's the backbone of our heritage."
Correction: A previous version of this article said that legal action by the 'Namgis First Nation had closed fish farms and turned them over to their control. An agreement between the' Namgis First Nation, the Kwikwasut'inuxw Haxwa'mis First Nations and Mamalilikulla First Nation, and two fish farming companies will decommission 10 to 17 farms by 2023. 
Updated March 7, 2022. 
About the Author
Discussion