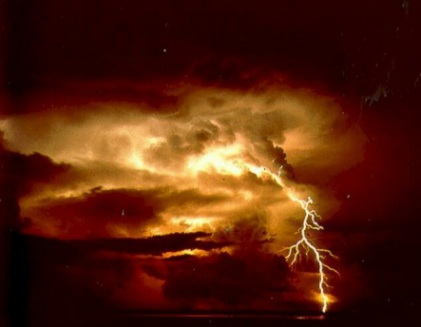 Lightning: dangerous with or without your cell phone. CREDIT: NOAA
Ah yes, this notion seems to really be making the rounds lately. It certainly received a good bit of press because of a letter published in a recent issue of the British Medical Journal, which detailed the case of a 15 year-old girl who was struck by lightning while talking on her cell phone in London.
Lightning is definitely something you don't want to mess around with. According to the National Weather Service, it kills about 67 people a year and injures at least 300. And you're not just at risk from a direct strike – the current from the discharge can travel across the ground. Yeah… you don't want to be anywhere near a strike.
So lightning safety and awareness are certainly important, which brings us back to the question at hand. I can see how people think carrying around an electrical device could make you more likely to get zapped. But think about how small a cell phone is, and really how small you are compared to buildings and other structures around you.
During a thunderstorm, clouds become positively charged on the top and negatively on the bottom. This separation of charge creates a strong electric field in the cloud, and as the cloud moves over the ground below, it becomes positively charged. Lightning strikes essentially neutralize the charge separation that builds up. They aren't actually attracted to anything, but they tend to choose the path of least resistance – which believe it or not, is not usually you and your cell phone. That's not to say it couldn't happen, but it shouldn't be your biggest worry.
Really, I think this quote from this NOAA website about lightning safety sums it up quite nicely:
"Cell phones, small metal items, jewelry, etc., do not attract lightning. Nothing attracts lightning. Lightning tends to strike taller objects," said John Jensenius, a NOAA National Weather Service lightning expert. "People are struck because they are in the wrong place at the wrong time. The wrong place is anywhere outside. The wrong time is anytime a thunderstorm is nearby."
So the moral of the story is: Don't go outside in a thunderstorm. With or without your cell phone.
About the Author
Discussion