Environment
What were the conditions that created the rare tornado in Westchester County earlier this summer?
--asks K. Curtin, from Long Island, NY.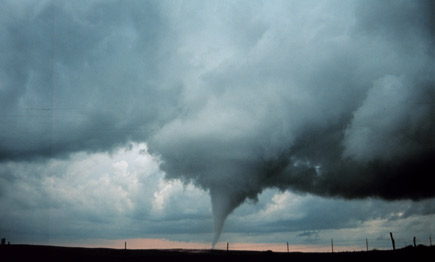 We're not in Kansas anymore, Toto.
A 10-mile long swath of damage stretched from Rockland County in New York and into Connecticut. The tornado touched down on July 12th at about 3:30 pm in Grand View-on-Hudson. It entered Connecticut at 4:01. The twister carved a trail of destruction all the way to North Greenwich.
The maximum intensity of this tornado was F2 on the Fujita Tornado Intensity Scale. This scale is a subjective measure of intensity, based on the damage that the tornado causes. An F2 tornado has estimated wind speeds of 113 to 157 miles an hour and causes "considerable damage," according to the National Weather Service. F2 tornadoes can toss cars through the air, uproot large trees, and peel back roofs.
In the case of this particular tornado, most of the damage came from thousands of uprooted and broken trees. This tornado was an F1—causing moderate damage—for most of its life. There were no fatalities and about six minor injuries, according to the National Weather Service.
About 1,000 tornadoes hit the United States each year. Tornadoes are common in what is known as "Tornado Alley," in the Midwestern United States that stretches from South Dakota to Texas.
But tornados can happen anywhere—even in metropolitan areas. In northern states, like New York, tornadoes occur more often during the late spring and summer. Everywhere, tornadoes often form between 3 and 9 p.m.
A tornado is a rotating column of air, reaching from a storm cloud to the ground, says the Glossary of Meteorology. To be officially called a tornado, a whirling storm's columns must touch the ground.
Tornadoes often cannot be seen until whirling debris colors them or clouds spin through the funnel.
But meteorologists aren't completely sure exactly how tornadoes form. Supercells—severe, rotating thunderstorms—produce the most destructive tornadoes. But sometimes they don't produce any tornadoes at all. Supercells have a mesocylcone, or a center of circulation. Some theories say that changes in temperature along the edges of the mesocyclone produce tornadoes. But other models say such a change isn't needed.
Tornadoes can also form when hurricanes or tropical storms come ashore.
If a tornado watch is issued for your area, the American Red Cross advises watching or listening to the news on television or radio and keeping an eye on changing weather. Approaching tornadoes are often said to sound like an oncoming freight train.
For more information about what to do when a tornado or other severe weather comes through your area, visit the National Weather Service's Office of Climate, Water, and Weather Services or the American Red Cross Disaster Services.
——
Got a question for us? ASK!
About the Author
Discussion