Health
Drug Industry Oversight
The president of Alliance for Human Research Protection explains the importance of informing the public.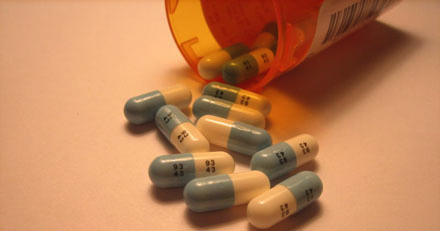 Fluoxetine HCl 20mg Capsules (Prozac) [CREDIT: Tom Varco]
Just as Vera Sharav sits down to talk about the lack of government oversight of the drug industry, the phone rings. She jumps up to answer it, and after listening patiently for a few minutes, she starts talking about Prozac, warning the caller that U.S. consumers don't always get the same detailed health warnings about pharmaceuticals as residents of some other countries. After hanging up, Sharav, president of the advocacy group Alliance for Human Research Protection, gets right to the point.
"We've got a major crisis in America now," Sharav says. "There is carnage going on. There are thousands of preventable deaths every year." Approval of a drug by the U.S. Food and Drug Administration implies that a drug is safe to market to consumers, but Sharav asserts that the FDA's assurances are not based on good science.
Federal law requires the sponsor of a drug to prove it is safe and reliable before it can be sold. But Sharav says the FDA has turned the law on its head by presupposing drugs are safe and effective until proven otherwise. "This is why we're getting lethal drugs approved," she says, warning that the public should be skeptical of FDA recommendations. "Drugs are marketed almost as cosmetics. It's a downgrading, a trivializing of medicines."
However, Ken Johnson, senior vice president of Pharmaceutical Research and Manufacturers of America, disagrees. "All drugs have risks, and the FDA has a rigorous and effective system that weighs benefits and risks throughout the lifecycle of medicines," he says. "There is always room for improving drug safety, and we have worked to ensure that the agency has the resources it needs to perform critical drug review, surveillance and monitoring activities."
"For example," Johnson explains, "the Prescription Drug User Fee Act has made the drug review process more efficient without changing safety standards or compelling the FDA to take short cuts. In fact, the scientific rigor of drug applications has increased over the last decade."
But Sharav's personal experience creates a different picture. She created the alliance after her son, who was diagnosed with schizophrenia, died from a drug reaction. Sharav says that doctors misled her throughout her son's treatment, leaving her unequipped to make informed decisions about his therapy. She describes the process as "a big betrayal."
After her son's death, she decided she had to inform the public of the "reckless shortcutting of safeguards" involved in drugs and their oversight. But she points out that the alliance does not exist to "knock everything down, nor say everything is perfect. We want to be accurate in what we say and informative."
Sharav is not the only one to disapprove of the FDA's handling of drugs. In response to rising public concern, the FDA commissioned a study to evaluate U.S. drug safety. The final report, released by the Institute of Medicine, a nonprofit organization that advises the government on health issues, found that many members of the public see a growing lack of credibility in the FDA and the pharmaceutical industry. Part of the problem, according to the report, is that the FDA and private industry are not quickly communicating safety concerns to the public as they arise.
Currently, after a drug acquires FDA approval physicians and drug manufacturers are not obligated to report adverse effects. Sharav considers this a crucial flaw and insists that the post-approval effectiveness of drugs needs to be more aggressively monitored. Johnson agrees, stating that, "PhRMA and its member companies support a number of recommendations for modernizing post-market surveillance of drugs, including more efficient use of the adverse reaction reporting system and maximizing use of large health care databases."
The Alliance for Human Research Protection is considered by many to be the most comprehensive of similar advocacy groups. It primarily focuses on informing the public about medical research issues through its website, www.ahrp.org. Every day Sharav updates the site with news on drugs, their trials and the organizations involved in their study and sends an informational email to subscribers.
One such subscriber is Dr. David Abramson, a clinical instructor at Harvard Medical School and author of the book Overdosed America. Abramson says that he is a beneficiary of Sharav's hard work and refers to her as a "courageous woman performing an enormous service." Since Abramson does not have time to scan publications himself, he relies on the information Sharav collects. "I don't get junk from her," he says.
The work with the alliance is a full time effort, explains Sharav, who says she hopes to continue informing the public of drug safety issues until necessary changes are made. Abramson says Sharav has an impeccable eye for important material and explains well the importance of news stories in her summaries for the website. As for the future of drug safety, she says, "We're at a crossroads here. It's going to be public outrage that will eventually move the government to action."
About the Author
Discussion