Life Science
My dogs were sprayed by a skunk, and I've washed them in hydrogen peroxide and baking soda — but how do I rid my house of the odor?
- asks Frank DeMayo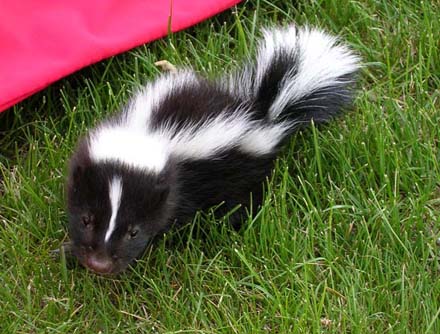 A baby skunk looking for a playmate. [CREDIT: KANKLEBORG.NET]
With spring just around the corner, there are several things to look forward to in the coming weeks. Warmer weather. Blossoming flowers. Lush trees. And skunks awakening from their wintertime slumber.
Skunks are known for using their natural defenses to stink up anywhere and anything nearby. Skunk musk, the liquid that harbors that smelly odor, comes from the skunk's anal glands, where only little bit – about one tablespoon – is held in the glands at a time. This meager amount of liquid is so potent, it can protect the skunk against five or six enemies and is detectable to the nose as far as twenty miles away. For years, people have had their own homemade remedies for dealing with "skunk smell," but what makes it so bothersome in the first place?
There are seven chemical compounds that make up skunk smell, and they can be divided into two groups: thiols, which are compounds that have a sulfur and hydrogen atom attached, and their acetate derivatives, which have an acetyl group attached. The attached hydrogen/sulfur compound, called a functional group, gives musk it's pungent odor. The acetyl group (what gives vinegar it's acidy smell) also contributes to a skunk's perfume, but it only becomes as pungent as thiols when it reacts with water. This is why animals sprayed by a skunk tend to smell even worse when they are damp.
Chemistry is not only part of what makes skunk musk so smelly, but also it is used to help get rid of the odor. William F. Wood of Humboldt State University in California, who studies the chemistry behind skunk odors, recommends scrubbing pets that have been sprayed in a baking soda and hydrogen peroxide bath. According to his research, these two agents oxidize thiol, adding oxygen onto the sulfur and changing the functional group into sulfonic acid. Such acids do not trigger olfactory receptors in the brain to sense a "bad" smell, but there is a risk that the chemical reaction may bleach a pet's fur.
While the urban legend of using tomato juice to treat skunk smells won't bleach your animal, it also won't rid it permanently of the pungent fumes. Tomato juice does nothing at the chemical level to oxidize, and therefore nullify, the effects of thiols, however it does mask the musk odor temporarily. Other commercial deodorizers include Neutroleum Alpha, which has a minty smell, and Freshwave, which smells like tea leaves and is actually used to deodorize oil tankers, can also be used as a musky cover-up.
For a smelly house, the hydrogen peroxide or baking soda approach won't work: the mixture only works for a short time after being combined, making it ideal for pets (because it's not caustic), but not for homes. The solution to eliminating the smell from a sprayed house is bleach. If it is known precisely where the skunk secretion occurred, liquid bleach used exactly where the spray occurred will eliminate the odor. If the smell has drifted throughout the house, the only remedy, unfortunately, is ventilation and time.
Of course, the best way to deal with skunk smell is to avoid skunks altogether! The College of Agriculture at the University of Kentucky recommends keeping yards clean and storing trash in sealed containers (as opposed to garbage bags), because the scent of garbage attracts skunks. The same should be done on farms, where grain storage areas also lure skunks. Proper fencing will keep the striped-creature from crossing into a backyard, but don't depend on a guard dog: the varmint will probably spray it in self defense, and the guard dog will bring the skunk musk right into the home!
Using these techniques, and keeping baking soda and hydrogen peroxide on hand, will help you enjoy a pleasant, odor-free springtime as the snow melts away and the skunks come out to play.
About the Author
Discussion