Environment
Restoring New York's Oysters
How volunteers and scientists are fighting an uphill battle to bring the mollusk back to the city's waters.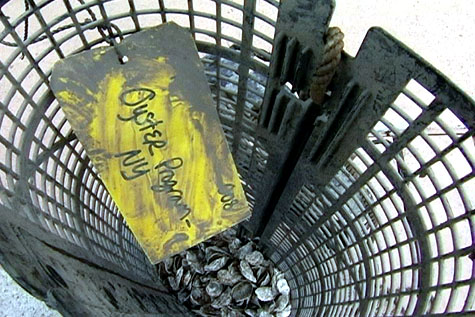 Can oysters really make a come back in New York City's waters? [Photo by Eric R. Olson]
Maybe if oysters had teeth, it wouldn't be so weird to see one scrubbed with a toothbrush.
It's even stranger when you consider that the oyster was just pulled out of the Gowanus Canal, historically one of the filthiest and most wretched bodies of water in Brooklyn. The four-mile channel has been used as a dumping ground for industrial waste and sewage for most of its 138-year history and was recently noted for harboring the sexually transmitted disease gonorrhea.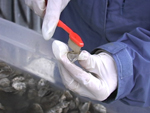 Click here to see a video about oysters in Brooklyn's Gowanus Canal.
With her hands protected by only a thin layer of white latex, Jackie Godleski, a 47-year-old personal assistant to a music executive and a resident of Brooklyn, pulls a basket full of live oysters out of the canal. She selects one of the small, gray, rock-like mollusks from the hundreds in the clear plastic tub in front of her and begins to scrub it delicately with her little red toothbrush.
"What I normally do, because they have a lot of sediment on them, is I flush the oysters out. I give them a little bit of a shower," says Godleski from under a profusion of burgundy-red hair that partially obscures her face. "This water is really, really dirty today," she adds.
Godleski's goal in cleaning the oysters is to aid them in their survival and also to monitor their growth. She wants to determine if oysters can flourish in the canal at all.
And she is not alone in her efforts. A small army of volunteers around New York City are trying to restore oysters to New York's waterways. At the nexus of the effort is the New York/New Jersey Baykeeper, an environmental organization dedicated to the preservation of the New York watershed. It has enlisted some 400 volunteers, mostly kids from public schools and adult volunteers like Godleski, to help get the ball rolling. Several other activist organizations are involved in the movement, as well as some independent scientists and researchers.
The ultimate goal of the effort is to restore the oysters so that they can filter particles out of New York City's murky waterways and begin to restore balance to a fractured ecosystem. However, the initiative faces almost insurmountable odds. Although the waters around the five boroughs once supported a thriving ecosystem teeming with life, they are now largely polluted wastelands inhospitable to oysters and other marine creatures.
But even those outside of the movement remain hopeful. "It is well within the realm of possibility that oysters could return to populations from a century or two ago," says David Bushek, a marine scientist at the Haskin Shellfish Research Laboratory at Rutgers University in New Jersey, a stone's throw away from New York Harbor. And yet, that "realm of possibility" remains a long way from certainty.
Mollusks in Manhattan
It's four o'clock on a Saturday afternoon, and I find myself sitting at the long marble counter in the cavernous, dimly lit Oyster Bar hidden under Grand Central Station in Manhattan. As people above me scurry to their trains and subway routes, I slurp the slimy, gray mollusks out of their shells and sip on a cold Heineken.
I've ordered the local oysters, or at least as local as one can get. They're all from nearby Long Island and bear the names of the places where they were harvested: Mattitock, Shinnecock, Oysterponds and Fire Island. Looking at the hand-scrawled, catch-o-the-day board that hangs on the wall, I see that I can get oysters from a myriad of other places including Rhode Island, Connecticut and even as far away as California, Washington State and Mexico's Baja peninsula.
Conspicuously absent from the menu are oysters from any of the five boroughs. Even though I am in a city surrounded by water that was once ideal for oyster-growing, local oysters—that is, ones pulled straight out of the harbor—aren't offered here or anywhere else. In fact, they've never been on the menu at the Grand Central Oyster Bar, even when it first opened in 1913.
About the Author
Discussion