Health Blog
Swine Flu: the Good, the Bad and the Cute
Using ferrets to predict the virus's virulence.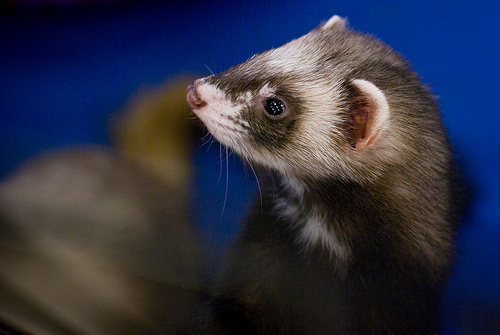 Ferrets are a good model for the human flu because their respiratory tract cells are susceptible to similar types of viruses. [Credit: Stacy Lynn Baum, flickr.com]
There's good news and bad news on the swine flu front this week.
The bad news is that the novel H1N1 virus has a "biological advantage" over seasonal flu viruses, in terms of both infection and transmission according to the authors of a recent study. The good news? When the animals were co-infected with swine flu and seasonal flu viruses, H1N1 kept its genetic material to itself.
This eases fears that swine flu will reassort with other flu viruses to form a "superbug," or a more virulent viral strain. Still, lead author, Daniel Perez of the University of Maryland, isn't surprised that the pandemic virus has a leg up on the competition, "simply because it's new, so hosts haven't had a chance to build immunity yet," he said in a statement.
The researchers used ferrets as a model for the human flu in their study, because ferret flu closely resembles the flu in people. The study is the first to look at how swine flu interacts with other forms of the seasonal influenza virus, according to the researchers. The ferrets were infected with one of three viruses: swine flu, the seasonal H1N1 virus (which differs from the swine flu virus), or another seasonal flu virus, H3N2. While ferrets in all three groups got sick, the ferrets with swine flu had a more severe illness, transmitted the disease more efficiently, and had higher levels of the virus inside their bodies. When the researchers co-infected ferrets with swine flu and a seasonal flu virus, only swine flu was passed to uninfected ferrets, indicating that, when it comes to transmission, H1N1 "out-competes" seasonal flu viruses.
The study was published in PLoS Currents: Influenza and funded by the National Institute of Allergy and Infectious Disease.
Related on Scienceline:
Flu Sausage.
Sneezing, Sniffling and Googling.
When Viruses Jump Species.
About the Author
Discussion