Environment
Soul cyclist Aaron Naparstek fights for the streets you'd want to live on
Bike activists are shaping urban design in the Big Apple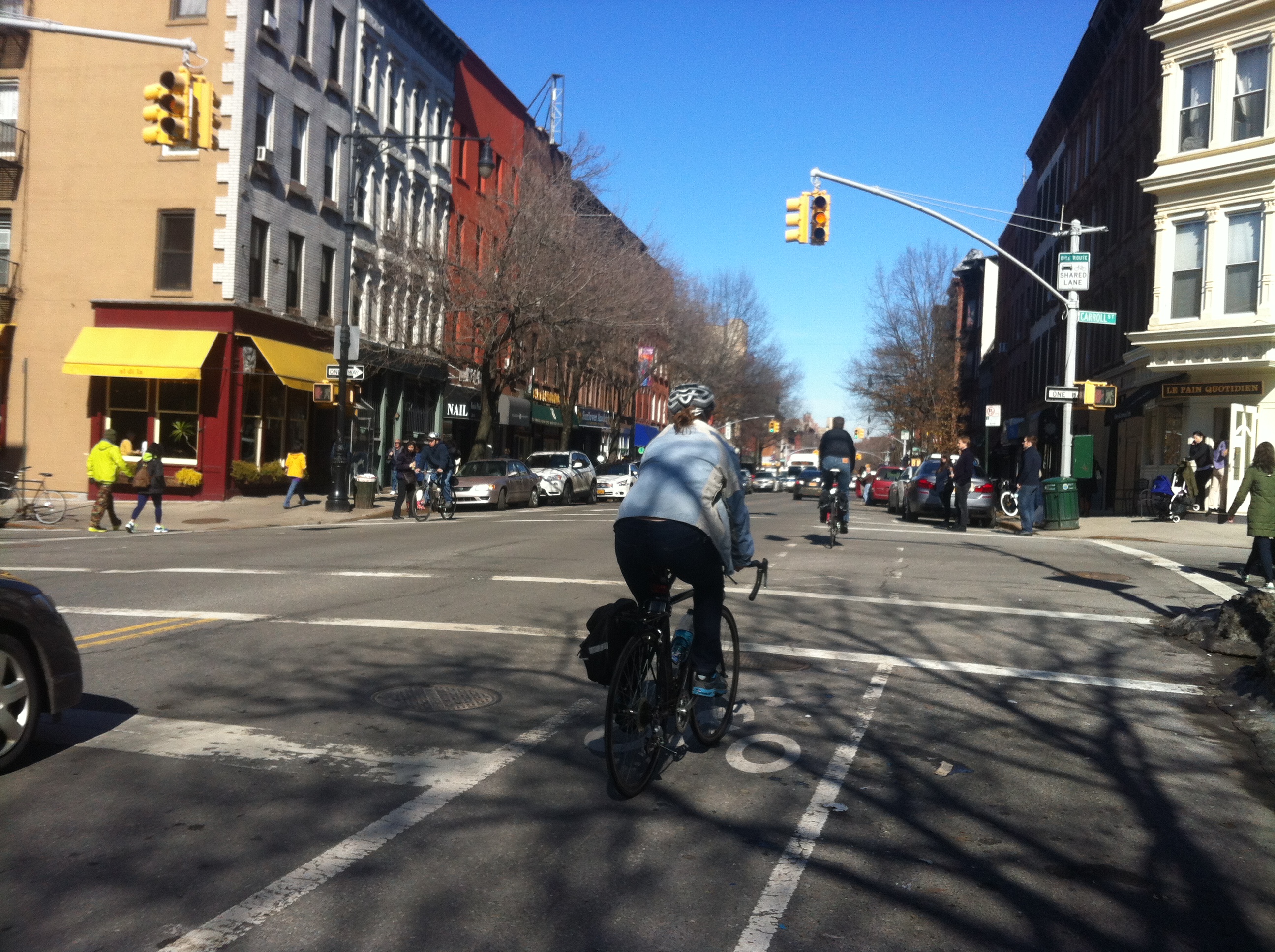 Cyclists sail down Fifth Avenue in Park Slope, Brooklyn. [Image credit: Jillian Rose Lim]
It's a warm Saturday for February in Park Slope, Brooklyn — sunny and spring-like but cool in the shade. Aaron Naparstek walks down New York's other Fifth Avenue, a wide stretch of vegan eats, nail spas, coffee shops and Laundromats with doors open and storefront awnings flapping in the wind. Naparstek stops abruptly outside Gorilla Coffee to examine a bike parked on the street. "That looks like Doug's bike," he says pointing to the lean WorkCycles bike. "Let's see if he's in."
Naparstek is referring to Doug Gordon, a fellow bike activist in a community of steadily growing and tight-knit people who advocate for livable streets. It's here that activists like Keegan Stephan from Right of Way—an organization founded by Charlie Komanoff—in the 90s, call Naparstek a "wise" and "father-like" figure known for his cool judgment and levelheaded approach to political dissent. That's because Naparstek — currently a visiting scholar at MIT's Department of Urban Studies and Planning — has over a decade of experience wrangling city council members and other residents for more bike lanes, more cycling signs and improved safety. Naparstek's goal is to create 'livable streets', which are streets with a physical design that make them a pleasant place to ride or reside.
Ducking out of Gorilla Coffee, Naparstek continues down Fifth Avenue. "There are only three WorkCycles bikes in New York City," he explains in his slow voice, sun-strained eyes fixed ahead. "So I thought it might be his, but it wasn't." Naparstek sports a red welt on his broken nose bridge — the result of biking over a rogue pothole in Cambridge last weekend. He points out a Fleisher's, a meat store he helped start up and "sharrows" on the pavement—special shared bike lane markings for narrow streets which he helped push the New York City Department of Transportation (DOT) to install. Despite his move to Massachusetts, Park Slope is — and always will be — home. Drawn into the white lines that divide the pavement and the green sides that read "BIKES SHARE THE ROAD" are Naparstek's struggles with government administrators, trials with merchants and battles with Brooklyn residents. A geography of a life, a life in a street.
"I see him as sort of a godfather of this movement," says Gordon, who recently led a National Bike Summit with Naparstek in Washington D.C. Not in the Marlon Brando sense, says Gordon, but in the fact that Streetsblog helped build New York City's safe streets movement, along with other safe street organizations like Transportation Alternatives. Naparstek created Streetsblog in 2005 to cover local news about transportation policy in New York City. It was through Streetsblog that Naparstek immersed himself in the bike lane wars of the late 2000s. The site has expanded to Los Angeles, San Francisco and Chicago, employing writers and editors devoted to improving the design of large cities. Streetsblog is one example of how Naparstek uses the Internet to get people's attention. "Aaron recognized with Streetsblog that your opinions and your writing get more legitimacy on the Internet," says Gordon.
The white bike lane lines that run down Fifth Avenue are perhaps the most tangible signs of one of Naparstek's early battles. Before the lanes existed, several cyclists died on that stretch of road — popular for commuting into the city — between 2002 and 2004. Naparstek co-founded a group of residents called the Park Slope Neighbors with Eric McClure and David Alquist; together, they urged city officials to lay down bike lanes. The New York City Department of Transportation (DOT) was open to the idea but wanted to be sure there was community support before putting down the bike lanes. "We went door-to-door to all these merchants," Naparstek says, waving his arm down several storefronts along Fifth Avenue — most of which bustle with business. "About 90 percent agreed to sign, and the only ones who opposed were the members of an old Italian club right over here." The petition resulted in the first bike lanes on Fifth Avenue.
Naparstek pauses at the intersection of Prospect Place. A memorial dedicated to Elizabeth Padilla, a lawyer, stands in the form of a painted white bike — a ghost-bike. A car killed Padilla in 2005 while she cycled down a part of Fifth Avenue where the road narrows and the bike lanes end. When she died, Naparstek covered the event on Streetsblog and the neighbors urged the DOT to extend the bike lane lines past Carroll Street. One year later, the DOT obliged.
A second major battle ignited in 2010 when a group of Park Slope residents filed a lawsuit to erase the two-way bike lane lines on Prospect Park West. Louise Hainline, a member of this group, told New York Magazine that the lanes were "monstrous" because they blocked parking and jammed up the streets. When commissioner Janette Sadik-Khan firmly refused, the group accused Sadik-Khan of siding with activists and primarily Naparstek, using Naparstek's emails to NYC DOT staff as ammunition. The New York Times reported: "Mr. Naparstek forwarded a comment he had posted to Streetsblog, the bicycle advocacy web site he co-founded, that described the lane's opponents as 'shameless, selfish pigs' who 'need to be publicly disgraced every time they pop their heads up." But Naparstek and the commissioner stood their ground and the bike lanes remained.
These days, Naparstek has a new battle: he is currently waging war against New York City procedures that allow drivers to pay a $250 summons rather than be charged for manslaughter if they hit and kill a pedestrian — a phenomenon he calls "casual acceptance." "In New York City, it's legal to kill somebody," Naparstek explains. "If you run someone over, stay at the scene, just express a mindset of remorse — you tell the police I didn't mean to hit him."
The battle has yet to unfold but Naparstek speaks calmly about the fight. He is used to opposition. In the early 1990s, he commuted to work in a decade when cyclists were called "outliers" and "weirdos" as he recalls. But it was also around this time that Naparstek started to see the beauty of biking. "It was like a secret key to the city — a whole other world that nobody knew about," he explains. He posted haikus about his frustrations on street lamps, which became known as "Honkus". Speaking up for the minority evolved into Streetsblog.
There are now more than 500 miles of bike lanes in the city — double the number in 2006, according to the NYC DOT's Sustainable Streets Index of 2013. The number of cyclists commuting to Manhattan has increased about fivefold since 1995. The most recent Cycling Risk report shows a 73 percent decrease in the average risk of a serious injury or death experienced by NYC cyclists.
And almost a decade after starting Streetsblog, how would Naparstek define a perfect, livable street? "A livable street would be a street that accommodates the needs of all users — it works for bikers, residents, shop owners, and it has economic and social benefit," he says.  He admits that inevitably, there will be tension. "Sharing will first require a commitment by all New Yorkers — and especially cyclists — to abide by the rules of the road" a writer at New York Magazine says. But on this anomalous February day — café doors open, joggers inhaling the light — Fifth Avenue seems more like a hazy dream, a fast-forward of the future, an illustration. Livable, after years of organized dissent.
Author's note: This article has been updated to more accurately reflect the subjects and organizations involved.
About the Author
Discussion