Environment
Think twice before using shared electric scooters
A new study takes aim at the environmental appeal of a booming form of transportation.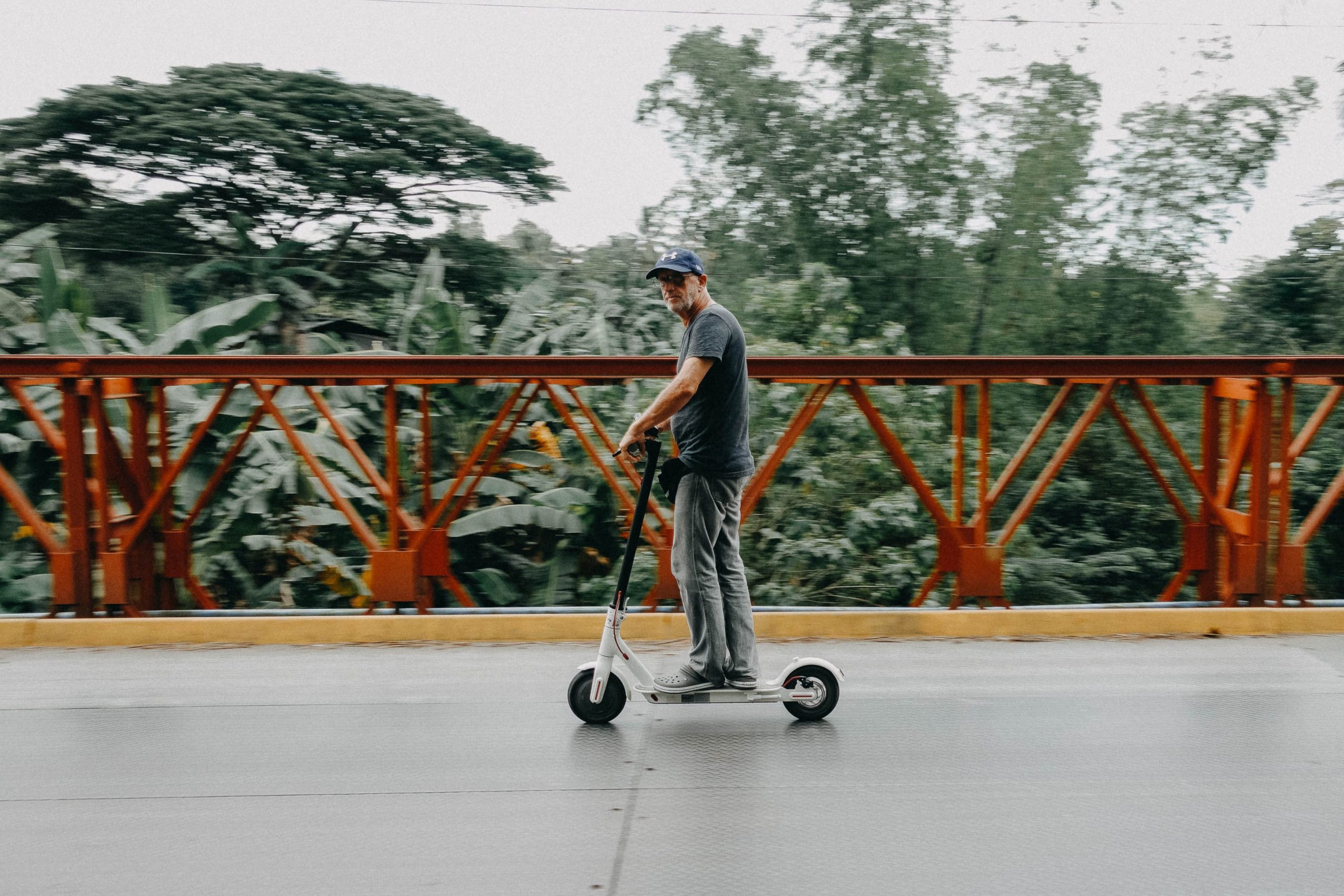 E-scooters are less eco-friendly than taking the bus, cycling or using mopeds, new findings suggest. [Credit: Denniz Futalan, Pexels | CC]
The more electric scooters Jeremiah Johnson saw around the North Carolina State University campus, the more the environmental engineering professor wondered whether the fast-selling scooters were really as green as their boosters claimed.
"Several of these e-scooter companies would make claims such as 'we hope you enjoyed your carbon-free ride' or 'these are environmentally friendly options,'" Johnson recalls, "so we decided to test that."
His findings could give second thoughts to anyone considering joining the growing horde of users who see scooters as a climate-friendly substitute for other modes of transportation. In 2018, just one year after shared e-scooters were launched, riders made 38.5 million trips on them in the U.S., by one estimate.
Johnson's team found that e-scooters emit more greenhouse gases per passenger mile traveled than electric bicycles, conventional bicycles, buses, mopeds, and — of course — walking, according to their study published in August in Environmental Research Letters.
The researchers purchased a first-generation e-scooter model used in the shared system when it was launched in 2017 to estimate the vehicle's environmental footprint. After disassembling it, they calculated the environmental costs associated with its "life cycle." The costs include mining the raw materials, assembling and transporting the scooters, and finally recharging their batteries once they're on the streets.
For scooters, greenhouse gas emissions per mile traveled amounted to 202 grams of carbon dioxide, as reported in the study. The scientists found that half of total emissions resulted from the manufacturing process and another 43% from recharging-related costs. 
By comparison, bicycles, electric bicycles, full buses, and electric mopeds check in at just 8, 40, 82, and 119 grams per mile traveled per person, respectively.
Cars, on the other hand, far exceeded all other modes of transportation in emissions, at 414 grams of carbon dioxide per mile traveled. A key problem, Johnson found, is that only about one-third of scooter riders are using them as substitutes for driving. Instead, most scooter users reported switching from biking, walking or taking the bus, according to a survey Johnson conducted as part of his study.
Scooter manufacturers, however, are pushing back against the study's conclusions, which they argue are based on skewed assumptions.
"Some of the assumptions they made related to the vehicle were not representative" of current e-scooter models, says Melinda Hanson, head of sustainability and environmental impact at California-based Bird, the fastest growing startup in the e-scooter industry, with a market value of $2 billion.
Hanson says the researchers shouldn't have based their analysis on a first-generation e-scooter that needs more frequent charges than current models and therefore are more carbon-intensive. As of July 2019, over 75% of Bird's shared scooters included "Bird Zero" — a new, upgraded scooter model, with improved durability and lifespan, tweeted Travis Vanderzanden, CEO of Bird. Hanson said she could not disclose numbers on how much greener these new models are compared to first-generation scooters because results are still preliminary, but she says the difference is "significant."
Furthermore, Hanson thinks the study's choice to use the North Carolina city of Raleigh to calculate total scooter-related emissions was also misleading because many other cities don't rely on gas-guzzling trucks to collect the e-scooters nightly for recharging.
Other experts think the study makes an important contribution to a field swamped by dubious marketing claims. "Companies like to greenwash, and they don't have anything to back it up," said Matt Chester, an energy and policy consultant who was not involved in the study and whose clients include the U.S. Department of Energy.
Johnson acknowledges that his critics have a point in questioning his use of an early and relatively inefficient scooter. "The landscape is changing quickly" for e-scooters, he says, noting that some innovative improvements are already underway, including the use of fuel-efficient vehicles to collect the e-scooters for recharging, and new policies to recharge scooters only when their batteries are low.
The e-scooter industry is so new that manufacturers are still experimenting with prices. For rentals, major e-scooter companies such as Bird, Lime, and Lyft currently charge $1 to unlock the scooter plus a per-minute usage fee of 10 to 39 cents per minute, depending on the city. This is up from a 15 cent per-minute charge when shared e-scooters were first launched. 
At this price range, some experts wonder whether more consumers will end up buying scooters than renting them. Bird's latest model, called Bird One, currently sells for $1,299. "Why not just buy your own scooter if it would end up being cheaper?" asks Natasha George, co-founder of Somerville Electric Vehicle Company, a start-up offering swappable batteries for electric vehicles. She adds that people would take better care of the scooters if they owned them, making them last longer and reducing their lifetime environmental impact.
Consumers are right to be cautious about marketing claims, but shouldn't give up on the e-scooters altogether since models are getting more efficient all the time, explains Bruce Oliver, an investor in lightweight electric vehicles. 
"If you're skeptical, good," Oliver says, "but just see what the potential is because we've never had this before."
About the Author
Discussion