Health
Traffic pollution increases risk for irregular and rapid heart rhythm
Long-term exposure to car fumes have lasting effects on heart health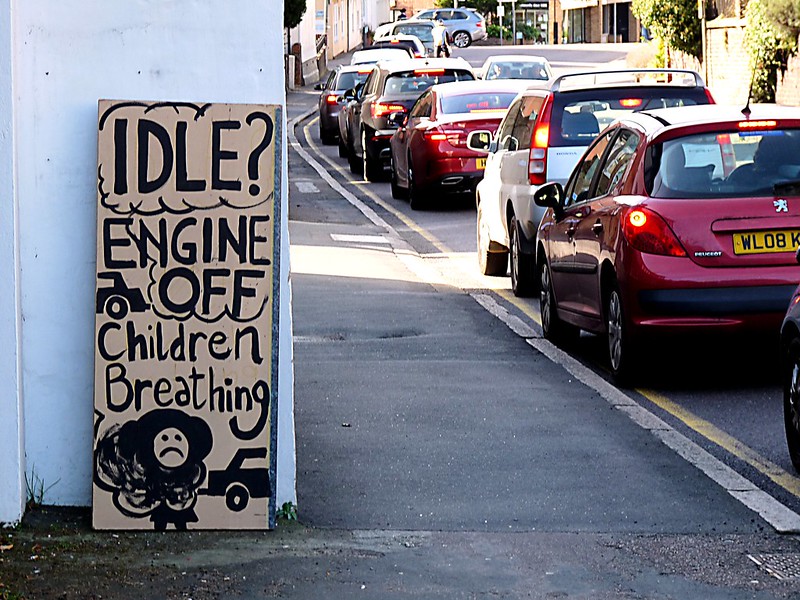 Vehicles that run on gas and diesel fuel emit nitrogen dioxide, a gas that can increase the risk of atrial fibrillation. [Credit: Hornbeam Arts | CC BY-NC 2.0]
The pain and strain of coughing is reason enough to avoid breathing in tailpipe exhaust. But breathing air polluted by fumes from cars and trucks could have lasting effects on heart health, a new study suggests.
Long-term exposure to nitrogen dioxide, a major component of emissions from vehicles that run on gas and diesel fuel, as well as living closer to major roads, both increase the risk of atrial fibrillation, the most common heart rhythm disorder, according to the study published Sept. 15 in the journal Environmental Health Perspectives. 
In 2010, more than 5 million individuals in the U.S. were estimated to be living with atrial fibrillation, an irregular and rapid heart rhythm that can lead to blood clots in the heart. This estimate is predicted to increase to 12 million people by 2030 as the population ages and other risk factors become more common. In 2019, atrial fibrillation was listed as the underlying cause of death for 26,535 people, according to the Center for Disease Control and Prevention. 
Decades of research have linked cardiovascular disease and inhaling polluted air. The latter accounts for an estimated 4.2 million premature deaths worldwide. Past research has established that short-term exposure to air pollution caused by vehicle emissions can trigger atrial fibrillation. But the long-term exposure risks for this condition have been less understood.
Emissions from motor vehicles are thought to increase the risk for atrial fibrillation by causing inflammation, heart cell damage and increasing blood pressure. As the body deals with these conditions, the walls of the arteries thicken, which makes the heart work harder and can lead to atrial fibrillation. The condition is associated with a much higher risk of stroke, which itself kills 5.5 million people globally every year. 
For the new study, Jaime Hart, an environmental health researcher at the Harvard T.H. Chan School of Public Health, and her colleagues used data from a subgroup of 83,117 participants in the Women's Health Initiative cohort and created a model to predict their long-term exposures to particulate matter, sulfur dioxide and nitrogen dioxide. The cohort was created in the 1990s as part of a national long-term health study funded by the National Heart, Lung and Blood Institute. 
The researchers created this subgroup of the original cohort of postmenopausal women by excluding those with a history of atrial fibrillation at the start of the study. Hart's team tracked the women over three years and followed whether or not they developed the condition.
They developed models from existing air pollution data to estimate each person's exposure to harmful nitrogen dioxide emissions based on where they were living. Hart and her co-researchers sorted their observations based on how far the women lived from major roads, typically interstate highways, and found that living within 50 meters of a major road increased the risk of developing atrial fibrillation by 12%, compared to women living more than 1,000 meters away. 
This sort of observational, and model-based approach is common for studying the effects of pollution, says Hart. "All air pollution studies are a little complicated. We're doing an observational study. It's not ethical to, you know, expose people to pollution," she added.
The effect that nitrogen dioxide had in Hart's study was small compared with other studies investigating links between air pollution and cardiovascular disease, says Si-Hyuck Kang, a cardiologist at Seoul National University Bundang Hospital, who was not involved in the new study. In Kang's previous work he found that particulate matter, another air pollutant, triggers atrial fibrillation in the short term. He was "not very persuaded" that air pollution directly caused the development of atrial fibrillation. More likely, he says, is that air pollution could contribute to the acute deterioration of those who already have the condition. 
Regardless, the new findings are a reminder that people should take their exposure to traffic exhaust seriously. Hart suggests that people who live near a major road should keep windows closed during periods of high traffic. She says that the biggest thing individuals can do to tackle unsafe air pollution is to support U.S. and international organizations working to regulate emissions.
"It's really hard for any one of us to change the air pollution around our homes," says Hart. "But collectively we can really make a difference."
About the Author
Discussion