Environment
Hurricane Ian wrecked southwest Florida. Why weren't there more warnings in Spanish?
Delayed evacuation orders and a dearth of Spanish-language weather programming left many in the Hispanic community unprepared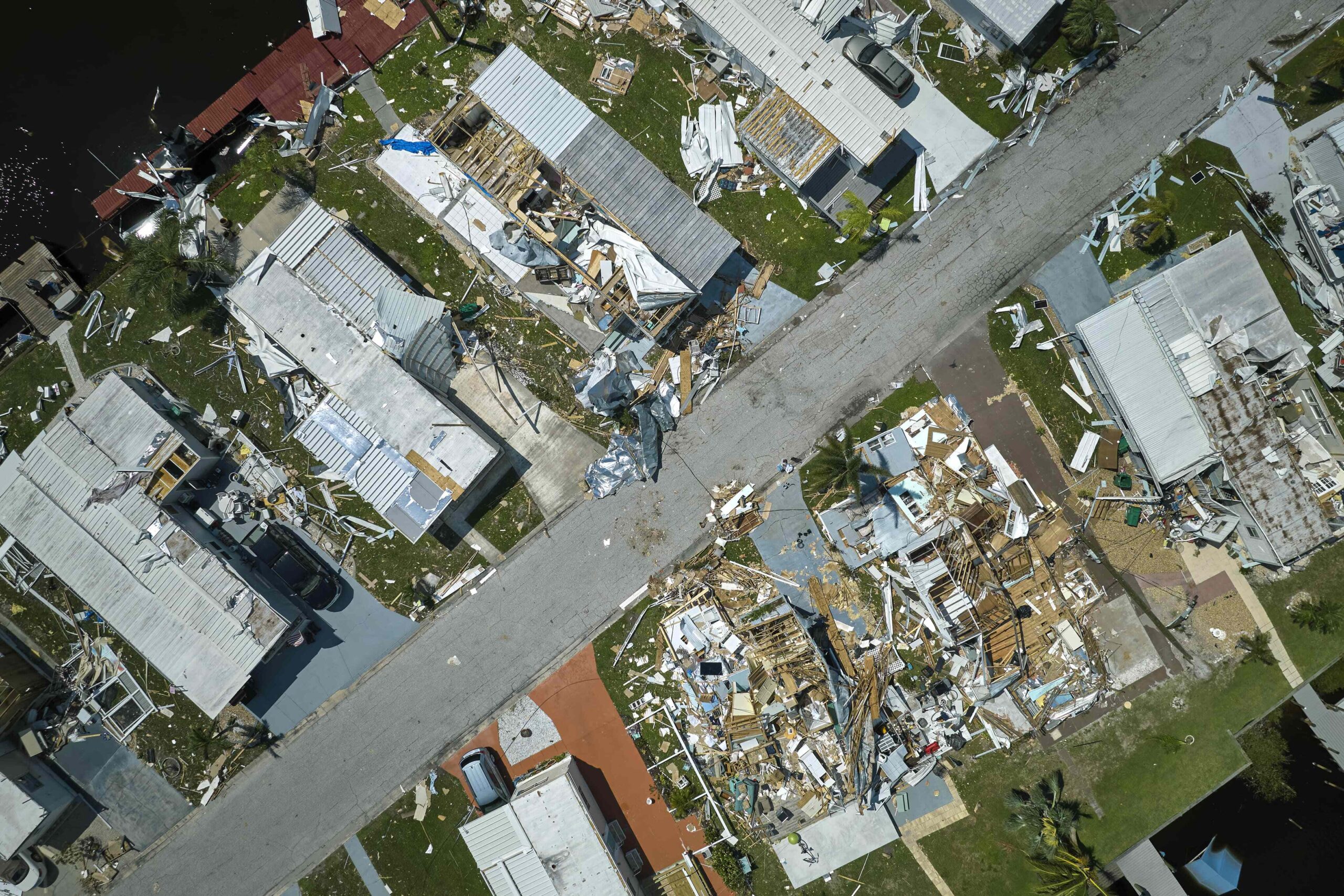 Hurricane Ian blew through the Fort Myers region of Florida and reduced homes to rubble. Spanish-speaking communities in the United States rarely have access to quality weather information, but new technology and research could improve extreme weather forecasts. [Credit: iStock/Bilanol]
There are over 350,000 Hispanic people in Southwest Florida, and exactly one Spanish-language local news program: Noticias WINK. But when Hurricane Ian threatened the region in September and the Fort Myers station switched over to broadcasting non-stop in English, Noticias WINK was relegated to Facebook Live and other social media platforms.
Even as Ian bore down on the region, the Spanish-language program's online viewership barely crossed 5,000 people — a small fraction of the listeners tuning into WINK's over-the-air English bulletins during the emergency, according to Juliana Mejia, a bilingual meteorologist who started at WINK just three months before Ian struck. 
Being confined to social media, Mejia says, was difficult. "I think the team knew and saw that coming. For me personally, and I know (for) the other meteorologists, it is a bit more challenging to present the material in a quick Facebook live," she says. 
One of the strongest storms in U.S. history, Ian ended up displacing thousands and reducing island towns to rubble. It was also the latest example of an inadequate forecast translation costing lives. In 2013, for example, a tornado in Oklahoma killed nine people from the state's Guatemalan community, and a National Weather Service report found that the lack of severe weather information in Spanish may have contributed to their deaths. 
To be sure, there were many reasons why Ian, which killed 149 Floridians, was so deadly –  including a shifting forecast and a questionable decision by officials in Lee County, where Fort Myers is located, to delay issuing an evacuation order by 12 hours. But some locals think the lack of Spanish-language warnings was also a factor. 
"A lot of people in the Hispanic community, they couldn't get information," says Marisol Perez, who lives in Naples, south of Fort Myers, and works in a local homeless shelter. Perez is bilingual but was nonetheless caught unaware by the storm and had to flee her flooded home, wading through four feet of water to escape. Many Spanish speakers she knows fared much worse. "They lost everything."
Without on-air updates in a language they could understand, Spanish speakers who use the services of the food bank Maria Espinoza runs on Sanibel Island had a hard time keeping up with the shifting forecasts. Compared to their English-speaking counterparts, "they were just not as prepared," Espinoza says.  
Over the last few decades, meteorologists and emergency managers have improved their information campaigns in the run-up to extreme weather events. But translating weather forecasts is still a major challenge. After Tropical Storm Elsa hit Tampa Bay in 2021, the region's Hispanic community spoke out about the barriers many Spanish speakers face trying to access information about devastating storms.
Bilingual meteorology has a decades-long history in the United States, which has been concentrated in Miami and Puerto Rico. With about 40 million Americans speaking Spanish at home, expanding those efforts is becoming more and more important. "I think there's a lot of potential and a lot of room for growth within Spanish in meteorology," says WINK's Mejia.
A major hurdle is that translations of weather bulletins need to be both accurate and fast. To address this, the federal government recently launched an effort to use artificial intelligence to speed up translations of forecasts issued by the National Hurricane Center. For decades, the Spanish translations of hurricane and tropical storm forecasts have been housed at the center's San Juan office. Before the recent pilot program, translating the initial hurricane forecast could take up to an hour. Now, it might take five minutes. That extra time for disseminating information about a storm's impact and timing has been critical, says Ian Colon-Pagan, a meteorologist at the National Weather Service. 
"It gives us more time to do what our agency is trying to do — protect life and property — and give our users, including emergency managers, the information that they need," says Colon-Pagan.
Because the software uses artificial intelligence to track and boost its performance, the translations are improving and becoming more standardized with each storm the team tracks. Previously, forecasters gathered feedback from storms to make predictions. "That's really hard to do in the heat of battle and warning operations," says Monica Bozeman, the National Weather Service meteorologist leading the automated translation effort. "So this system, it's learning from them in real time. And that saves us work."
But the problem of reaching Hispanic populations with life-saving information runs deeper than just slow translations or too few Spanish-language broadcasts. Meeting that challenge also requires finding new ways to reach populations who may not be inclined to get information via traditional routes. 
"Translation is only the first step in engaging Spanish speaking communities. It's not like we can develop a dictionary and say, 'Okay, suddenly everyone's gonna listen to us now.' You have to find innovative ways to engage these communities to actually consume this information," says Joseph Trujillo Falcón, a graduate research assistant at the National Oceanic and Atmospheric Administration (NOAA), the umbrella agency of the National Weather Service.
Another complication is the diversity of Spanish dialects. Trujillo Falcón's research has pushed NOAA and the National Weather Service to make their translations more culturally neutral. He is also working to create an official English-to-Spanish weather and climate dictionary that the weather service can use. An ad hoc dictionary currently exists, but he says, "until we develop one and come into consensus with one another, we can't create consistent and effective messages in Spanish."
And however quickly the weather service produces a translation, they cannot control whether everyday residents receive that information. That's the concern of WINK's Mejia, too, but she sees some room for optimism. One month after Ian, when Hurricane Nicole, a much weaker storm, brushed across the region, the Noticias WINK Facebook Live broadcast had more than 200,000 viewers at one point – 20 times higher than during Ian. 
Mejia wishes that it did not take a deadly disaster for the community to grasp the severity of extreme weather, but she is happy that more people are tuning into the program and getting the critical information they need. 
"I think they're just developing more trust in us," she says. "There's the growing desire for a local forecast, somebody from the area to tie it into home."
Correction: The original version of this article incorrectly identified the agency that oversees water, weather and climate. It is the National Oceanic and Atmospheric Administration. Updated Feb 24, 2023.
About the Author
Discussion