Health
Is it true that having cold sores means you've got herpes in your mouth?
--asks Anonymous from Horseshoe Beach, Florida.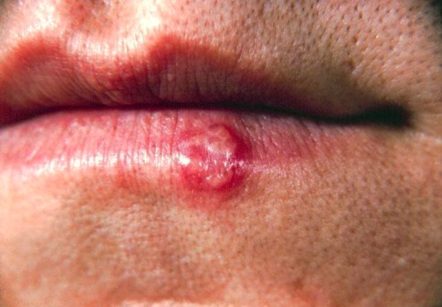 So much for lipstick! [CREDIT: CDC]
Well, yes, that is true. But it's not necessarily the same herpes that causes problems in one's nether regions.
Cold sores, or fever blisters, are fluid-filled blisters that appear on or around the lips and sometimes on the nostrils or chin. They're different from canker sores, which are ulcers that occur in the soft tissue inside the mouth.
The culprit responsible for cold sores is the herpes simplex virus, which comes in two flavors. Garden variety cold sores are usually caused by type 1, while type 2 is commonly the villain behind genital sores. But either strain can lead to sores on the face or on the genitals. Over 85 percent of adults are infected with herpes simplex type 1, although they may not show any symptoms at first exposure.
The herpes simplex virus that causes herpes labialis (that's the medical name for cold sores) is a sneaky sucker. It infects by entering through skin or mucous-coated surfaces and sets up house in your nerve cells. It's a latent virus, meaning once it's infected you, it remains dormant between outbreaks.
The life of a cold sore involves several stages. Warning signs that one is about to raise its blistery head include itching, tingling, and burning. Then the blister appears, starting small and often growing to a bulbous mass. After a few days, the mass breaks and may ooze—this is called the "weeping" stage—after which it scabs over a few times and eventually flakes off to reveal pinkish, healing skin. Generally, cold sores don't leave scars. On average, lesions last 7-10 days if left untreated.
The bad news is that once you've got the cold sore virus, you're stuck with it. But there are ways to keep it in hibernation longer, and you can also take steps to reduce the amount of time cold sores taint your kisser.
First of all, herpes labialis is most contagious when cold sores are in their weeping stage, so don't go around sharing utensils, cups, or kisses with someone who has a cold sore. Second, fever, menstruation, stress, and even sun exposure can cause outbreaks, so leading a healthy lifestyle—which includes getting enough sleep and wearing sunscreen—can help.
There are over-the-counter and prescription topical creams and oral medications available that can help reduce the lifespan of a cold sore. Acyclovir is one prescription oral drug that is sometimes used. It works by interfering with viral replication, which happens before a cold sore appears. But viral replication generally occurs before a person shows symptoms, so it's difficult to judge when acyclovir should be taken. If a cold sore is already present, it may be too late for acyclovir to help, and you'll just have to ride it out.
Herpes simplex virus type 1 less commonly causes other problems besides cold sores. While it can lead to sores anywhere on the skin, as well as on the eye, in rare cases it can also cause neurological disorders, including encephalitis and Bell's palsy, a type of facial paralysis. Given these alternatives, a little cold sore doesn't seem too bad, does it?
——
Got a question for us? ASK!
About the Author
Discussion