Health
Is it true that warm milk can make me sleepy?
--asks M.L. Ribindrandy from Seneca, NY.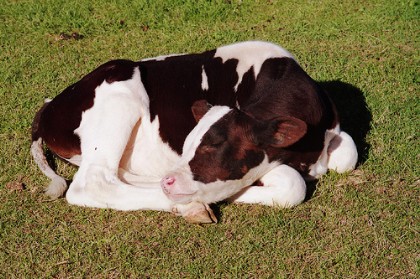 I just count the sheep and go to sleep. (CREDIT: upthedubs1's)
It's not utterly out of the question. Like most old wives' tales, there's some scientific support for warm milk's slumber-inducing capacity.
First, let's tackle the most likely suspect: warmth. Warmth lulls most mammals off to dreamland, but not from within the body. Many behaviorists have noted that mammals nod off when warm, especially after a satisfying meal and a snuggle. So, is drinking in the warmth of delicious dairy enough to have any effect on us?
Maybe, but it would work even better if you bathed in it. According to Progress in Brain Research, a sleep textbook published by the Netherlands Institute for Neuroscience in 2006, sleep is induced more rapidly when skin temperature rises. (On a tangential note, if you do decide to bathe in milk, the lactic acid in the beverage is said to soften and exfoliate skin. But don't expect to swim in the moo juice on the cheap. A milk bath in the swank spas of New York City can run you $600.) Having a glass of warm milk in your gut is unlikely to raise skin temperature enough to have any effect. So, cross "warmth" of the list. But what about milk's nutritional properties?
Most people have heard of tryptophan in relation to Thanksgiving—this essential amino acid (a building block of proteins) is responsible for that inevitable nap after a big turkey dinner. Consuming foods that contain tryptophan has long been linked to sleepiness, and it turns out there are traces of the chemical in milk as well as turkey. In the body, tryptophan is converted to the sleep-inducing hormones serotonin and melatonin. But the amount of tryptophan in any food—including both milk and turkey—is not large enough to boost hormone levels so high that they would induce sleep.
Don't fret, though—if you have been relying on a luscious lactose nightcap for a good snooze, you don't have to downgrade from gallons to quarts so fast. There might not be a strong biochemical link between warm milk and sleep, but there may be a psychological one.
Infants often go right to sleep after breastfeeding. When an adult enjoys a warm glass of milk they may just be taking an unconscious, nostalgic trip back to this "happy place." Who doesn't enjoy a good suckle?
A study published in a recent issue of Neuroendocrinology Letters found that infants go to sleep faster after feedings. While no research has yet examined this phenomenon in adults, it's not unreasonable to suggest that milk-guzzling grown-ups are unconsciously reminded of an infantile state which causes them to drift off.
So, if you enjoy drinking a little of the white stuff to make you pass out, go right ahead. It may be possible that you have conditioned yourself to the behavior, and drinking it really does help you sleep. There's probably not much going on chemically—it's more like a placebo effect. But remember, the only way for a placebo effect to work is if you keep on believing.
—–
Got a question for us? ASK!
About the Author
Discussion