Life Science
Medicines of the Sea
Scientists delve into the oceans to solve the problem of drug resistance.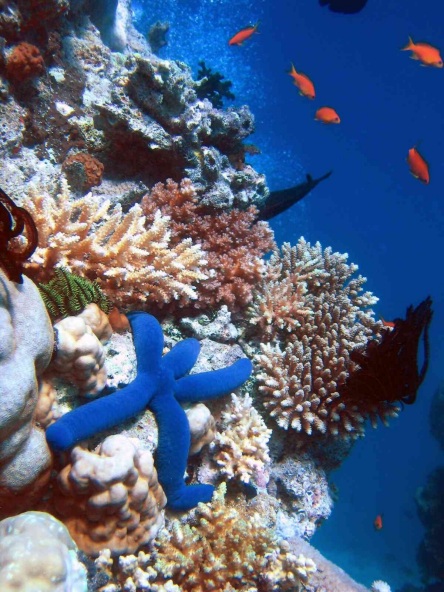 [BLUE STARFISH RESTING ON HARD CORAL IN AUSTRALIA'S GREAT BARRIER REEF. CREDIT: RICHARD LING, WIKIPEDIA]
As more and more microbes become immune to our available arsenal of antibiotics, the search for new drugs is becoming increasingly urgent. Now, scientists are looking to the deep seas for inspiration—and they're finding a more incredibly diverse range of organisms than anyone ever imagined.
"The marine environment holds incredible resources for bacterial and fungal diversity that we never knew existed. [We are] gaining a lot more information on the unique biodiversity in the marine habitat," says David Sherman, director of the University of Michigan Center for Chemical Genomics.
A team of researchers from the University of California, San Diego, are using their expertise to discover, isolate and characterize microbes from the sea. According to a July 2006 Scripps Institution of Oceanography news release, the team discovered 13 new microbes, each in a genus unknown by science until now. Most of these microbes were found in ocean floor sediment. William Fenical, director of the Center for Marine Biotechnology and Biomedicine at UCSD's Scripps Institution of Oceanography, explains that in laboratory culture, new bacteria produce molecules that affect living tissue and could be made into antibiotics to treat infections.
"The diversity of microbial life in the sea is almost totally unknown. It is a natural extension to go to the ocean," writes Fenical in an email message. Currently, over 85 percent of the antibiotics in use today come from terrestrial bacteria. Others are derived from fungi or are synthetic. Finding new bacteria is an important part of the strategy to find new antibiotics.
Those new antibiotics depend on new molecules with antibacterial activities, says Fenical. The best source of molecules possessing antibacterial activities, bacteria found in soil, is almost exhausted, explains Fenical. In contrast, bacteria found in sea sediment are just now being discovered. A thimble full of ocean sediment contains thousands of bacteria, most of which are unidentified.
When choosing where to explore, scientists look to coral reefs and other diverse seascapes. The key step, researchers from Scripps say, is to look for organisms that defend themselves chemically rather than relying on external protection like shells or spines. Following each collection, samples are brought back to the lab where a portion of each specimen is extracted and tested to see if it is effective against bacteria, fungi, and viruses or show potential to inhibit cancer growth or inflammation. Some of these chemicals, then, may be developed into antibiotics.
Marinispora, a new rod-shaped microorganism found in sea sediment, is an organism discovered by scientists at Scripps. Because the chemical derived from the organism is toxic to living cells, it shows potential to treat drug-resistant pathogens such as Staphylococcus aureus, the bacterium that can cause illnesses ranging from minor skin infections to life-threatening diseases such as pneumonia and toxic shock syndrome. S.aureus infection is a common problem in hospitals.
The shortage of effective antibiotics is becoming a crisis as bacteria, (including S. aureus), become increasingly resistant to drugs used to treat infectious diseases, says Martin Blaser, professor of microbiology at New York University and president of the Infectious Diseases Society of America. Resistance to antibiotics occurs when bacteria gain the ability to counteract the action of an antibiotic by preventing it from reaching its target, recognizing its target, or in some cases, by developing a mechanism to neutralize the antibiotic.
Implications of antibiotic resistant bacteria go beyond every day infection. "If antibiotics stopped working we couldn't do as much surgery. We couldn't do hip replacements. We couldn't do heart transplants," says Blaser.
Some scientists feel that pharmaceutical companies have shown little interest in exploring the oceans for new medicines because it is expensive, difficult and dangerous and because little is understood about marine life. Because of an undeveloped relationship between those who discover new marine organisms and those who have the capacity to develop new drugs, explains Fenical. "It will take the government to realize an impending disaster and act through the academic community."
Until then, researchers at Scripps are working with marine sources to purify their diverse chemicals and test their ability to kill drug-resistant species. Fenical and Sherman both have teams working in this field. They say partnerships between academia and industry will be important to discovering marine life that will be used in the medicines of tomorrow.
About the Author
Discussion