Environment
Dog Walking Irks Birds
A recent study says dogs shouldn't be allowed near important bird habitats, leashed or not.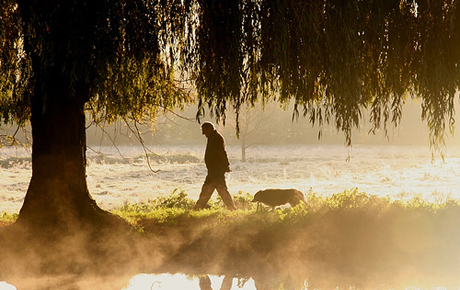 Dog walking in conservation areas reduces diversity of the bird population, according to a recent study. [Credit: Nicolas Masse]
Since dogs were first trained to hunt birds, relations haven't been especially rosy between the two. Dog walkers and bird watchers have a prickly relationship too, often clashing over the use of recreation areas. Now a recent study supporting a ban on leashed dog walking in important bird habitats could raise tempers over parkland management in the United States.
Currently, dogs roam triumphant in many places around the United States, although the Audubon Society lists important bird areas in Alaska, California, Oregon, Florida, South Carolina and New Jersey where dog walking is a specific threat to birds. Other areas established to safeguard critically endangered birds, like the Mississippi Sandhill Crane National Wildlife Refuge along the Gulf Coast, currently allow dogs access to certain areas as long as they are leashed.
Yet it may be a bad idea to let even leashed dogs near their feathered foes, according to researchers Peter Banks and Jessica Bryant of the University of New South Wales in Australia. Their study, which was published in Biology Letters online in September, concluded that dog walking led to 41 percent fewer birds and decreased species diversity in conservation areas and parkland in the urban fringe north of Sydney.
The researchers found similar results in areas prohibited to dogs and those where they currently rove, indicating that birds don't habituate to the presence of dogs.
More strikingly, they found that leashed dog walking in conservation areas reduced bird abundance and diversity twofold compared to people walking alone or in pairs.
"This is useful for [government and local councils]," Banks said, "because now they have some hard evidence to be able to say, 'You can't have your dogs here and this is the reason why,' whereas in the past they didn't have that."
Banks, who doesn't own a dog but described himself as "not a dog hater," said he pursued the research because he wanted to bring some science into the fierce debate between birders and dog walkers in Sydney over what he calls "walking a predator through the bush." He recalled a recent incident in which a dog-walking lobbyist brought a city council member to tears while arguing for greater access for dogs.
Since September, government officials and conservation managers from Australia, Britain and Canada have contacted Banks for copies of his research, and individuals from Ireland, Switzerland and all over the United States have shown interest as well.
But Banks was careful to stress that the results don't justify a "blanket banning of dogs" and expressed hope that more research will be done addressing the long-term effects of dog walking in conservation areas.
One such area established to protect birds is the Mississippi Sandhill Crane National Wildlife Refuge. Amid the preserve's wet pine savanna, one of North America's rarest birds nests. Only 99 red-browed Mississippi sandhill cranes remain there, so access to the refuge is extremely restricted.
Here, dogs — and people — can walk only on a pair of short trails in the 20,000-acre refuge. Park ranger Emily Neidigh explained that the refuge won't be opened more than it already is, because it was created precisely to protect the 99 cranes still living there.
Despite the endangered crane's need for space, Neidigh said there is still "quite a bit of pressure" to open up more of the preserve. This is a problem for many wildlife refuges, she added, although dog owners aren't the loudest voices campaigning for greater access to the crane preserve — there are more hunters than space-craving dog walkers in remote southeast Mississippi.
There are, however, plenty of dogs in New York City, making it a unique sparring ground for conservationists and residents hungry for recreational space. Birders and dog walkers both covet precious parkland like Manhattan's Central Park and Brooklyn's Prospect Park, which the Audubon Society lists as important green "islands" for migrating birds. While no endangered birds pass through the parks, conservationists are concerned about birds that fly through and nest there, including the wood thrush, the seaside sparrow and several types of warblers.
So will the new findings galvanize bird watchers to call for dog-walking restrictions in New York City? Probably not in Central Park, according to Nicole Delacrétaz of New York City Audubon, considering the high volume of people who circulate there and the constant chaos of concerts and other noise. She suggested that birds were much more likely to benefit from restrictions in peaceful tracts where dogs can currently run off-leash, like Prospect Park.
Delacrétaz, who isn't a pet owner, also recommended prohibiting pets at beaches like Fire Island National Seashore, a long strip of sand and pines off the coast of Long Island where the endangered piping plover can be found. Some stretches of beach there are already closed to pets during piping plover nesting season, and identified nests are protected with fencing. Occasionally, though, piping plovers settle on open beaches where pets can roam until birders sound the alarm.
"The piping plover nests right on the beach, and here I can definitely imagine very big problems with dog walking," said Delacrétaz. "It's probably not only a direct effect of the dog going to the nest and possibly harming or killing the chicks but also the fact that the presence of dogs will prevent them from nesting in the first place."
Sydney birders and dog owners may have their knives drawn, but some New York City dog owners feel fortunate to have so much freedom to roam. "We consider it to be an amazing privilege," said Susan Buckley, founder and president of Central Park Paws, a dog owners' advisory group to the Central Park Conservancy. "If [dog walking] did harm the birds then I would certainly be in favor of not having dogs in those areas."
Related on Scienceline
Read about an unusual colony of birds taking residence in New York City.
About the Author
Discussion