Health
Do those Phiten titanium necklaces actually enhance athletic ability and promote healing?
Asks Alex from NYC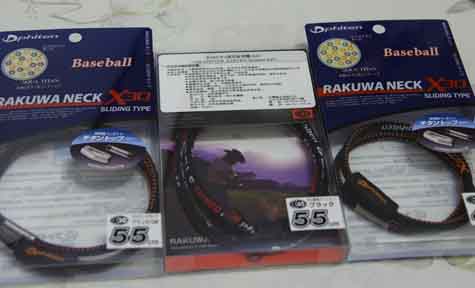 Can Phiten necklaces make you win a baseball game? Is voodoo real?
[Credit Alan Sung]
With baseball heading toward the World Series and the NFL just getting started, not a day goes by without a televised sporting event. And people watching those games may notice an odd fashion accessory: the Phiten titanium necklace. The necklaces are sported most prominently by Matt Hasselbeck of the Seattle Seahawks, Joba Chamberlain of the New York Yankees and Josh Beckett of the Boston Red Sox, who believe that they enhance their physical and mental abilities. And they probably do, but more for psychological than physiological reasons.
In 1982 Yoshihiro Hirata, an alternative medicine practitioner, founded Phiten, the company that sells his titanium-infused products. The necklaces first gained prominence in Japan, where they are still popular with athletes. According to the company, the necklaces and bracelets work by stabilizing the electric flow that nerves use to communicate actions to the body. "All of the messages in your body travel through electricity, so if you're tired or just pitched nine innings, the electricity isn't flowing as smoothly as it can," said Joe Furuhata, a Phiten spokesman. "Our products smooth out those signals."
While many sports stars believe the necklaces give them luck, not everyone is convinced. Many doctors and scientists say there is no scientific evidence supporting Phiten's theory. "There's no science and physiology," said Dr. Orrin Sherman, chief of sports medicine at the New York University Hospital for Joint Diseases. "There's just no way the chemical structure of the body can be influenced by magnets that small. It's all superstitions with no scientific basis."
Sherman noted that when people interact with magnets far more powerful than the Phiten necklaces, like the magnets in a CT (computerized tomography) scan machine, for instance, they do not report any of the effects pitchers and quarterbacks say they receive from the necklace.But while the physiology behind the necklaces doesn't hold up to scientific scrutiny, that doesn't mean they do not help. Athletes are a superstitious lot. From Craig Biggio, who did not wash his batting helmet for an entire season, to Wade Boggs, who would only eat chicken before games, athletes love all manners of hokum and voodoo. If the players think they are getting an advantage from the necklace and that gives them increased confidence, then they do in fact get a positive boost from the product. "You've gotta believe in placebo effect," said Sherman.
So maybe science shouldn't stop Hideki Okajima of the Boston Red Sox from wearing three necklaces whenever he takes the mound. Sure, the necklaces don't actually alter the electric flow in the body, but as any player who has stopped shaving during the playoffs can attest, when you're winning, you don't want to change a thing.
About the Author
Discussion