Blogs
Birding from parking level five
Suburban ospreys in Florida
I spent the early hours of Sunday morning on the top floor of a parking garage in Winter Park, Florida. I stood hunched over my tripod – binoculars around my neck and towel draped over my head to cut the glare.
I looked ridiculous, but it was worth it. Only 20 feet away, the width of a narrow street, was an osprey nest.
A photographer friend tipped me off a few months ago, relaying that if I headed to the top floor and looked down over the Panera umbrellas below, I'd spy the ospreys at eye level. I spent an hour there — snapping pictures, but mostly just gazing at mother and hatchling.
Resting on a huge platform above a utility pole, the nest overlooked Winter Park's trendy Park Avenue. Droppings decorated the sidewalk below in a perfect white circle. Mom and Dad osprey repeatedly shattered the weekend morning quiet with their unmistakable chirpy whistles. Cars rumbled over the brick road below, churchgoers parked and walked to the mass starting a block away. But no one noticed the nest.
I'm pretty observant, but it still seemed strange that not a single passerby even looked up. I am sure that a few people noticed the nest recently, perhaps even climbing the five flights to the top of the parking garage for a better view. But I am also sure that the majority of people walk right by. Which begs the question: how much else do we miss?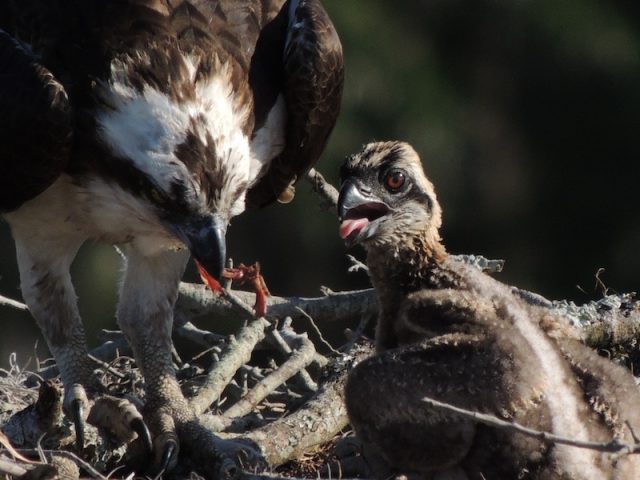 A breakfast of fish for the osprey hatchling. [Image credit: Justine E. Hausheer]
I tend to agree with E. O. Wilson's idea of biophilia — that (simply put) humans exhibit an innate love of other living things. While not everyone is, like me, a complete bird nerd, I have never met someone whose interest was not piqued by some living thing, even if it was only a pet goldfish.
Our biophilia can be satiated, even in the suburbs, by the simple act of looking beyond our own feet. Notice the fish-head on the sidewalk, or search for the source of the birdcall.
During my two weeks in Florida I saw over a dozen different nests, most glimpsed from car windows as I drove about my business. I also watched an osprey fishing –– dive-bombing its prey so fast that the bird was entirely submerged before emerging again with his catch.
In the lake-spattered state of Florida, these fish hawks are everywhere. Like the emblematic bald eagle, ospreys have rebounded tremendously since the ban of DDT. Nesting platforms like the one off Park Avenue provide critical space for ospreys, but they also provide an equally critical means to witness wildlife.
Hopefully, people are noticing.
About the Author
Discussion