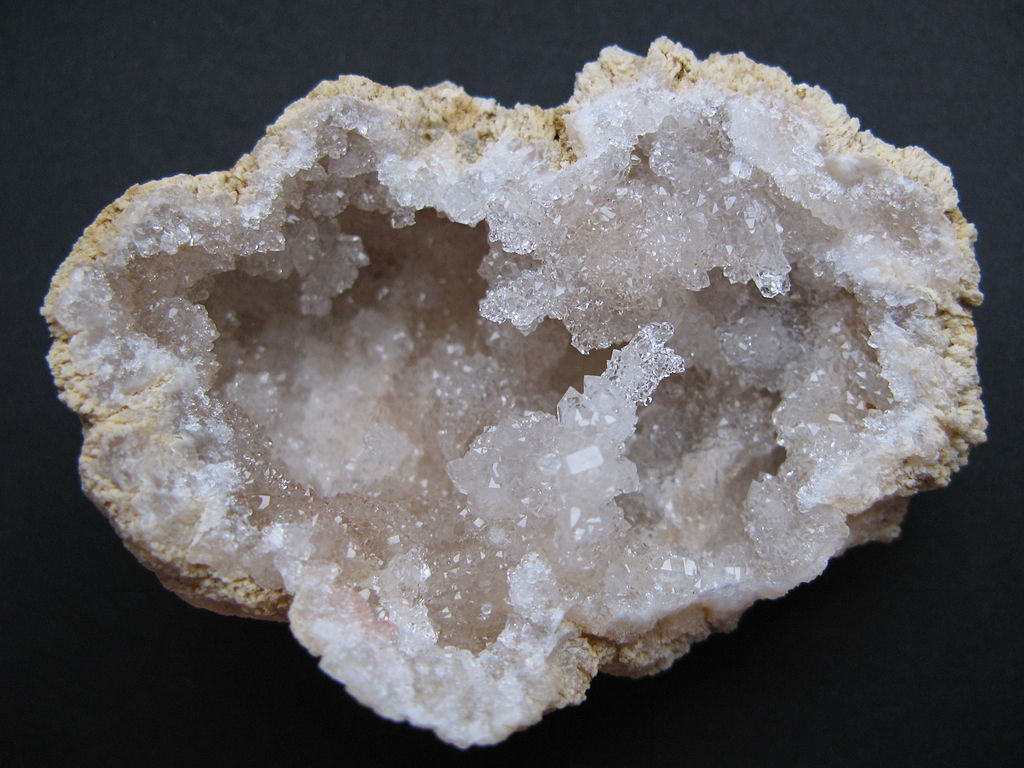 Geodes may be drab on the surface, but these rocks are full of crystallized minerals on the inside. [Image Credit: iRocks.com via Wikimedia Commons]
Geodes are irresistible. They fill display cases and museums everywhere. I've even got one on my desk at home: a smooth, brownish rock encasing milky lavender crystals. It's hard to deny the allure of a rock that is rugged and weathered on the outside, yet so sparkly and colorful on the inside.
But where do geodes actually come from? It turns out that what looks like a solid entity on the outside begins with an absence of material. A geode typically begins when a cavity forms in a rock, which can happen several ways.
Cavities are most common in igneous rock created by cooling lava or magma. Usually this happens when a bubble of carbon dioxide and water vapor forms in flows of lava, "much like bubbles in carbonated beverages," says George Harlow, an expert in minerals and crystals at the American Museum of Natural History. As the molten rock cools and the gas dissolves, empty space is left behind.
A cavity can also form when lava solidifies underwater. Occasionally, the outside of the melt solidifies before the inside does. "It gets brittle," says Harlow, "and the weight of liquid inside causes it to break and leak." Once the liquid has leaked out, an empty "pillow" of lava is left.
Geodes can also form in sedimentary rocks such as limestone or sandstone. The cavity in these rocks is usually formed from a solid core. A mass of minerals, or nodule, in the sediment may begin to dissolve and leave space behind. In other cases, organic matter such as coral, a fossil, or a piece of wood buried in the sediment weathers out over time.
The result of this hollowing is a shell waiting to be filled. When the geode forms, its outside crust will be older than the crystals inside. This is possible because geodes, which appear solid, are actually porous—its just that the pores are so small, says Harlow, that you need a microscope to see them.
The next step, for both igneous and sedimentary geodes, is for mineral-rich groundwater or rainwater to seep through the porous rock and fill the cavity.
The water lines a thin crust of minerals inside of the cavity. As water flows through the geode, additional mineral layers are deposited in its hollow interior. Over thousands of years, these layers of minerals build crystals that eventually fill the cavity. How long this takes depends on the size of the geode — the largest crystals can take a million years to grow.
Which minerals end up as crystals in a geode varies by location and conditions such as temperature, acidity, and the type of rock the geode forms from. For instance, quartz crystals are most common in igneous geodes. Silica is more common in geodes that form in sediment.
Many other minerals can be found inside geodes, too. Geodes found in Brazilian quarries host soapstone and several kinds of quartz, while geodes from central Spain are filled with gold-laced hematite (the stone they use to make that magnetic jewelry). Many of these minerals, in addition to others including dolomite, calcite, and "fool's gold," have been found among the geodes in America's Midwest.
Such mineral crystallization forges a rock fit to cut in half, polish and use as bookends. Not all geodes, however, are the perfect size to corral books. Some are small enough to fit in the palm of your hand or to catch the light while perched on your windowsill. At the other end of the scale, the largest gypsum crystals, from a cave in Naica, Mexico, have grown up to 36 feet long.
But enormous geodes are not unique to Mexico—according to Harlow, the geodes in the Paraná Basin of South America are also large enough for people to hide in.
"The ones from the Paraná [Basin] can be quite monstrous," he says. "Beautifully monstrous."
Check out the diversity of shapes, sizes, and colors of geodes in the slideshow below:
Get the flash player here: http://www.adobe.com/flashplayer
About the Author
Discussion