Environment
To Save Himalayan Viagra, Localize It
Two Remote Villages Devise a Plan for Sustainably Managing Harvests of Yartsa Gunbu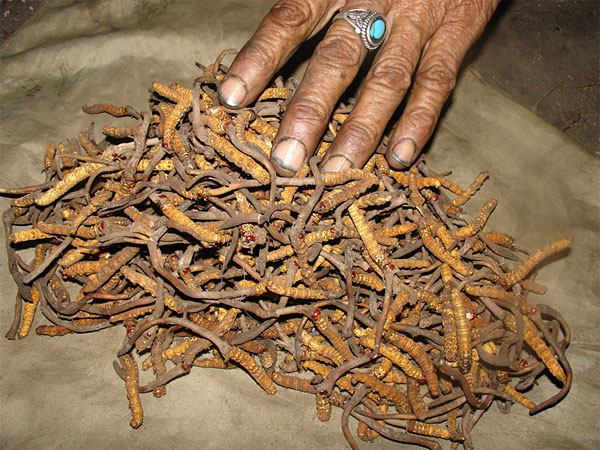 Chinese caterpillar fungus, or yartsa gunbu, is known for its medicinal properties and is a major source of income for the local villages that harvest it. Image credit: meltdownintibet.com
In the Tibetan Plateau and the remote highlands of Nepal, a fingerlike fungus emerges from mummified ghost moth caterpillars every spring. It looks a bit like a shriveled baby carrot. This "Himalayan Viagra," is worth more than gold at as much as $3,000 per ounce.
Yartsa gunbu, the product of an infected caterpillar, is prized in China as an all-purpose remedy with claimed aphrodisiacal, anti-aging and other healing qualities, and has recently brought both prosperity and tragedy to the people of the Himalayas. Two Tibetan villages are working to keep harvests local and minimize trouble from outsiders.
Yartsa gunbu is so precious that in 2011, six men from the northern district of Manang were sentenced to life in prison for murdering seven outsiders that had come to harvest the fungus. As the rush to profit intensifies, the fungus is getting harder to find — and driving prices even higher. The traditional harvest period of two months has already been extended by more than one week, threatening sustainability of the harvest. As a result, the fungus could disappear completely within 20 years, according to a 2013 news report in China Weekly. In some regions, as stated in the report, the average fungus output has already fallen by 90 percent since 1980.
Yartsa gunbu is created when a fungus infects ghost moth caterpillars that have burrowed into the ground for the winter. As the Tibetan hills and grasslands start to green in early spring, the fungus grows as a long appendage from the caterpillar's head and body. In the 1400s, a Tibetan physician and religious leader named Zurkar Nyamnyi Dorje first noted yartsa gunbu's aphrodisiacal qualities in his text, "An Ocean of Aphrodisiacal Qualities," according to Daniel Winkler, a sustainability economist who studies the Himalayan region.
Dorje observed that yartsa gunbu was useful for "especially increas[ing] semen," and was generally "a flawless treasure of an ocean of good qualities." Although Western researchers have not corroborated these ancient claims, a 2011 review in a Hindu medical journal points out that traditional folk healers use yartsa gunbu to fight cancer, boost the immune system, cure erectile dysfunction and treat respiratory illness and hepatitis.
It's no wonder that outsiders have been flocking to the region to harvest the caterpillar fungus since 2001, when China and Nepal legalized its collection and trade. Although it's generally not very popular in the U.S., yartsa gunbu is sold in New York's Chinatown at a price up to $1,300 per ounce, according to a 2011 NPR report. In the village of Nar, Nepal, a successful harvest can triple the annual income. Even in China, much closer to the harvest areas, the price is about $3,500 per ounce according to another report in China Weekly. The harvest is such an integral part of local lives that children even take off school to join in. In a place where solar energy is more reliable than electricity, harvesters sometimes use their profits to buy solar panels — that is, if they can find any fungus to harvest.
Seeking to reverse the economic blessing that has become an ecological curse, two remote Tibetan villages are now fighting back. Locals use innovative strategies to retake control of the yartsa gunbu harvest and ensure its long-term sustainability, according to a paper published this spring in the journal Himalayas.
Without any direction from the central government, residents of the two villages have made plans to keep harvest and its bounty local. These plans, as stated in the paper, include limiting the harvest rights to local households, penalizing anyone who harvests outside of the community-enforced season, and requiring harvesters to register with their local village and pay a small tax to help finance sustainability projects.
One village even enforces a mandatory roll call before the harvest begins. To ensure no one is secretly harvesting the caterpillar fungus, every member of the village must check in four times a day between 7 a.m. and 6 p.m. Additionally, several communities prohibit villagers from collecting yartsa gunbu on sacred mountain slopes, which creates a sanctuary to preserve the crop. The plan is an "indigenous form of sustainable development," wrote anthropologists Geoff Childs and Namgyal Choedup, both of Washington University in St. Louis, Mo. who coauthored the paper.
So far, the communities seem happy with the seemingly authoritative measures, states a Washington University press release about the study. If their attempts to sustain the crop on a local level actually work, these remote villages may set an example for the rest of the world.
About the Author
Discussion