Environment
Taking on industrial agriculture, one calf at a time
A Kentucky foundation is trying to build a local food economy that works for farmers and the planet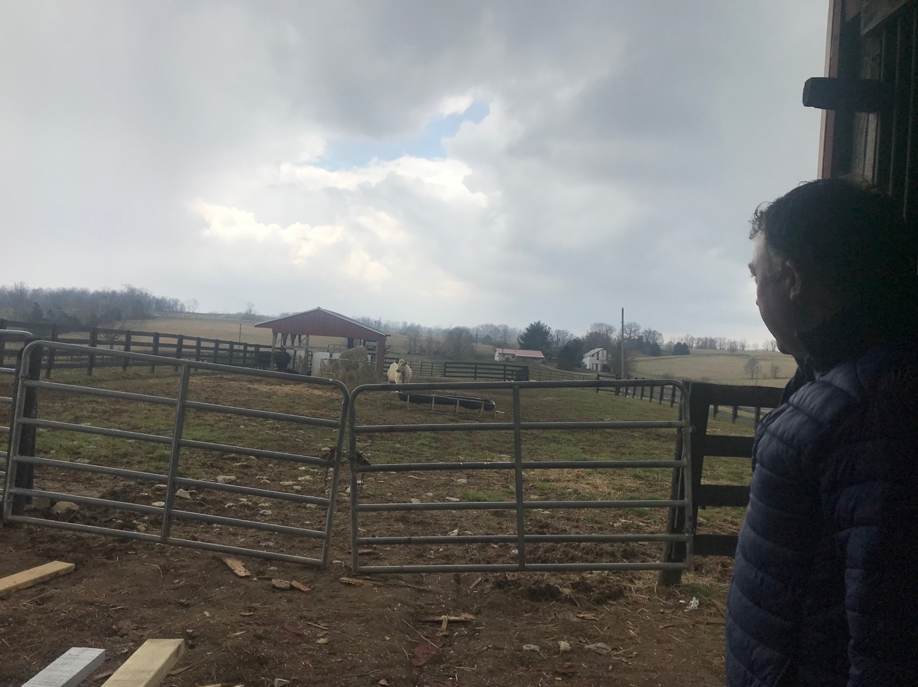 Fourth generation farmer John Logan Brent says "there's not a lot of optimism in rural communities right now, certainly not within a farm economy." But in New Castle, Kentucky there's now a little bit of hope. [Credit: Donavyn Coffey]
The nondescript two-story house settled at the end of Main Street in the little hilltop town of New Castle, Kentucky does not look like the headquarters of a revolutionary movement.
But the people inside are plotting to upend industrial agriculture — and they're making some modest progress with the help of 50 baby calves and 10 local farms.
The Berry Center is a tribute to the work and legacy of novelist, poet and agrarian Wendell Berry. But this is no museum — it's more of a reflective think-tank, drawing from the environmental and agricultural work of the past to improve the way Kentuckians farm and eat. The center's latest ambition is to try and create a true local food economy – one that pays farmers well to encourage them to make better decisions for our planet.
The program is called Our Home Place Meat, after a phrase that frequently appears in Wendel Berry's books and essays. It's the beginnings of a co-op that offers a yearly-set, above market price to farmers who are willing to raise meat according to a set of ecological and husbandry standards. The project launched last year with 10 farmers and each of them are now raising five calves.
"In our food system now, we oversupply and our farmers get nothing because our food is so cheap," says program director Sandy Canon. This works, says Canon, because Our Homes Place Meat is controlling the supply to match the demand.
Canon is well over six-feet-tall with fiery red hair and bursting with an entrepreneurial energy. Her job? Create demand for high-end meat, specifically rose veal.
To some, veal might seem an unlikely focus. It fell out of fashion in the 1980s after publicity about farming practices that included tearing calves from their mothers, keeping them in tiny cages and stuffing them full of glutinous grain. But times have changed, and so has veal farming.
Rose veal cattle are 575 to 675 pounds and seven to eleven months old at slaughter – that's bigger and older than typical veal as defined by the USDA. They are grass-fed, and receive no unnecessary antibiotics, steroids or hormones. They spend their entire lives on open pasture with their mothers and are never castrated. The "rose" denotes the color of the meat, whose pink tint is different from conventional, confined white veal.
Our Home Place Meat sells ground rose veal to customers for about $8.92 per pound, compared to $4.99 for conventionally raised veal. Other cuts have an even higher premium. And Canon spends all year blazing markets and building demand for rose veal. Restaurants in Cincinnati and Louisville represent the majority of rose veal customers, though the meat has made it as far as Washington D.C. and New Orleans.
The intent is that the revenue from all her sales can one day make Our Home Place Meat self-sustaining.
"It's all about volume," Canon says. In order to be self-sustaining, the program will need to quadruple its volume to 200 calves so she will need to quadruple demand. For now, it relies on a USDA local food promotion grant worth "a tad over $300,000 over three years" to pay farmers, she says. At the end of the three-year grant period, the Berry Center hopes the program will be self-sustaining, with one year's rose veal sales paying for the next year's crop of calves.
The program began as an initiative to improve the local farm economy and make it possible for farmers to make a living on sustainable practices. The decision to focus on beef came later after the Berry Center and a board of advisors took stock of local agriculture
"The raising of corn and soybeans here and all over this country is too toxic and too erosive. Its destroying land and its destroying people," says Mary Berry, founder of the Berry Center. The same is true, she adds, for industrial-scale meat production. The center hopes that Our Home Place Meat can incentivize a better type of farming and land use. They started with rose veal because of the types of farming left in Henry County – cattle, corn and soybeans – beef showed the most potential for improvements in farming practices.
A drive through Henry County quickly proves her point. Stocky black Angus cattle top the grassy knolls in every direction. Kentucky raises more beef than any other state east of the Mississippi River, according to the U.S. Department of Agriculture. But 90 percent of Kentucky calves are sold to feedlots out west, achieving little payout for the farmer or the local economy. Now with 50 baby calves bought, butchered and packaged locally, Our Home Place Meats is hoping to promote better farming and rejuvenate the local farm economy.
For 2019, the Berry Center is offering farmers $1.80 per pound – about twenty cents higher than the ever-volatile market price. The higher price comes out to about $300 in additional profit for every 10 calves in the program, according to the folks at the Berry Center. But the equal — if not greater — benefit is the guaranteed income, a profit the farmers can count on.
Plenty of farmers think that added stability and income is worth the trouble of switching to grass-fed land management. In fact, it's really the "lowest hanging fruit," says John Logan Brent, a farmer in the program who is also the local county judge executive. Brent usually feeds his herd grass and grain, but says keeping to the standards of rose veal wasn't much of an obstacle. Farmers already have the grass and their cows are already having calves, he says. Farmers who commit to the grass-fed approach have a guaranteed price and somewhere to sell those animals, right in Henry Country.
The ease of transitioning to grass-fed rose veal is what makes Our Home Place Meat attractive to farmers. "The program really only requires the farmers to take things away [like grain, antibiotics, steroids and hormones]. They don't have to do anything new," Canon says.
Accessibility Eases Adoption of Sustainable Farming Practices
The accessibility of the program has been huge for the local farming community, according to Joseph Monroe and Caleb Fiechter. Together, Monroe and Fiechter run Valley Spirit Farm: two families living and working full-time on one farm to produce beef, pork, produce and mushrooms.
Good land management and organic production have been central to Valley Spirit since Monroe and Fiechter started five years ago. In fact, their agrarian practices and charming farmhouse seem like something from another time. As they see it, Our Home Place Meats is now opening that opportunity to other farmers and fostering a community.
A lot of times, directives from outside about what farmers should do are often infeasible and can ostracize conventional farmers, says Fiechter as he sits next to the wood burning stove that anchors the main room of the Monroe farmhouse.
Profit margins are so low in traditional small-scale livestock farming that it's nearly impossible to improve management practices, adds Monroe. Most of those farmers are working a second job to make ends meet. "It's so hard to manage your land on a part-time basis," he says, especially with no financial leeway.
In Henry County, the economics are attractive enough so far that farmers are lining up to participate in the program. Our Home Place Meats has a waiting list of producers that would like to join. "We have farmers who would like to put their entire herd in this program," says Mary Berry.
The bottleneck that checks the growth of Our Home Place Meat is consumer demand. As with most local and sustainable food products, the difficulty is convincing consumers that they should pay a little more for sustainably-produced food.
Gert Van Hecken is a policy expert from Antwerp, Belgium, who focuses on financing strategies in environmentalism. If the rose veal develops a true market, he says, "it could bring long term change." But these types of programs fail if they encourage practices that don't truly have value to the consumer.
But what is a farmer or a small town to do if they don't have a Berry Center to guarantee a good price and a Sandy Canon to push for markets?
Shermain Hardesty, an extension specialist at the University of California Davis, has consulted on several local meat cooperatives. She says farmers are always on board, in theory. But when it comes time to initiate the business of the cooperative like managing supply, USDA grading, and finding markets, the cooperatives often lose steam.
Our Home Place Meat's scalability will depend entirely on generating demand and finding new market channels like grocery stores. But selling a high-value, niche product in large commercial grocery stores is generally unprofitable, says Hardesty.
Canon, herself, says she can't see Our Home Place Meat ever functioning without a director in place to drive demand. Producers say the program would be impossible without the Berry Center.
The project may end up simply creating a local food economy project that stays local. Canon and Mary Berry have their sights set on the eight counties around the city of New Castle, and that may be the extent of their reach.
There's yet another consideration: in recent years, several studies have suggested that the best way to sustainably feed a growing global population is not to adopt greener livestock production techniques, but to eat less beef. A recent study in the Lancet recommended a dramatic reduction – at least 50 percent – in red meat consumption for those countries that eat a lot of it, like the US and Canada.
Beef production emits more greenhouse gases than any other livestock, and grass-fed beef is the highest of all because steers take three years to reach their finished weight. The carbon footprint of rose veal is less because is from a younger animal.
At Valley Spirit Farm, they're conscious of the impact and use rotational grazing, continually moving their herd from one parcel of land to another so that the cattle don't deplete the soil or plant life. Last year, a study showed this approach could stimulate the soil to absorb more carbon from the air, creating a net carbon sink.
Despite the environmental impact of beef, the Berry Center continues to focus on rose veal. Landowners in Henry County already have cattle grazing their lush rolling hills, after all. Mary Berry hopes that by meeting farmers where they are, change will be more achievable.
Within the next five years, the program expects to grow from 50 to 500 animals. Beyond that there's talk of expanding to other parts of Kentucky and even other products beyond rose veal. But that's all very long-term thinking. The Berry Center is under no illusion that this is a perfect system. Other cooperatives have taken decades to refine and establish. "We can do this," Mary Berry says, "but we aren't going to be able to do it with quick fixes."
The key is to develop reliable demand and a predictable price. "I think the markets have to come first," Joseph Monroe says. "And if we have workable models like [Our Home Place Meat], I think the practices will change."
This article was updated on August 7 to correct the name of the program from Our Home Place Meats to Our Home Place Meat. 
About the Author
Discussion