Plastic
Crocs are here to stay. Can they lighten their carbon footprint?
And what are the iconic clogs even made of, anyway?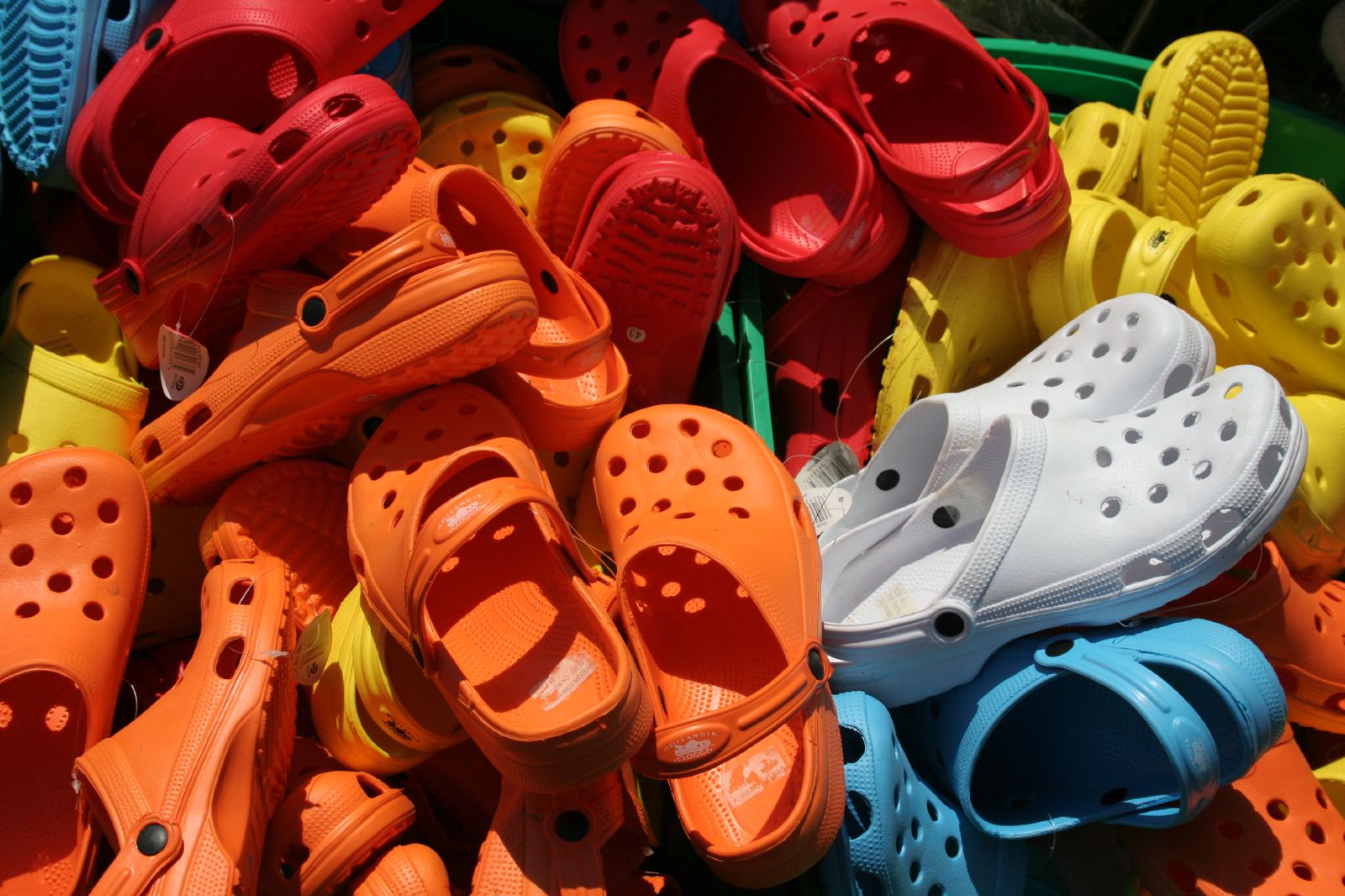 From middle school status symbol in the 2000s to Emmy-worthy attire in the 2020s, it seems like Crocs will be around forever. Given what they're made of, they actually might. [Credit: Liz Jones | CC BY 2.0]
So, Crocs are back — or maybe they never went out of style. Is it camp? Comfort? Nostalgia? We're not sure. But we at Scienceline do love our Crocs: whether it's the sparkly pink pair that Lyric Aquino wore in the front row at a Harry Styles concert or the blue pair that Delaney Dryfoos wore to a fancy restaurant on Martha's Vineyard. Some of our faves now have Crocs collaborations — like Bad Bunny, the Cars movie franchise and 7-Eleven. 
The iconic clogs have been around for 20 years, but in all that time, we never thought to wonder what they were made of. Once the question got in our heads, we couldn't get it out. So let's dive into the chemistry of Crocs and consider how their makeup may be changing to reduce the company's environmental impact.
What the heck are Crocs? 
It's weirdly difficult to find a straight answer online. Some articles call them rubber, others foam or resin. Many insist that they're not plastic. 
On the most basic level, Crocs are made of Croslite, a proprietary material. Dig a little deeper and you'll find that Croslite is primarily composed of polyethylene vinyl acetate, or PEVA. This material, sometimes just called EVA, belongs to a class of compounds called polymers — large molecules that are made of smaller, repeating molecules joined together. Its chemical components come from fossil fuels. 
"Crocs are definitely plastic. There's no doubt about it," says Michael Hickner, a materials scientist at Penn State University who specializes in polymers. 
Plastic is a broad category, but it generally means any man-made polymer, he explains. We often think of this as the smooth, flexible material that makes up takeout containers and disposable water bottles. But styrofoam is plastic, too. So are the nylon and polyester in your clothes. 
Still, it's not inaccurate to describe Crocs as foam, resin or rubber, either — they're basically all of the above. These categories are wide-ranging and imprecise, each referencing a different aspect of Crocs' chemical origins and physical properties. 
Crocs isn't the only shoe brand that relies on PEVA for its comfortable soles. Before the advent of PEVA in the late 1970s and early 1980s, shoe soles were rigid and unforgiving, Hickner explains. "They had almost no cushioning," he says. "It was really rough." But the new, lightweight polymer provided just the right amount of give and became massively popular in the shoe industry, he says. Crocs' innovation, decades later, was to make an entire shoe out of the material. 
"I think Crocs' special magic is the process," Hickner says. Unfortunately, Crocs doesn't disclose much about how Crocs are manufactured, but patent documents and videos from the company indicate that they use a common technique called injection molding, the process responsible for plastic silverware and Legos. Like a hot glue gun, an injection molding machine takes in solid plastic, melts it, and pipes it out the other end. The molten plastic enters a mold, where it cools before emerging in its new shape.
Hot glue itself is also typically made of PEVA. But unlike hot glue, Crocs' Croslite polymer would be injected with gas to create its foamy structure. The result is a breathable, loose-fitting, water-resistant shoe that both supports and cushions the soles of your feet.
Change is afoot 
Soon, this process will be changing slightly to make the plastic shoes more sustainable. In their recent sustainability report, Crocs states that a pair of their classic clogs contributes 2.56 kg of CO2 to the atmosphere. The company announced last year that they plan to cut this number in half by 2030, in part by incorporating plastics made from renewable sources instead of fossil fuels. 
The new bio-based material, called Ecolibrium, was pioneered by Dow Chemical Company and will be made from "plant-based raw materials such as crude tall oil (CTO) instead of fossil-based raw materials," a spokesperson for Dow said over email. Tall oil is a byproduct of the wood pulping process used to make paper and its name comes from the Swedish word for pine tree. The company is also evaluating other plant-based options, according to their spokesperson.
"Any bio-based options Dow considers, has to be extracted as a waste residue or be a by-product from a production process," they wrote. 
Crocs declined to clarify whether they have already begun using Ecolibrium to manufacture their shoes. We also asked Crocs what percentage of their plastic will come from renewable sources by the end of the decade, initially believing they planned to make a full transition. The spokesperson responded and clarified, "As part of our goal to become net zero by 2030, we are aiming to reduce product emissions 50% per pair by 2030." 
If Crocs isn't currently planning a complete transition to bio-based plastics, that may be because of price and limited supply. Right now, bioplastics of all sorts are more expensive and less efficient to produce than traditional plastics. They're new on the scene and competing with traditional processes that are "very, very established," says Jan-Georg Rosenboom, a chemical engineer at the Massachusetts Institute of Technology. But if the bioplastic industry continues to grow, Rosenboom expects their price to drop and their availability to increase due to the larger production scale, new technologies or regulation. 
Crocs also plans to use other techniques to cut down on carbon emissions, like switching to renewable energy sources, but that switch won't come until the latter half of the decade, according to their 2021 report. Until then, offsetting some fossil fuel-based plastic with a renewable alternative will account for most of the reduction in emissions.
The afterlife of a Croc 
Still, there's one glaring problem that this bio-based plastic can't fix: where the shoes go once you're done with them. Crocs are notoriously long-lasting. On the one hand, that's the opposite of the fast fashion problem that plagues the industry. But on the other, the shoes will eventually end up in a landfill, and bio-based doesn't necessarily mean biodegradable.
"Crocs, you know, they're indestructible, which causes a sustainability issue," Hickner says. The Pacific garbage patch probably contains more than a few Crocs, he speculates. 
Hickner explains that, while it's chemically possible to recycle most PEVA, this can't be done alongside the rest of our household recycling. Crocs would likely have to create its own recycling stream where they take back old pairs of shoes to make new ones.
"If Crocs wants to make a mark, they'd have a takeback program," says Kimberly Guthrie, who teaches fashion merchandising and sustainability at Virginia Commonwealth University. 
Crocs does have a collaboration with thredUP, an online consignment and thrift store, to find new homes for last season's clogs. Crocs promotes this partnership as part of its commitment to reducing the number of shoes that end up in landfills. When you mail your gently used clothes and shoes to the online thrift shop, you can register to receive Crocs shopping credit.
ThredUP did not respond to a request asking how many pairs of the shoes arrive at the consignment store or are ultimately sold into new closets. Some people are sending their old pairs in, however. A search through thredUP yields multiple styles of Crocs shoes in multiple colors and sizes. 
Crocs also claims to have saved over 250,000 pairs from landfills in the last five years through its donation program. This number, however, accounts for unsold pairs that the company is donating instead of throwing out themselves, a program that does provide shoes for people in need. Yet, despite its push toward sustainability, Crocs still encourages its Crocs Club Members to keep returning to buy the newest, long-lasting plastic clogs. 
So where does this leave us? It's hard to say. We feel a little bit better about missing the sold-out, glow-in-the-dark Bad Bunny collab — but only slightly.
For now, we'll get as much use out of our indestructible little boat shoes as we possibly can.
About the Author
Discussion