Blogs
Nobel Prize in Medicine awarded to COVID-19 vaccine researchers
Their work led to the development of critical mRNA vaccines that slowed the spread of COVID-19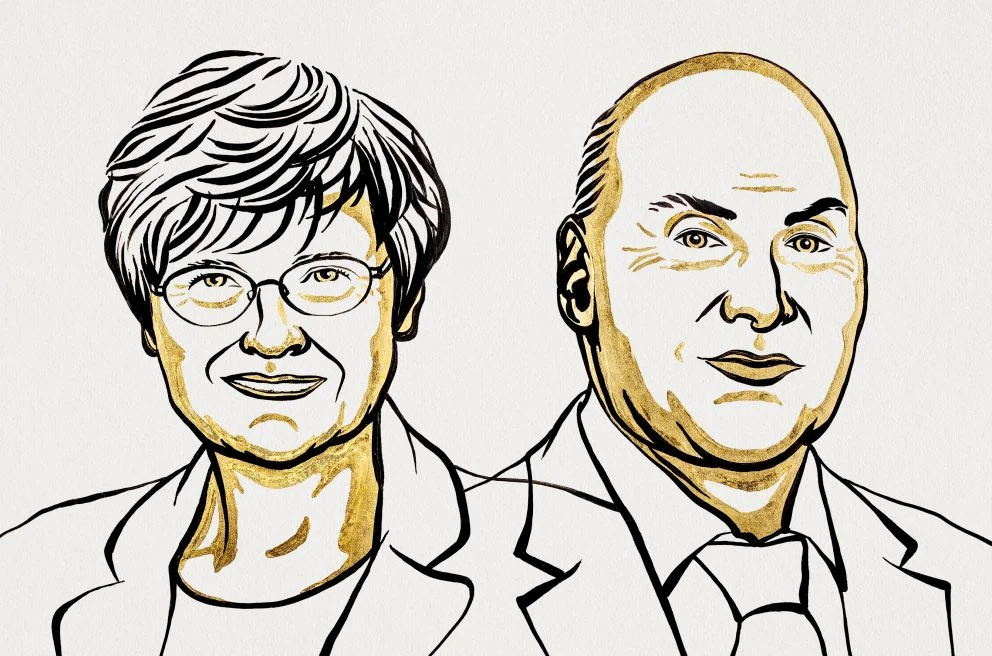 Katalin Karikó and Drew Weissman, recipients of the 2023 Nobel Prize in Physiology and Medicine [Credit: Niklas Elmehed © Nobel Prize Outreach]
Katalin Karikó and Drew Weissman have won the 2023 Nobel Prize in Physiology or Medicine for their contribution to messenger RNA-based vaccines used to curb the COVID-19 pandemic. Their work has saved millions of lives.
The scientists' pioneering research upended the field's understanding of mRNA, which carries the genetic instructions a cell uses to make proteins. They discovered that it was possible to make the immune system accept mRNA to better help fight viruses.
Katalin Karikó's breakthrough began in the 1990s during her time at the University of Pennsylvania. The Hungarian scientist was particularly interested in RNA biochemistry, which she channeled into innovating effective mRNA-based therapeutics. During her time there, she met the American scientist Drew Weissman whose research focused on dendritic cells, which generate varied immune responses. They started working together to turn mRNA into a viable treatment tool.
Scientists had historically rejected this premise, as previous mRNA-based treatments produced adverse immune responses. But after several years of tinkering, Karikó and Weissman published a seminal paper in 2005 that detailed how changing a key chemical marker in synthetic mRNA, uridine, helped the molecule fool the immune system into creating treatments. Eighteen years later and in the wake of a deadly pandemic, the full impact of this discovery is clear.
Thomas Perlmann, Secretary of the Nobel Committee for Physiology or Medicine, said that both recipients of the award were delighted, with Karikó feeling overwhelmed by the news. Life hasn't always been easy for the Hungarian biochemist. 
"Ten years ago, Katalin Karikó had a dramatic change in circumstances — she was terminated from her position at the University of Pennsylvania and had to move to Germany for a new job without her family," Perlmann said. Karikó has since returned to the university, where Weissman also continues to work. 
The Nobel Prize committee spoke with great excitement for the future of mRNA-based therapeutics. Rickard Sandberg, member of the Nobel Committee explained that we could see the technology in use for vaccines to treat cancer and therapeutic protein delivery methods.
About the Author
Discussion