Life Science
I thought stingrays were harmless, so how did one manage to kill the "Crocodile Hunter?"
--asks Anonymous, from New York, New York.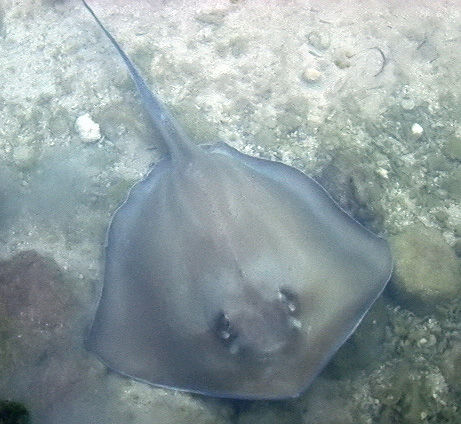 A stingray off the coast of Florida. [CREDIT: ac4lt]
For a man who made his living tangling with some of the most ferocious creatures on Earth, Steve Irwin met his end at the hands of an unlikely suspect. Irwin was filming a documentary off the coast of Queensland, Australia, on September 4th when a short-tail stingray swimming below him suddenly speared him through the chest with its dagger-like tail spine. The poisonous stinger punctured Irwin's heart, killing him almost instantly.
The short-tail stingray, Dasyatis brevicaudata, is a huge and normally docile fish. The largest of all stingrays, the short-tail can grow up to 14 feet long and tip the scales at more than 750 pounds.
Typically regarded as inquisitive but wary fish, all stingrays are armed with at least one serrated venomous spine at the base of their whip-like tails. Short-tail stingrays possess two tail spines: a slender spike in front of a huge jagged bayonet. The ray that attacked Irwin plunged its rear tail barb, reportedly close to eight inches long, into his chest.
Stingrays harbor these weapons for one purpose: protection. Tail spines are an effective deterrent to predators, like sharks, that commonly target stingrays.
Fatal stingray attacks on humans are exceedingly rare. Only two have been reported in Australian waters since 1945. Both victims were stung in the chest, like Irwin. Worldwide, death by stingray is similarly rare, with only one or two fatal attacks reported each year.
But non-fatal stingray attacks occur frequently in shallow waters worldwide. These usually involve unwitting waders who step on rays nestled into the sand, hiding from predators. These types of attacks—some 1,500 per year occur in U.S. waters alone—are rarely ever fatal, though the pain from stingray venom is said to be excruciating. Little is known about the specific chemical properties of the short-tail stingray's poison, but in general, stingray venom is a potent cocktail of neurotoxins, enzymes, and the neurotransmitter serotonin, which restricts smooth muscle contraction and slows blood circulation and subsequent dilution of the venom.
In Irwin's case, the physical damage to his heart likely killed him before the toxin ever had a chance to take effect.
Australian police representatives, reviewing footage of Irwin's final wildlife encounter, have suggested that Irwin was not harassing the stingray that killed him and that the attack was unprovoked.
Like most other stingrays, short-tail stingrays, also called smooth stingrays or bull rays, spend most of their time gliding over the ocean floor in search of the clams, fish, or crustaceans to eat. The wave-like undulations of their flattened pectoral fins propel them gracefully over the seabed and draw the attention of divers and snorkellers in the waters of the Indian and West Pacific Oceans.
If and when the video footage of Steve Irwin's death is released to the public (see this week's Scienceline Poll), the circumstances surrounding the fatal stingray attack can be more fully scrutinized. Until then, the attack is being characterized as a freak accident and a tragic end to the life of a dedicated conservationist.
——
Got a question for us? ASK!
About the Author
Discussion