Health
What do tasers do to the body?
- asks Anonymous from Washington, D.C.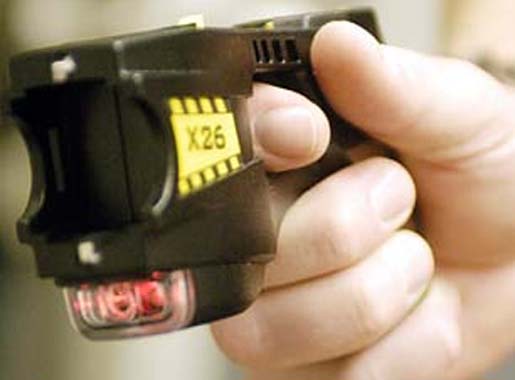 [Credit: Michigan Daily News]
Perhaps you've seen a reporter who has ventured a taste of a taser's voltage to experience crime fighting first-hand for viewers at home. One moment they're standing up straight, microphone in hand and excited smile on their face. Next, they're writhing on the ground making sounds not fitting for a polished reporter. How does juice from a little handheld device disrupt the body so quickly and completely?
Many might think the answer is simple: The prongs of a taser send electricity directly into muscle fibers and cause them to contract uncontrollably. But that's not the whole story. According to the website of TASER International, an Arizona company that provides electronic devices for use in law enforcement, a taser incapacitates a person by highjacking the reins of the central nervous system—the ultimate controller of our muscles.
The electrical weapon, according to TASER International, overrides the brain's control of the body by speaking the same 'language' as nerves. It achieves this by emitting electric pulses that match those used by neurons, which transfer information between the brain and muscles. When these nerves are flooded with pulses that are similar to their natural frequency and strength, normal signals get drowned out and muscles contract uncontrollably.
The resulting collapse of the body can be thought of as a disrupted telephone conversation. Two people—representing the brain and muscles respectively—are able to have a constructive chat as long as their voices are clearly transmitted between receivers. But the smooth exchange falls apart when an intrusive third party gets on the phone line and begins to blab away. Because the meddling sound happens to be a voice, it mixes into the voices of the original conversers to prevent them from making out what the other is saying. Conversely, if the sound happened to be a rapid high-pitched squeal at the same volume, a conversation would still be able to occur—albeit under unpleasant circumstances.
First generation stun devices, like the TASER TF-76 or AIR TASER 34000, were originally designed to only inflict severely unpleasant sensations without imposing a loss of muscle control. Designers hoped the stimulus would be so painful that the criminal would beg for mercy and cooperate. However, these designs proved to be ineffective against people who—out of sheer will or being high on strong drugs—have unpredictably high pain thresholds. This, along with impacting only the nerves that detect skin sensations, made physical resistance possible, showing older tasers had room for improvement.
In 2001, Taser International developed its "Advanced Taser Electro-Mucular Disruption" systems, which introduced tasers with a stronger charge that reaches and synchronizes with the activity of motor nerves lodged deep in muscle tissue. With 50 to 60 pulses per second, tasers can induce sustained muscle contractions, or a tetanus.
Critics of tasers, like Amnesty International and The American Civil Liberties Union, have linked these weapons to unjustifiable in-custody deaths. To investigate how tasers could potentially inflict deadly harm, researchers, mostly from the Department of Emergency Medicine at the Hennepin County Medical Center in Minneapolis, tased 34 healthy subjects for 15 continuous seconds (an exceptionally large amount to subdue someone) without producing respiratory impairments. The study, recently published in the journal Academic Emergency Medicine, lends support to the use of tasers as a safe and effective means of law-enforcement. It should be noted that Taser International partly funded the research.
Yet despite the controversy, TASER International recently received an order from two federal law enforcement agencies that will add 540 TASER electronic control devices to the 11,500 already in use to combat crime in the United Sates, according to Chairman and Founder of TASER International, Tom Smith. The market for tasers has also spilled into the private sector where TASER International has marketed the ownership of the smaller, more fashionable stun-devices for personal defense.
About the Author
Discussion