Health
Please Know: Larry Kramer and The Normal Heart
AIDS activism gets a wakeup call with Kramer's Broadway opening today
A small figure appears out of the gloom of a rainy Wednesday afternoon, clad in a snug bright yellow parka, the hood securely tied in a knot under his chin. A grey terrier pulls on his leash impatiently. "Come on, Charley," the man says, entering his elegant Fifth Avenue apartment, located not far from the blushing Japanese tulips and cherry blossoms of Washington Square. On this dreary spring day, condensation has formed on his black frame glasses, obscuring a face that many New Yorkers would immediately recognize: Larry Kramer — playwright, author, AIDS activist.
Though Kramer has penned a bookshelf of works and rattled the foundations of medical politics with his activism since the early 1980s, the current subject of conversation is his upcoming play, The Normal Heart, opening today. Despite the pressure, Kramer seems completely at ease and takes his time as he offers doggie treats to Charley. Turquoise rings, bracelets and charms stand out against Charley's gray fur as Kramer showers the dog with affection. "A fortuneteller told me years ago that turquoise keeps you healthy," he says. "I remembered that and now I never take them off."
Indeed, it's a small wonder that Kramer lived to 75. While countless friends succumbed to the AIDS plague in the 1980s and 1990s, he survived. But in 2001, Kramer came very close to joining his friends when extensive liver damage from hepatitis B meant he'd need a transplant to survive. Most hospitals excluded him from their organ transplant lists based on his HIV-positive status. In 2000, for example, of the nearly 5,000 liver transplants performed in the U.S., only 11 were for HIV-positive patients, according to the United Network for Organ Sharing. Kramer became one of those recipients in December 2001, though the life-saving surgery still did not stop the Associated Press from falsely claiming that he had died.
But Kramer didn't die — far from it. "You can let it beat you," he says, referring to the trials and tribulations he has encountered throughout his tumultuous career, "or you can just say, 'so what?'" Known for his confrontational style and strong voice, he helped found the earliest AIDS organizations, has been a two-time recipient of the Obie award, and was a Pulitzer Prize finalist in 1993 for his play, The Destiny of Me.
Setting the Stage
The Normal Heart, which portrays true events of the chaotic early days of the AIDS epidemic between 1981-1984, first appeared as an off-Broadway production in 1985. The audience follows Ned Weeks, a protagonist based on Kramer himself, as he witnesses the gradual decline of his lover from AIDS. Weeks struggles to attract attention from the public, the government, the New York mayor, and the scientific community, but all in vain; despite his efforts, Weeks' lover succumbs to the disease as the final curtain falls. When The Normal Heart originally debuted, it created an explosion of controversy for the way it depicted the New York Mayor Koch and exposed AIDS, then a frightening new disease with previously little media coverage. Most importantly, it showed that the gay community as a whole was being neglected and dismissed despite exponentially escalating death rates.
"It was an intense time," says Nancy Smithner, a professor of educational theater at New York University. "It was just rampant the way people were getting sick, and people were not taking it seriously," she recalls of the disease's first appearance. "Friends of mine were dying."
Joel Grey, an Oscar and Tony award-winning actor and director who performed in the original production of The Normal Heart and co-directs the current showing, remembers that the play was "received very, very well" and created a stir and excitement for its scariness and controversial dealings with the subjects of AIDS and politics. Grey first saw the play when actor Brad Davis was performing the lead role and remembers that "it was one of the greatest things that I had ever seen, and one of the great parts." Grey expressed his interest in the part to Kramer, and when Davis became tragically ill with AIDS, in a matter of about two weeks Grey received a phone call saying the part was his.
The Plague
When the play begins in 1981, AIDS had claimed 41 lives. Today, more than 25 million people worldwide have died from the disease, according to the World Health Organization. In 1995, the National Institutes of Health reports, AIDS in the U.S. ranked as the number one cause of death for people between the ages of 25 to 44. And while that ranking is down to sixth today, it is not a reflection of decreased transmission rates but rather of increased drug efficiency. Worldwide, the HIV virus pollutes the blood of about 33.4 million victims today.
People have assumed an attitude of complacency about HIV and AIDS, Kramer says, in thinking the drugs will easily keep the virus at bay. But this is simply not so. "The drugs are expensive and they have side effects," he points out, referring to the headaches, nausea, weakness, and general feeling of sickness brought on with the daily dose of highly active antiretroviral therapy — the "AIDS cocktail" — that currently sustains the lives of so many patients. Though the therapy has dramatically increased the lifespan of people with HIV, it is not a cure for AIDS. "I have friends on these medications who are still dying," Kramer says.
For this reason, the powerful message The Normal Heart delivers is still pertinent today. "You could have heard a pin drop from the very first line, 'I know there's something wrong,'" Kramer says of an earlier viewing of the show. "It could have been about today, it was almost as if nothing had changed." Grey describes a young man working on the production who approached him after one of the viewings and said, "I should probably thank you for saving my life." The show's message, according to Grey, is predominantly one of love, of holding firm under fire, and of the "political miasma that's going on still with this disease." According to Grey, Kramer, and Smithner, people today still do not acknowledge the direness of AIDS, nor does the government pay the disease enough attention. "This illness is a plague," Kramer says, "and the attention it's receiving does not reflect a plague."
At the Forum on Theatre for Public Health, hosted by New York University, Kramer delivered a keynote speech on April 22 to an audience of about 45. "Come closer, please! Let's have togetherness!" he insisted before launching into his recollection of the early days of the epidemic. "I come to you as someone whose life changed in 1981," he began, describing the "parade" that was Christopher Street prior to the plague. Kramer then begged the audience to "visualize, if you can, what it's like to see, one by one, all of your friends die. I'm not talking one — but all."
Though he insisted he doesn't know "why I'm still here" after witnessing the untimely passing of so many friends, Kramer harnessed his fear and anger as a motivation for accomplishing seemingly impossible feats with his grassroots organization, the AIDS Coalition to Unleash Power (ACT UP). As Kramer described each victory ACT UP achieved — from accelerating the Food and Drug Administration's release of investigative new drugs for AIDS therapy, to getting rid of the double-blind placebo trial which is standard for FDA trials and drug approval ("Why would anyone take a placebo who's going to die anyway?") — the audience clapped and cheered. "We permanently dismantled the old system," Kramer says, "and a lot of people died along the way."
After the talk, Kramer took questions from the audience. A young man stood up and asked for advice: his friends, all of them gay, have never heard of Larry Kramer and don't know the first thing about the history of the AIDS epidemic. How can he share this story with them and make them interested? Kramer raised his eyebrows. "Why is that a problem?" he asked. "Just tell them what you know."
Smithner, the chairperson, says about a fourth of the proposals she received for the conference were HIV/AIDS related, lending hope that the topic is being addressed in the field of theatre. Kramer brings eloquence and passion to the topic of activism, Smithner says, and since he's been so successful at articulating these issues in an artistic format, she knew he would make an ideal keynote speaker for the event. "Theatre allows people to express their frustrations and needs," she says, and "Larry Kramer is willing to be vocal and speak his mind. He never relents; that's his biggest contribution."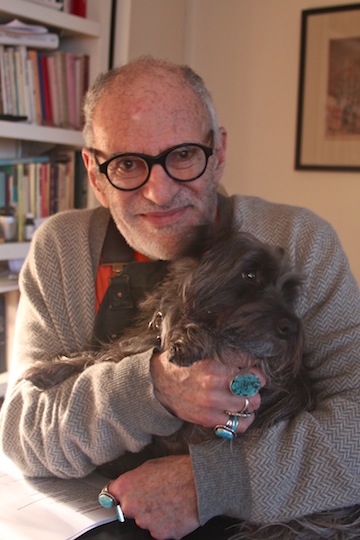 Larry Kramer and Charley at home. [Image Credit: Rachel Nuwer]
All I have is a Voice
It is perhaps his relentless nature that has allowed Kramer to undertake and survive so much in his lifetime. "Gays are hated," he says, "Not just disliked — hated." He says he will never understand this, and that the hardest lesson in his adult life was learning that "no matter what your education or your economic level, you can be dismissed." But instead of being deterred, Kramer only raises his voice. For him, not having equal rights — for marriage, for health care — inspires anger and activism. But the organizations designed to achieve these rights are only as good as the populations they serve, Kramer notes, and the "namby pampy" gay activism today is only a pale shadow of what it was in the mid-90s. "We fought like hell to get the drugs," he says, referring to ACT UP's accomplishments. "But as soon as those drugs were there" — Kramer claps his hands together emphatically — "that was the end of activism." He believes it took the terror of impending death from AIDS to frighten the gay community into action, a threat that now seems far removed from many gays' minds and the "nicey-nicey" education campaigns of today. "I don't know why all gay people don't fight for their lives or for their freedom," Kramer says and sighs.
Those who see The Normal Heart, however, will be confronted by the spirit of activism and urgency. "Mr. Kramer makes a very strong statement that cannot be misconstrued or pushed around," Grey says. When asked if he believes The Normal Heart has the ability to change viewer's minds about HIV and the gay community, Grey cuts in emphatically, exclaiming "Oh yeah! Oh yes! Otherwise, why would I be an actor?" Whether they agree with the play's message or not, Grey says, the audience will at least think differently about the issues.
At a preview showing of the play on April 20, audience members did indeed have the "very strong emotional experience" Grey hoped for. Packed into the Golden Theatre on West 45th Street — young and old, gay and straight — people laughed in unison at the jokes (a health reporter is convinced the disease "is being transmitted by dogs and the reason so many gay men are contracting it is because they have so many dogs") but moments later were hushed into stunned silence by Kramer's words: "We are enduring an epidemic of death… It is only a question of time. We could all be dead before you do anything," says Emma, a character based on the real-life Dr. Linda Laubenstein, as she rails against the medical authorities that denied her funding to pursue AIDS research.
After a standing ovation, audience members filed out, some silent, others beginning to react. "Our lives were a living hell for years," one woman quietly recalled of the early days of the epidemic. "Unless you grew up in that generation, you have no concept of how scary it was," said Gideon Lichfield, an audience member. "People really need to see the play." Andres Hoyos, another audience member, remarked on the importance of learning the history of the disease, and hoped that the play will "make up for actions not done in time."
And, planted in front of the Golden Theatre, clad in his standard blue overalls and eagerly awaiting the audience — his audience — was Larry Kramer. Flyers in hand, smile on his face, Kramer was ready to continue the relentless delivery of his message, even if the play had already left a breathless audience with little room for debate over the show's caveat. Kramer eagerly handed out a one-page letter, printed on glossy paper, titled "A letter from Larry Kramer: PLEASE KNOW." Kramer writes that the characters in the play were real people who "lived and spoke and died" and urges readers to "Please know that AIDS is a worldwide plague; Please know that there is no cure; Please know that an awful lot of people have needlessly died and will continue to needlessly die . . ."
Kramer hopes that everyone will go and see the play, especially young people, "because it's our history, it's everybody's history." Grey wishes that the play will have many more readings around the world, while Smithner says that it should be shown "again and again and again." For now, The Normal Heart begins its 96 Broadway performances today.
Back in his writerly, book-lined apartment, Kramer reflects that the key to his accomplishments is never thinking in terms of success, but rather of what more there is to do. "I feel that if I were to die tomorrow — and I've almost died a number of times along this journey — that I have been well used," he says. But this does not mean he doesn't feel there is still more to do. Without greater heights of achievement to aspire towards, Kramer insists he "would collapse and die." Despite these seemingly boundless mountains of responsibility, Kramer emphasizes his happiness. "I have a wonderful lover and we have a very good life together," he says. But that doesn't mean he should quit striving.
About the Author
Discussion