The Urban Scientist
A tale of three cities
Mannahatta ecologist Eric Sanderson on New York City's past, present and future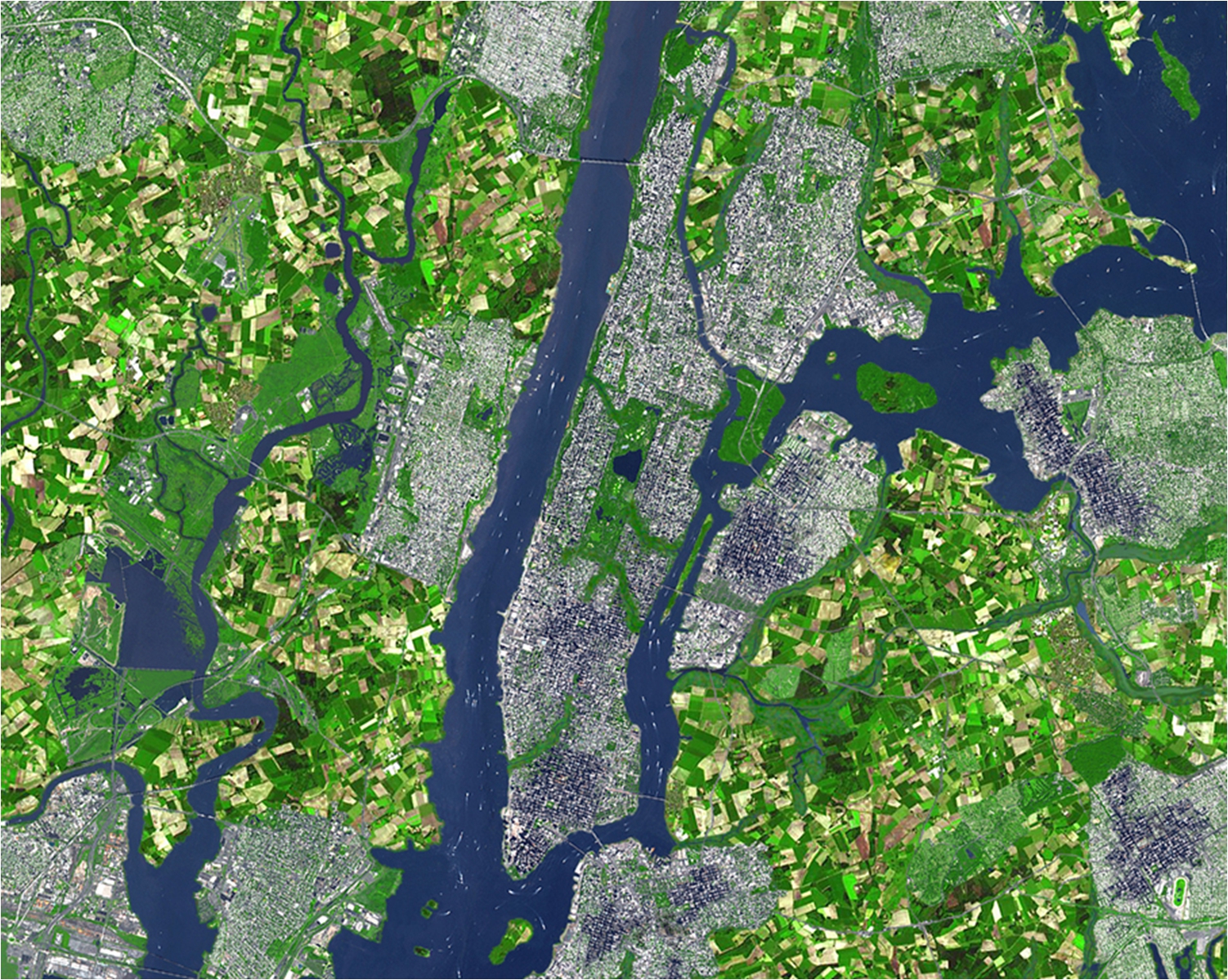 New York City in 2409, as imagined in Eric Sanderson's Mannahatta. [Image Credit: Courtesy Heidi Neilson / Eric W. Sanderson / The Mannahatta Project / Wildlife Conservation Society]
Eric Sanderson wants to turn much of Brooklyn into farmland. Luckily for him, the over 200 guests at his recent Secret Science Club talk in the borough's Gowanus section didn't seem to mind.
Sanderson, an ecologist at the Wildlife Conservation Society, tends to think in units of 400 years. So perhaps his guests had no reason for alarm as they sipped beers and vied for standing room in a barn-like back room of The Bell House, the Secret Science Club's regular meeting place. (To hear straight from Sanderson, read a Q&A from Scienceline reporter Emma Bryce.)
In his New York Times bestseller Mannahatta, published in 2009, Sanderson painstakingly maps the ecology and topography of Manhattan at Henry Hudson's 1609 arrival onto the modern Manhattan grid. He also discusses his ideas for Manhattan in 2409.
At the talk, Sanderson lovingly ran his mouse over the rivers and hills of the former Manhattan on a map projected above the stage. Foley Square boasted the Collect Pond, the main water source for the Lenape Indians who lived on the island. A stream ran north on the Avenue of the Americas, the same way traffic now flows. As Sanderson described the red maple trees of Times Square, a voice from the audience cried, "That's more like it."
To reconstruct Mannahatta, Sanderson consulted old maps, historical accounts, soil samples and tree rings. He also surveyed modern elevation and geology. He then charted the relationships between 1,600 of the of the island's species and ecosystems. These charts allowed him to extrapolate from his scant data a block-by-block map of where we would have found Mannahatta's 1,001 plant and animal species, 60 miles of streams and 300 natural springs. Sanderson enlisted digital animators to reconstruct lifelike views of the landscapes he was describing. As Sanderson showed the assembled guests his work, they whistled, clapped and breathed, "Wow."
Sanderson's focus now is to reconstruct the natural histories of New York's other boroughs, and to expand his vision of the entire city's future. He suggested that if all New Yorkers lived at the density of Manhattan, the city would cover 36 percent of its current area. He accompanied this statistic with a satellite picture of the city, digitally edited to show much of the outer boroughs' area covered in a patchwork of fields.
In the denser areas, he imagines building green roofs, eliminating cars and integrating renewable energy into buildings. A digitally constructed image showed the Flatiron building with trees on its roof, surrounded by buildings topped with wind turbines, as bicyclists, streetcars and a small stream passed by.
In the beginning, Sanderson did his work on the Mannahatta project largely using his own time and money. Eventually, the Wildlife Conservation Society allowed him to split his work time between campaigning to save endangered animals and working on Mannahatta. The state of New York began to fund his educational initiatives, but the project was considered too unorthodox and ambitious for scientific funding. Now Sanderson is funded by numerous individuals, the state and city governments, and environmental and research organizations.
Sanderson is willing to put in all of this effort and time because he remembers how he felt when he first came to New York. "It's a place you come when you don't care about nature," he said. As a newly minted PhD student hired by the Wildlife Conservation Society to protect exotic animals, Sanderson simply saw the city as a stopping place between flights to richer landscapes.
But seeing the city as part of an ecosystem is increasingly important as the world urbanizes, Sanderson explained. "Cities are becoming the most important habitat for humans," he said. Unless we understand how our cities connect to our food, water, and energy supply, cities will not last.
If we can see that the city was radically different 400 years ago, perhaps we can envision a new city with an equally radical change, Sanderson explained. And if we can understand the importance of seeing the connections between things, perhaps we can build a city that is better connected to the world around us.
Sanderson's vision of the future may be more inspirational than immediately feasible, but while exploring his virtual landscape with him, it is difficult to avoid getting caught up in his enthusiasm for the city in all of its guises. "I knew I loved nature," he said. "But now when I walk in Manhattan I feel the same way."
Correction: A previous version of this article incorrectly stated the year in which Henry Hudson came upon his eponymous river. It was 1609, not 1409.
About the Author
Discussion