Environment
Manhattan's own Snow White
This woman's love for wildlife has saved thousands of urban birds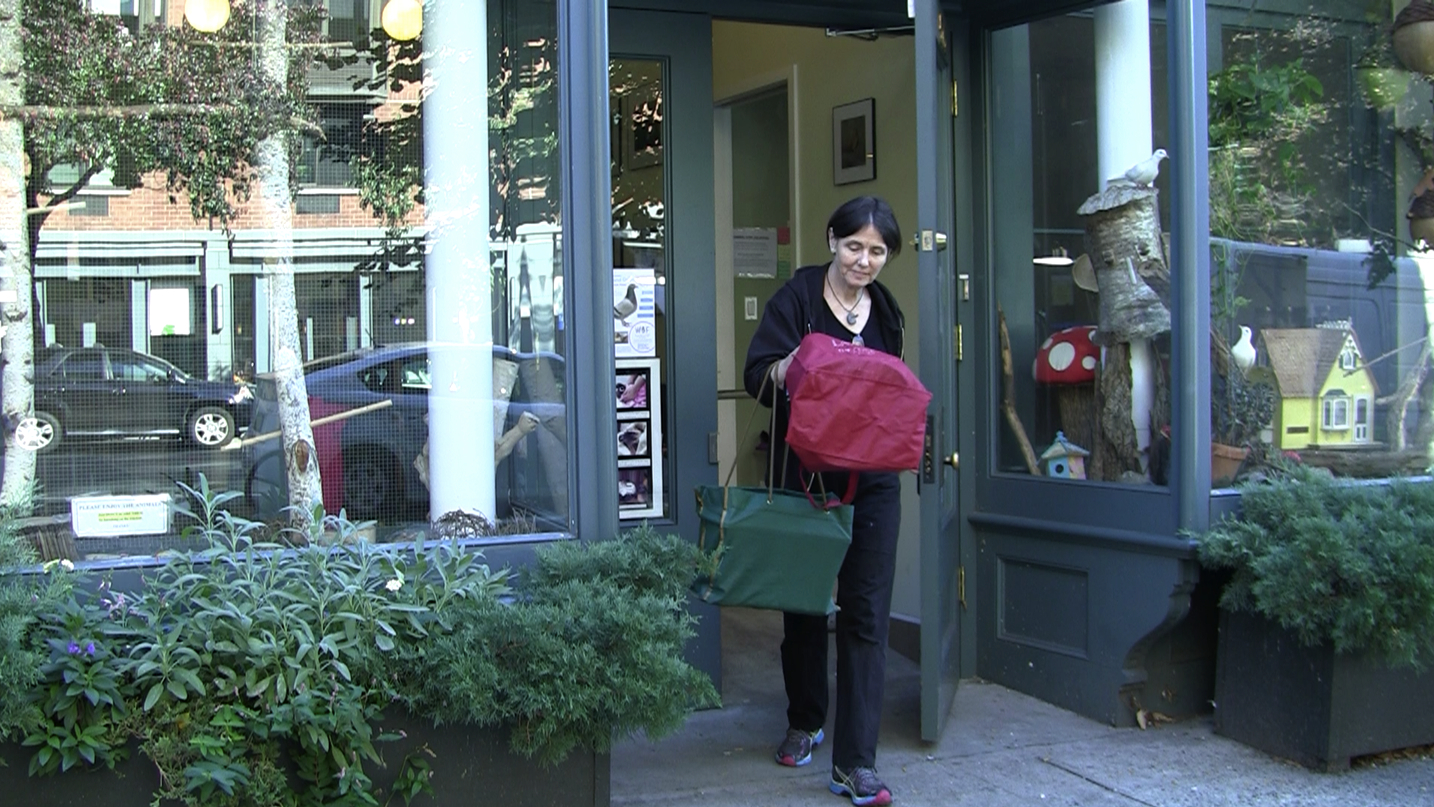 Rita McMahon leaves the Wild Bird Fund carrying bags of birds who are on their way to freedom in Central Park after successfully recovering from their injuries. [Image credit: Hanneke Weitering and Lydia Chain]
When animal lover Rita McMahon stopped on a highway to help an injured Canadian goose almost 20 years ago, she had no idea that this particular bird would change her life forever. What started with one goose eventually led McMahon to open Manhattan's first wildlife rehabilitation center, the Wild Bird Fund Center, located on the Upper West Side.
McMahon says her center has "the prettiest windows on Columbus Avenue," with adoptable pigeons, doves and turtles greeting passers-by on the sidewalk. Inside, a swan with an injured foot casually attempts to strut around the education center while a spunky seagull oversees the reception desk. A goose on the loose stalks the staggering swan at a safe distance. Then there's Ben, a resident one-eyed cardinal who constantly flutters from shoulder to shoulder, tickling people's necks with his feathers and occasionally nibbling on their earrings. Most patients here, however, are pigeons — dozens and dozens of pigeons.
Growing up in rural Connecticut, McMahon always dreamed of becoming a veterinarian. "As a child I took in everything." She'd rescue chipmunks, skunks, pheasants, rabbits, and lots of birds. "That's what you do in the country," she said. In middle school she began assisting the veterinarian across the street from her house. "He would do the medical end, and I would take care of the animals."
Then came the fainting spells. Every time McMahon observed the vet in surgery, the sight petrified her and she'd flop unconsciously onto the floor. Although her mentor assured her that this sensitivity would pass, McMahon simply could not get over the distress of everyday veterinary duties. She abandoned her dream, moved to the city to study art history, and ended up working in the television industry.
McMahon spent 35 years doing television research and programming for NBC, ABC and Fox. Although she started helping birds again in the 90s, she did not retire from television until she opened the Wild Bird Fund Center in 2012. She could not have done it without a $250,000 donation from one of the volunteers. "Prior to that I had 60 birds in my apartment — and a very tolerant husband and son."
When McMahon was first introduced to her future husband, Peter Gelfan, the friend who introduced them warned Gelfan that "she has a thing about birds." Although it wasn't easy, Gelfan got over the constant squawking, musty air and stray feathers to be with the woman he loves. After the Wild Bird Fund opened, the birds finally moved out.
McMahon's bird-rescuing career really began about 20 years ago with the injured goose on route 684. She stopped her car, wrapped the animal in her coat and took it home in hopes of finding someone who could give it proper medical attention. "For three days I phoned everywhere, and finally went to the Animal Medical Center and put down my credit card, because I could not find anyone who would take care of the goose."
The Animal Medical Center tried to save the goose, but it died days later. "We were the only major city without a rehab center," McMahon said. The goose led McMahon to local rehab expert Vivienne Sokol, a bird doctor for the Bronx zoo, and the two began rescuing birds together. "Vivienne would always tell me, when your cat goes, you ought to become a rehabber." When Sokol learned that McMahon's cat had disappeared, she started bringing over pigeons and sparrows. And when word got out that McMahon was caring for birds, more and more birds began arriving at her door. "So many people find injured birds and they care enough to bring them in and help," McMahon said. Thankfully she wasn't alone, with volunteers from the nearby Animal General hospital eager to help.
McMahon created a website for her services, and the business exploded. "Suddenly we weren't just dealing with 300 birds," she said. "We were dealing with over a thousand birds a year, and my apartment was getting really full. A few more years passed and we were getting ready to bust at the seams."
Now McMahon and around 50 volunteers at the center help thousands of birds every year, and even some squirrels, groundhogs, bunnies and turtles. The overwhelming majority of patients, however, are birds. About half of their cages house sick and injured pigeons, but several migratory birds, seagulls, geese and even swans can be found throughout the center. Most are in cages, but many roam free.

Caring for NYC's injured avians by Lydia Chain and Hanneke Weitering
"Please close the door!" McMahon scolds at an intern as he walks through the front door. "Never ever stand with the door open. The herring gull was right there!" The bird reluctantly flutters back to his post at the reception desk.
McMahon feels a deep connection with the birds she helps. "There is an interaction with these animals that you never get in normal life," she said. "When you have a swan that can really hurt you, bite you, smack you with its wing [a blow powerful enough to break an arm] — when that swan decides that it will tolerate you . . . it's quite an interaction."
"She really loves those birds," said Adair Moran, a rehabber who went from working at the Wild Bird Fund to running her own in-home group of wildlife rehabilitators who help the city's squirrels, opossums, rats and other mammals. "For a long time I've been picking up injured birds on the street and bringing them to Rita, even before the Wild Bird Fund had its own center."
"I thought it would be easier having all the birds at the center," said McMahon. Although her apartment is now bird-free, the number of birds at the center just keeps growing. The center has never had to turn anyone away, but McMahon fears that her limited space will not be enough for much longer.
If the Wild Bird Fund does run out of room for new patients before another center opens, all hope is not lost for New York's injured birds. The city still has several licensed animals rehabbers working from home, with their living rooms just as packed with pigeons as McMahon's apartment once was.
About the Author
Discussion