Environment
The American chestnut tree has a good shot at making a comeback
Two sophisticated techniques could rescue the beloved American chestnut tree — but the riskier approach might work better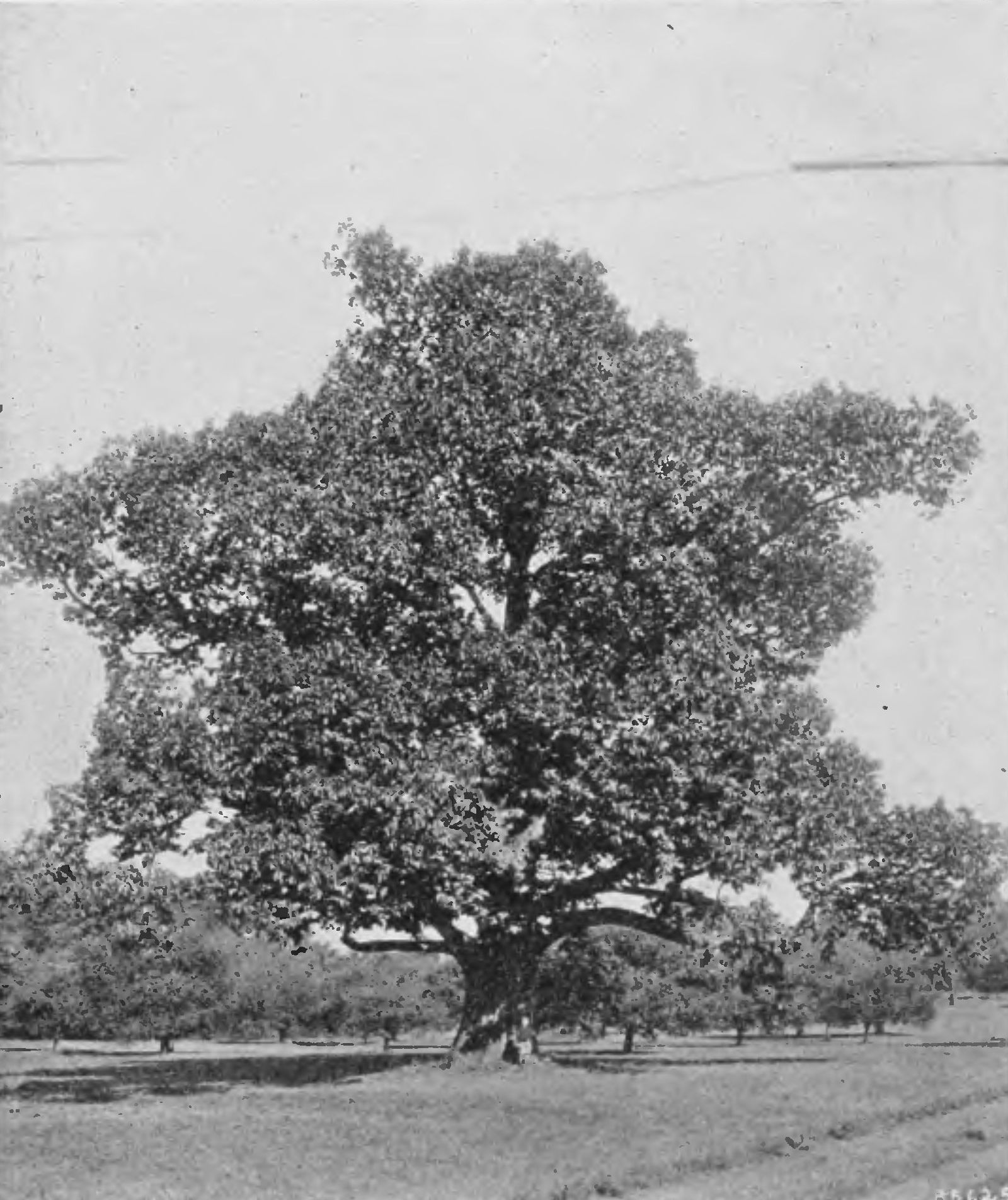 As a keystone species, the magnificent American chestnut tree once produced plenty of chestnuts every year for deer, bears and humans alike to eat. [Image Credit: Wikimedia Commons | CC0 1.0]
Henry David Thoreau's description of a hike in the woods near Walden Pond includes a tribute to "boundless chestnut woods" and the pleasure he takes in harvesting a bushel of chestnuts, which he calls a "good substitute for bread." But this delight is scarcely available to hikers in the Massachusetts towns of Lincoln and Concord today. Few mature American chestnut trees remain in this region and across the whole of eastern North America.
The tree species, part of the beech family of trees, fell victim to a fungal disease introduced by a foreign chestnut species in the early 20th century. Although many stumps remain in the wild and send up new shoots of green, they can only re-sprout so many times before they completely succumb to the Cryphonectria parasitica fungus and die away.
When Europeans first settled the eastern United States 200 years ago, the American chestnut covered 25 percent of the surrounding forests and served as an important food source for animals such as bears and birds. The trees also yield a highly rot-resistant wood that settlers fashioned into furniture, housewares and boxes ranging "from cradle to grave," says Brian McCarthy, a forest ecologist at Ohio University.
Some researchers today are committed to restoring the ecologically and culturally significant tree in its original habitat, which once extended from Mississippi to Maine. Two approaches, selective breeding and genetic engineering, are under development to make the American chestnut resistant to blight. These methods could also give hope to conservationists who dream of reviving other native tree species, such as the American elm, that have also been wiped out by pests in the past century. But there is no agreement yet as to which approach will work best at saving the American chestnut.
For the past 30 years, The American Chestnut Foundation (TACF) has diligently practiced selective breeding in an effort to revive the American chestnut. Its technicians cross the American species with a chestnut variety from China that resists the fungus. Offspring that are most resistant to the fungus are selected, especially those that are most similar to the American chestnut. These selections bear, for example, thinner and narrower leaves. Then those offspring are re-crossed with the American chestnut. Six generations of crossing have yielded a hybrid with 94 percent of its genes coming from the American variety. Last year, the American Chestnut Foundation planted 150,000 such hybrid seeds reports Ruth Goodridge, communications director of the Foundation, in an email. The ultimate goal is to generate seeds for the hybrid that can be sown to grow into blight-resistant trees.
Current fungal resistance levels vary, but breeders are making progress. "We expect to have seeds that will be in the range of Chinese chestnut resistance by 2024," says Kim Steiner, a forest geneticist at Pennsylvania State University and senior science advisor for the Foundation.
The Foundation also plans to sequence the trees' genomes to help select the best ones for breeding — those that inherit the greatest number of resistance genes.
However, the breeding approach has limitations. It can take decades to achieve success — meaning a tree that is resistant to fungus and is capable of reproducing takes a long time to cultivate. An American chestnut will only flower after it is four to five years old, and one needs to wait until then to do the breeding, says Scott Merkle, a forest biologist at the University of Georgia who is involved in genetic engineering efforts to revive the American chestnut.
Also, the genetics of the hybrids can be unpredictable, Merkle explains. "No matter how much traditional breeding is done, you still end up with a lot of genes from the Chinese chestnut, and you don't know what these genes are," Merkle says. That lack of precision can yield unwanted effects such as sterile trees.
The alternate approach, genetic engineering, involves inserting specific genes into the American chestnut to help it overcome the fungus. The most promising gene so far is a wheat gene called OxO, which produces an enzyme that breaks down a caustic acid used by the fungus to invade the tree bark. Chestnut trees carrying this gene will be resistant to the fungus, says William Powell, an biotechnologist at the State University of New York College of Environmental Science & Forestry.
Despite the yelling-and-screaming controversies over genetically modified organisms (GMOs), neither Powell nor McCarthy anticipates any public outcry. "The specific gene that's being inserted into [the] chestnut comes out of wheat, so every single person on earth that poured a bowl of cold cereal this morning ate that same gene," says McCarthy.
Using a soil bacterium as the vehicle, Powell's team inserts the wheat gene into the embryo of an American chestnut, which grows into a seedling in the lab before getting moved into a one-acre test orchard. Powell hopes to obtain governmental approval next year for planting in the wild.
The application is a complicated and expensive process, Powell says. But without the go-ahead from relevant government agencies, his team can never achieve the goal of restoring the American chestnut.
If the regulatory hurdle is cleared, some researchers feel we should still be wary about the genetic engineering approach.
For instance, the release of genetically modified trees into the forest could have some unforeseen long-term impacts, says Chad Oliver, an environmentalist at Yale University. Researchers should be cautious, Oliver says, about "introducing something into the tree that could get out into the wild that we'll regret." For American chestnut, however, the risk is very small, he says, that "some super-positive gene" inserted into the genome of the American chestnut — such as the wheat gene that gives the tree a positive feature of blight resistance — might have unforeseen side effects as GMO chestnuts breed in the wild with the few, remaining wild American chestnut trees or hybrids. In other types of trees with a large wild population, the genetically modified individuals might be more likely to cause problems, Oliver says. "We should, of course, monitor crosses of GMO chestnuts with others to ensure the new gene does not alter all future chestnuts' ability to survive," adds Oliver in a follow-up email.
Oliver is in favor of the return of the American chestnut and not worried about GMO chestnut trees choking out other trees in the forest. "Trees have a very good habit of [co-existing] — some in shades, and some in sunlight," says Oliver. "The [American chestnut] is not going to become a super tree that kills everything else out."
Research geneticist Dana Nelson of the USDA Forest Service also objects to the genetic approach — but on an evolutionary basis. Efforts that rely on genetic engineering replicate a particular genotype — an American chestnut's genetic makeup plus the inserted wheat gene — a million times. This is "a bad approach for restoration," says Nelson. "[T]hat population you produce doesn't have the genetic diversity to adapt to the variable environment and climate."
Powell acknowledges this drawback. To solve the problem, he plans to cross his GMO trees with surviving American chestnut trees. Trees with the fungus-resistant wheat gene are more likely to survive, leading to a population that has the desired trait but is otherwise more genetically diverse.
For its part, the American Chestnut Foundation agrees that the best path forward is to combine the two approaches. "It's not an either-or [question], we need both," says Lisa Thomson, president and CEO of the Foundation.
Restoring the tree's historic 25 percent coverage in eastern American forests also will require some public participation. Down the line, Powell hopes to disseminate his blight-resistant seeds for people to plant in their backyards. The Foundation has thousands of volunteers in 16 state chapters who can help.
It might be a campaign that catches on. Only six percent of people surveyed in 2016 by Mark Needham, a forest ecologist at Oregon University, think that we should let chestnut blight take its natural course.
Ultimately, the stakes are higher than just one species. Threatened by pests and foreign diseases, other classic North American trees such as ash, walnut and hemlock, might need help surviving into the next century. Successes with the chestnut tree could provide lessons that help conservationists save those trees as well, and perhaps ensure a diverse forest that can provide a habitat for living things, including people who enjoy hiking through woods more like those Thoreau walked through over 150 years ago.
About the Author
Discussion