Environment
Turning the seafood business upside down
A fifth-generation fishmonger is driving New York's seafood scene to become more sustainable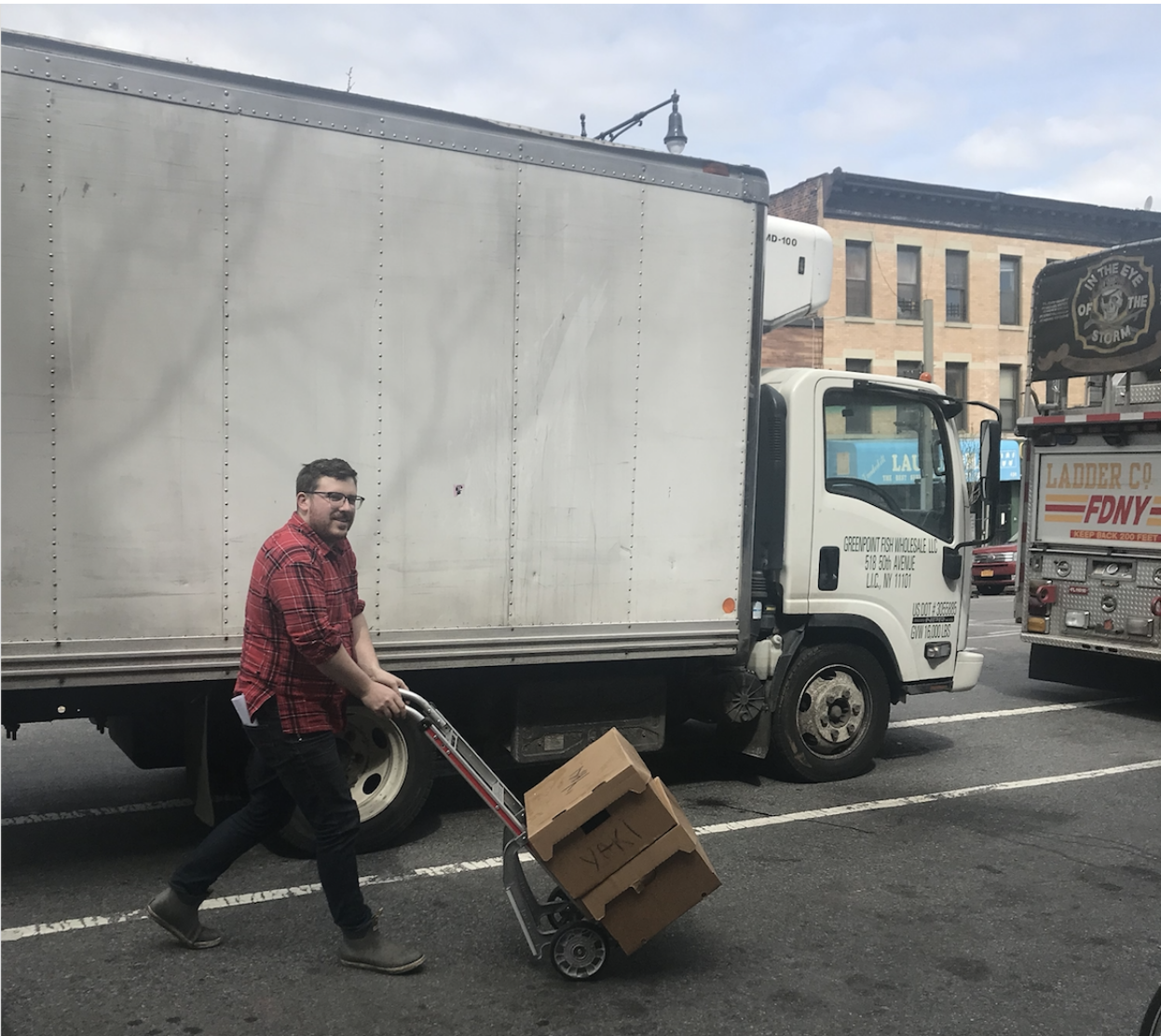 Vinny Milburn, CEO and delivery driver when necessary, 10 hours into his work day and it's only noon.
It's 8 a.m. in New York City, but Vinny Milburn has been on the job since 2:30. Country music radio and the musty smell of settled dirt fill the cab of his delivery truck. Vinny's got two phones on the dashboard, and when one buzzes, he puts it on speaker, flips the phone upside-down and dunks it into the breast pocket of his torn plaid shirt — never taking his eyes off the rush-hour traffic on Nassau Avenue. 
"Swordfish are down," barks the voice on the other end of the phone, an invitation for Milburn to negotiate poundage and price. He's aggressive but jovial, tired but shrewd. The phones keep ringing, each conversation louder and more frantic to buy and sell than the last. The whole time, Milburn maneuvers through each call with confident finesse, much the same way he moves the enormous truck from restaurant to restaurant — never once checking a map or GPS. 
Milburn is driving more than a delivery route. Due to overfishing and warming, some of the world's largest fisheries have been depleted by as much as 35%, and species like cod are at risk of never bouncing back. So, in the wee hours of the morning, he's also driving change in the sustainable seafood game. 
Seafood is a nocturnal industry that begets a lifestyle Milburn calls "less than sexy." He sees his pregnant wife for an hour a day, at best. But he was born into it. Ask him how long he's been in the business and he will say "150 years," which is longer than you'd expect for a 35-year-old man. But his family's work in the seafood industry goes back "five generations in this country and two generations in Ireland."
He's a Boston native who took flak for years about being the only guy with a law degree driving trucks and working the pier for his uncle's wholesale seafood company, John Nagle Co. Milburn could shrug off the comments, but the environmental costs of the industry became impossible to ignore. 
Consumers have come to expect consistent menus year-round, with familiar fish names and fillets in perfectly unnatural rectangles — as if 3D printed. We want scallops, even if they have to be dredged off the ocean floor. It's not nefarious; most of us simply don't give that much thought to the fish on our plate. 
Milburn is trying to change that. The ruthless demands of consumers are driving an industry that's emptying the ocean, so Milburn, with the ear of New York chefs and the advice of local fishermen, is trying to reorient the market. 
Milburn is a co-owner and founder of Greenpoint Fish and Lobster, a seafood wholesaler in Greenpoint, Brooklyn that offers only sustainably procured seafood. The business was founded seven years ago, built on Milburn's expertise and environmental convictions. But growth and success carry a high personal cost, and the risks of failure are everywhere.
I ventured out with Milburn early one morning to see exactly what he's up against. 
From my passenger-side window, I watched him step into the role of an unassuming delivery man, handing over invoices and hauling boxes from truck to restaurant. He was behind the wheel because his delivery driver quit a few days earlier, so Milburn volunteered, rushing in and out of kitchens never introducing himself. 
"I'd rather be the faceless name on the email signature," he says — "behind the curtain," rather than on stage.  
Back inside the truck cab, he resumed his job as CEO, fielding call after call. Fishermen and wholesalers called constantly with offers, chefs and restaurateurs with demands. We looped through Brooklyn to Manhattan, squeezing through tiny streets to deliver fish to some of the city's most esteemed restaurants. 
"In Boston, 10 or more years ago, people weren't interested in 'environmentally conscious' as a business model," Milburn says. "They'd say, 'my bottom line is too tight. I can't afford to make these sorts of decisions for my business.'" 
Growing up in the 1990s, Milburn doesn't remember a time when he wasn't acutely aware that his generation would have to inherit a planet in crisis. But being an environmentalist in a profit-driven industry was an uncomfortable position, so he decided to leave Boston for New York City, and seafood for the music industry. 
By 2009, Milburn was practicing intellectual property law and even running his own hard-core punk record label. Yet his reputation as "seafood royalty" followed him. When a young talent buyer in the music industry named Adam Dunn brought him a business proposition built around sustainable seafood, he couldn't say no. 
Our first drop-off that morning was a restaurant called Pheasant, one of the few places Milburn couldn't slide under the radar. I watched through the restaurant's front window as Milburn handed over an invoice and then three times headed for the door to leave. But three times the chef called him back. Milburn scratched his bright red hair beneath his beanie, clearly torn between the relationship in front of him and the pounds of fish waiting to be delivered. 
In that moment something crystallized: Greenpoint Fish and Lobster's most important commodity isn't its supply of sustainably caught seafood. It's the "salty" expertise of the company's nocturnal CEO and temporary delivery driver. Milburn's personal relationships — including an unusual number of cousins — are the foundation of the business and the very reason his cofounder, Dunn, sought him out back in 2012. 
Even as the business has grown — they now have about 120 customers — the focus on relationships remains. Milburn buys and sells via text, not purchase orders. When a customer called asking for "Jonahs," referring to Jonah crabs, his first call was to a cousin. 
It's those relationships that underlie his guarantee of sustainable seafood. The most common measure of sustainable seafood is the Monterey Bay Aquarium's Seafood Watch guide. It's useful for chefs and consumers who aren't experts, Milburn says, because it categorizes species as red (avoid), yellow (good alternative) or green (best choice). 
But Milburn's business is based on a more sophisticated approach that fluctuates minute by minute instead of season by season. He only buys from fishermen committed to methods that won't harm the ocean. For instance, he never buys from boats that dredge for scallops. He buys only what's local, in season and from a healthy population based on national data. He also limits himself to what's coming off the boats that morning: what the oceans have to offer today. There's no room for chefs to be rigid, because there are no absolute guarantees. Species change from day to day, so menus have to as well. 
"A lot of people rely on me to give them the information," says Milburn. Seafood makes up 10% or less of the menu at most restaurants. Most chefs can't devote a lot of time to learning about sustainable seafood, so they call Vinny. 
His largest customer is Seamore's. With six locations across New York City, Seamore's focuses on offering seafood dishes that hit the trifecta: delicious, affordable and environmentally friendly. Its executive chef, Christopher Cryer, leans even more heavily than most on Milburn's expertise. 
"He's kind of my ear to the ground," says Cryer. "I've been cooking seafood since I was 14 … working here and working alongside Vinny has opened my eyes big time." Cryer and Milburn talk daily, and Seamore's considers Milburn integral to their brand, consulting him on all events and menu planning. 
Seamore's is easy to work with, and that's unusual, Milburn says. This is an industry where relationships can fray quickly. Competition is everywhere, and profit margins are razor-thin, says Milburn. The pressure to sell, sell, sell is on everyone — from fishermen all the way to the restaurant, which is why the bottom line can easily eclipse sustainability. 
Milburn fights back by constantly trying to redirect chefs to purchase more local and seasonal fish. If they call asking for cod, he may try to talk them into some just-bought pollock, a fish nearly identical in texture, palatability and taste but one-fourth of the price. Many chefs, though, will end the conversation there because they don't think their customers will recognize or want pollock. 
"The goal as a consumer is to get a large white filet of fish, something that tastes good that's not harming fish populations or the environment," says Jason Link, senior scientist for ecosystem maintenance at the National Oceanic and Atmospheric Administration. "But we get so zoomed in on taxonomy, we lose sight that there might be something equally as good that could substitute."
So, how do we get customers to want pollock and not balk at a menu of unfamiliar fish names? Milburn is working on that right now. And it's a question that is going to become increasingly relevant, according to Link. 
As oceans keep warming, fish populations are migrating to previously unreported areas. Other kinds of fish may move in and replace familiar species that we have overfished or are not adapting well to higher temperatures, Link says. "That's where we might want to think about changing what we eat."
There's no way to know how much profit Greenpoint Fish and Lobster is missing out on by focusing on local, sustainable fish species like albacore and pollock instead of cod and bluefin. But Milburn turns away business all the time. Still, he feels he can carve out a place for his business and stick to his convictions because he understands the market so well. 
Local fish and scallops are two of the company's strong suits.  Because of personal relationships with scallop boats, Greenpoint can compete with "the big boys" — the huge food distribution corporations like Sysco.
Milburn and his partner target restaurants that fit within their niche market. They aren't trying to win chefs over to sustainability as much as they are looking to partner with restaurants that have already embraced it. At least for today, business is good.
And what if the business becomes so successful that it adds to the stress on local fish stocks? "If I become a massive success," Milburn says, "I've done essentially what I didn't want to do."
If that day comes, he says, "we will look at the science and the regulatory agencies" and do something different even if it means less profit, Milburn says. 
"I can't just become some capitalistic whore who raids and plunders the environment to meet my own needs," Milburn says.  
For now, though, he's focused on more immediate needs: "We hire a new driver."
About the Author
Discussion