Featured
Ever Wondered: Why is wild salmon a deeper red than farmed salmon?
When it comes to salmon, color is king.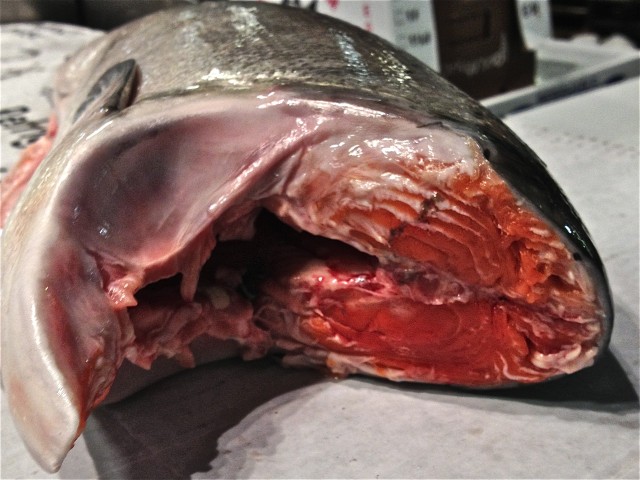 Whole wild-caught salmon at the New Fulton Fish Market [Image credit: Andrew P. Han].
It's 1:30 AM at the New Fulton Fish Market in the Bronx, New York City. As forklifts zip pallets of seafood through ice-packed loading bays, the fishmongers of Lockwood & Winant are selling fresh Pacific King salmon right off the plane from Washington. Further down the large, cold, cavern, Montauk Seafood Co. has Coho salmon straight in from Alaska. These wild-caught fish glow a deep pink, fleshy ingots glistening on ice. Later today, they'll be carved into sushi gemstones, gingerly set upon rice and seaweed settings at five-star restaurants in Manhattan.
Farm-raised Atlantic salmon is also for sale here, like the fillets and steaks at your average grocery store. Based on price alone, the farm-raised fish is a steal — $3 per pound wholesale versus $10.50 per pound for wild caught. But a side-by-side comparison reveals a distinct difference in color: farmed salmon is light pink — almost orange — and has a flatter shine, without the rich hues of red.
Color may not be the biggest difference. Nick Stockton — friend and fellow science writer, who once worked on an Alaskan salmon boat — says he tries to only eat wild salmon, mostly "to support the fisheries," but also because it has superior taste and nutritional content. Yet color is such an important indication of quality that farmers will even dye the farm-raised fish red to increase its appeal.
So why is wild salmon a deeper red than farmed salmon?
Unlike beef, which acquires its distinct red hue from contact with oxygen in the air, salmon meat gains its color through the fish's diet. Out in the ocean, salmon eat lots of small free-floating crustaceans, such as tiny shrimp. These crustaceans are filled with molecules called carotenoids, which show up as pigments all over the tree of life. In fact, if you've ever known a kid who turned orange from eating too many carrots, you've seen carotenoids in action. It's these carotenoids that account for the reddish color of the salmon, as well as the pink color of flamingoes and the red of a boiled lobster.
Farmed salmon, however, aren't fed crustaceans. Instead, they eat dry pellets that look like dog food. According to the Atlantic Canada Fish Farmers Association, salmon chow includes ingredients such as "soybean meal, corn gluten meal, canola meal, wheat gluten and poultry by-products." Carotenoids, which are also essential for regular growth, can also be added to help give the fish its distinctive color.
Clearly, color counts. But as Tammy Davis notes on the Alaska Fish and Wildlife News blog, color isn't the only thing that makes for a tasty fish:
Some king salmon – about one in 20 – have white meat due to an inability to process these pigments in their food […] In past years white king sold for about sixty cents less per pound than the more familiar red-fleshed king, and some fish buyers enjoyed this rarer king salmon for a bargain. Nowadays many believe white king's flavor is more delectable than their more common cousin. The marketing tide has turned and now the fairer fish, marketed as "ivory king," brings a higher price.
So, in your salmon eating future, judge a fish not by its color, but by how well it goes with lemon, butter, and capers or soy sauce and wasabi.
About the Author
Discussion