Environment
A growing flock of farm drones could help with our pesticide problem
The U.S. is relaxing regulations on pesticide-spraying drones, and some experts believe their precision may help reduce overall chemical use.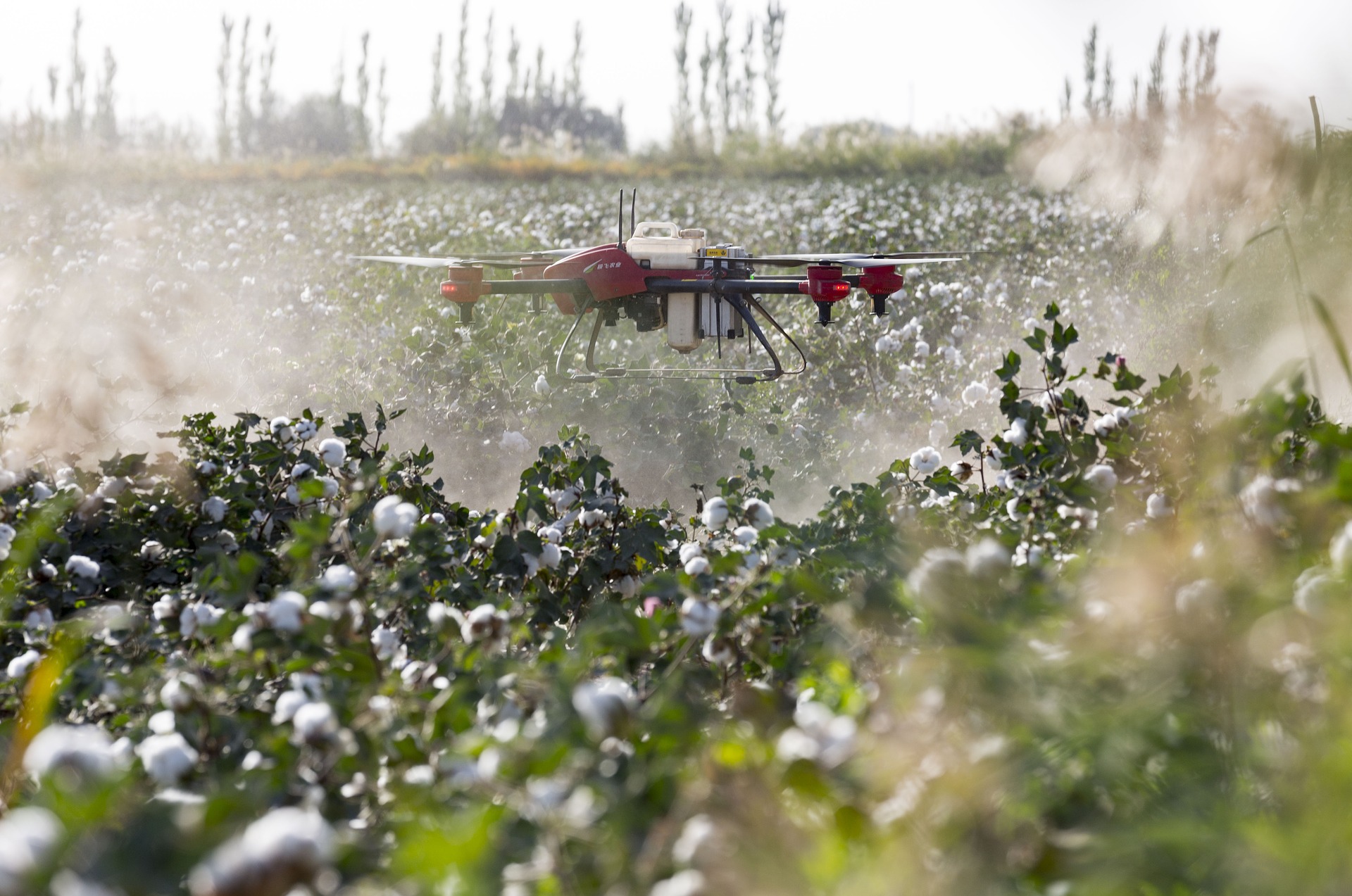 A four-propeller drone sprays pesticides over a cotton field. Some experts think targeted pesticide spraying via drone could help reduce pesticide use. [viya0414 | Pixabay License]
To most people — even many farmers — the idea of tending crops hardly brings to mind a drone rising into the air, carrying a tank full of pesticides and navigating by pre-programmed map. Yet, when Michael Ott markets to agricultural retailers, that's exactly his sales pitch: an unmanned aircraft that will spray whatever you need, wherever you need it.
Since 2018, Ott's company — Iowa City-based Rantizo — has operated drones over cornfields, soybean plots, vineyards, blueberry farms, vegetable rows, hemp fields and more. In July of 2020, Rantizo became the first spray drone company in the U.S. to receive Federal Aviation Administration (FAA) authorization to "swarm," that is, to have multiple drones flying at once, monitored by a single operator. Without swarm authorization, drone operators are limited to flying one drone at a time, within their line of sight — limiting drone efficiency and the situations in which spray drones are practical. With drone swarms, Ott says his drone operators can "nearly triple the productivity," applying chemicals over almost 42 acres per hour. 
Agriculture drones date back at least to 1990, when Yamaha introduced the first "unmanned helicopter for crop dusting." Forecasts of a U.S. agricultural drone takeover have been popping up for at least the last five years. But now, for reasons including the shattered labor force caused by the COVID-19 pandemic, relaxed FAA regulations and a booming drone industry, factors may be quietly coming together to make pesticide-spraying drones commonplace on farms across the U.S.
Pesticide-spraying drones are doing more work in more places than ever before and, counterintuitively, that might lead to a future with less pesticide usage and fewer pesticide impacts. "We've seen cases where, with smart application, we see 30 to 40% reduction in the chemical [application] rates," says Ken Giles, an agricultural engineer at University of California, Davis.  In rare cases, Giles adds, he's seen as much as a 90% reduction in the volume of pesticide used.
Chemical pesticides are one of farmers' most relied-upon tools to protect their crops. 1.1 billion pounds of chemical pesticides were used in 2012, according to the most recent EPA report. However, they have well-established downsides. Pesticides can harm insects or plants that they weren't meant to target, drift into the broader environment, harm human health and require the development of pesticide-resistant crop strains — all while draining farmers' wallets. Moreover, pests often develop pesticide resistance over time, leading to an even more intense use of the chemicals. It's the "pesticide treadmill," says Rebecca Schmidt-Jeffris, an entomologist at the USDA. Once farmers pass a certain pesticide use threshold, she says, the "treadmill" can be very difficult to slow down or stop.
But over the past few years, drones have been changing what's possible in pesticide application. Farmers are using drones to spray pesticides more purposefully over smaller areas, as drones can spray with higher accuracy than most boom sprayers, tractors or piloted aircraft.  
Spray drones can target just the areas most in need of pest control, cutting expenses and reducing harmful exposures for workers and nearby residents. Farmworkers wearing backpack sprayers, as well as some remotely operated boom sprayers equipped with cameras, can also be used for more targeted pesticide applications — but they come with limitations, says Tom Wolf, an agrologist specializing in pesticide efficiency.
Massive booms can't be erected and dragged over every type of crop, nor work efficiently in very wet or muddy fields, Wolf explains. And when parts of a field become inaccessible because of weather or terrain, "Drones are perfect for that," he adds. 
Furthermore, backpack spraying is limited by labor availability and inefficiency. It's also dangerous and difficult work. In California, for instance, pesticide applicators for vineyards often have to apply pesticides at night — in part to minimize the chemical exposure to other farm workers during the daytime — while marching through terrain that is too treacherous for tractors to reach. "It's not the kind of work that we really want people to do," says Giles, the U.C. Davis engineer,  "stumbling through a vineyard with a tank of chemical on your back, you know, at night."
Meanwhile, drones can spray a topographically-challenging area without putting a worker at risk, says Giles. "And then on top of that, if we can target that application better so that we can reduce the chemical rates and the non-target effects and the drift, then it's even better," he adds.
Despite their potential, spray drones — in this early stage of the technology —  have their shortcomings.  Battery life and weight capacity problems combine to be the "Achilles' heel" of spray drones, says Scott Shearer, an agricultural engineer at Ohio State University. The more weight a drone carries, the less time it can stay in flight. So, spray drones can only hold small volumes of pesticide — usually no more than a few gallons at a time — and need to refill and recharge frequently, making them poorly suited for larger farms. Wolf says, "We're not talking about the great plains of Montana being covered by a drone all of a sudden."
About the Author
Discussion