Environment
Why aren't more US farmers using sustainable practices?
Financial, cultural and structural barriers stand in the way, but momentum is on the side of a changing agricultural landscape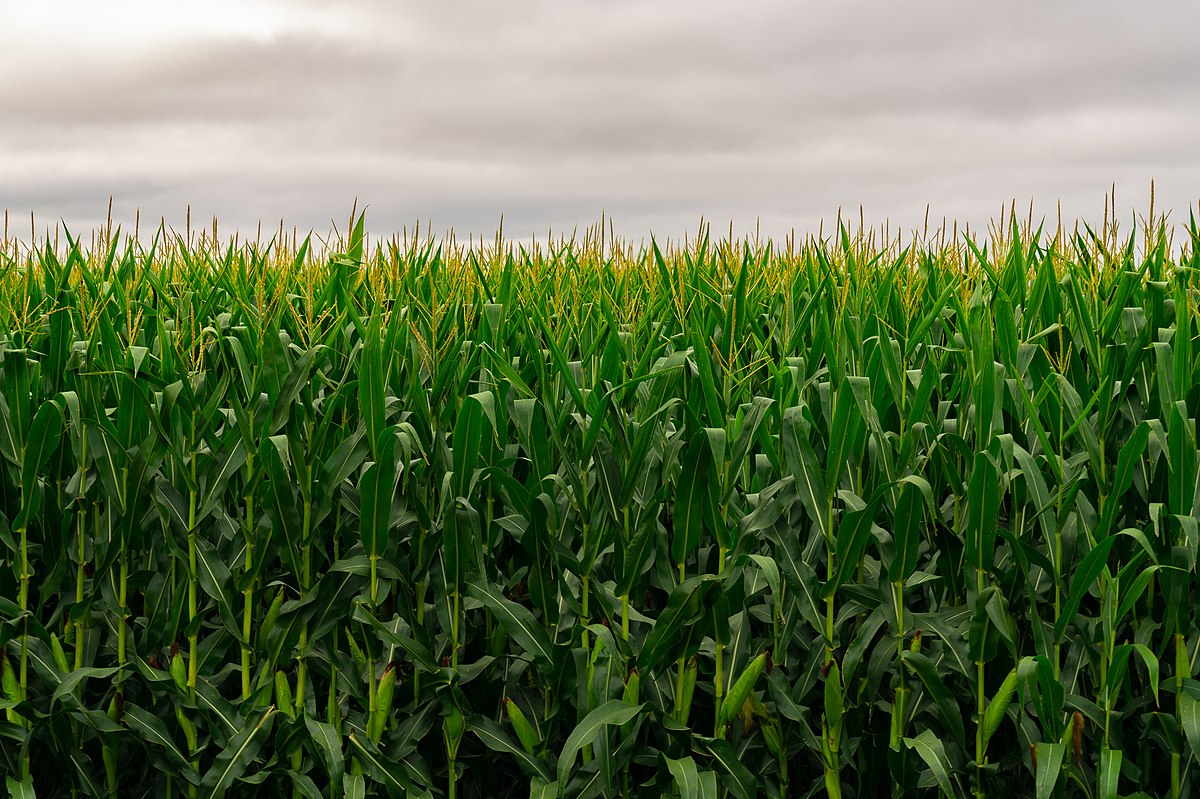 Monoculture corn is the most planted crop in the U.S., totaling 92 million acres in 2020. [Tony Webster | CC BY 2.0]
Last July was hot and dry in the northwest corner of Ohio where Les Seiler and his brother farm 1,650 acres. The weather wilted and stressed crops region-wide. Fortunately, an August rainstorm turned things around, at least for the Seilers. "Our corn came back to life," says Seiler. "A lot of people's corn was cooked by then and fried, and ours turned back green and lush."
Neighboring farmers chalked up their own poor harvests this summer to bad luck and weather, but Seiler attributes his success to something more than luck. "You have to point the finger at soil health," he says.
The Seilers have been practicing "no-till" farming for 36 years and counting. That means they don't use any heavy machinery to turn the soil before planting. Further, unlike most conventional farmers, the Seilers don't just grow corn and soy, but a rotation that also includes wheat, alfalfa, hay and barley, along with cover crops like cereal rye. The blanket of cover crops prevents soil erosion and provides habitat for beneficial insects. "We're trying to mimic mother nature, and mother nature never let the land go bare," says Seiler.
His family's efforts have paid off. Over the years, Seiler says the land has built up organic matter, a critical component of healthy soil. The richer, less compacted soil holds water better every year, allowing his crops to survive heat waves, droughts and downpours alike.
Additionally, Seiler says sustainable farming practices like cover cropping and no-till have helped him cut back on pesticide and fertilizer use. This, in turn, keeps the local bees healthy so they can pollinate the soybean crop, and keeps insect predators like ground beetles around to manage the ravenous slug population. He describes his farm's ecosystem as a complex balance. "It's a lot of cool stuff happening. I mean, this whole thing is one connected system. Every piece is important… you can't ignore any of it."
While the Seilers gain organic matter and build up their soil every year, the U.S. continues to lose hundreds of millions of tons of agricultural soil to erosion annually, a rate some estimate to be 10 times that of natural soil replenishment. And while the Seilers have reduced their use of chemical pesticides and fertilizers over the past 36 years, the amount of nitrogen fertilizer used per acre of corn across the U.S. has almost tripled since the 1960s, while the rate of phosphate fertilizer used per acre of soy has almost doubled — contributing to the destruction of water and soil health.
Decades of research now points to a scientific consensus that is on the Seilers' side. Farming methods like crop rotations, using cover crops and reducing soil tillage boost ecosystem services without sacrificing yield, according to a review study of 5,160 original research papers, published November 4 in Science Advances. Sustainable strategies seem to have real, measurable benefits for both growers and our planet.
Use of some of these techniques is on the rise. From 2012 to 2017, no-till farm acres increased more than 8% in the U.S. while the number of farms using cover crops went up by about 15%, according to the Soil Health Institute, a non-profit organization aiming to improve soil productivity and protection. However, corn monoculture or simple corn/soy rotations continue to expand acreage across the U.S. Harvested corn acreage alone increased by 2.7 million acres from 2019 to 2020 — a telltale sign that diversified agriculture is still a long way off.
From top-down policies that favor a small number of commodity crops to land access limitations to cultural divides, numerous barriers inhibit progress toward a more diverse, sustainable and regenerative farming system in the U.S. Experts say a multi-faceted approach could close the gap between the science and the current reality.
"I would say, the majority of farmers I've ever met care very much about the environment, and they care very much about feeding people. And the practices that they engage in, for the most part, are mediated by their access to land, labor, capital and knowledge," says Hannah Wittman, a rural sociologist at University of British Columbia in Vancouver, Canada. Wittman studies rural communities in North and South America. In the U.S., she points to federal policies as a big piece of the puzzle when it comes to how land owners manage their land.
The U.S. Farm Bill — a package of legislation that covers federal crop insurance, farmer training programs, food access policy, nutrition assistance programs, and more — conspicuously favors corn and soy. The bill directs 75% of U.S. agriculture subsidy money to about 10% of commodity crop growers who largely grow corn and soy. Although the Farm Bill allocates some federal money for conservation practices, this spending accounts for only 7% of the total. 
Additionally, the Renewable Fuel Standards program, touted as an environmentally responsible policy, is correlated with an increase in corn acreage across the U.S. The program has mandated that most transportation fuels contain a certain portion of "renewable" content — namely, ethanol distilled from corn — since 2007, and has played a role in converting diversified agricultural land, as well as undeveloped and protected areas, into fields of future ethanol.
Moreover, crop insurance, which is often partially federal-funded, compounds the financial pressure on farmers to stick to corn and soy, says Jennifer O'Connor, author of a Patagonia-sponsored report on barriers to regenerative agriculture in the U.S. published in October 2020. Farming is a risky business with fluctuating profit margins. So, many growers rely on crop insurance to get through tough years.
"To realize true acre change in the U.S., we're going to have to see an entirely different crop insurance and subsidy system," says O'Connor, referring to changing over acres from monoculture, destructively farmed corn and soy to more diversified, sustainably farmed crops. She adds that in most of the U.S., the "heartland," farmers can only be insured for soy and corn. 
Further, for many U.S. farmers, the choice to grow something different or adopt more sustainable practices isn't theirs to make. About 54% of all U.S. cropland is rented, according to a 2014 USDA survey. Absentee landowners that purchase land to lease often do so on a short-term basis, hindering the number of long-term projects that the farmers operating the land can undertake, says Wittman. 
Kathryn De Master, an environmental science policy researcher at the University of California, Berkeley, adds that landowners often dictate how their land is used. "The idea that farmers aren't investing in their land and in more sustainable practices — it isn't just because they don't have access to the land over the long term," De Master says. "They often don't have agency over what happens to that land."
While some farmers can't farm sustainably, others choose not to. Cultural norms may keep some U.S. farmers from changing their ways, says Stefan Gailans of Practical Farmers of Iowa — an organization that helps member farmers build more resilient farms. Gailans says farming unconventionally can sometimes bring stigma, and in some extreme cases, farmers have described avoiding places like local coffee shops where their neighbors might be talking about them. For this reason, he adds, many of the farmers in his organization's network join because it can be "a tonic or cure for loneliness," helping farmers find agricultural community without judgement. 
Finally, there is no one-size-fits-all instruction manual for how farmers across the U.S. can achieve sustainable production. "How we apply regenerative agriculture in one region will be different than how we apply it in another," says O'Connor, adding that the context of each place is critical. 
"We still need to tune these [regenerative] techniques, and we still need to make sure that whatever suite of techniques is used by a farmer works for that particular cropping system in that particular region," says Claire Kremen, a conservation biologist and agroecologist at the University of British Columbia in Vancouver, Canada, and a contributing author to the 2020 Science Advances review study.
To that end, more and more regenerative farmers are pairing with sustainable agriculture research organizations to develop farming practices that are tailored to their farms. Practical Farmers, for instance, has gained 25% of its membership in the past seven years, says Gailans — and interest in sustainable farming overall is increasing, says O'Connor. 
Being part of a community of other farmers working toward the same sustainability goals makes a big difference, says Seiler, the Ohio farmer. He relies on farmers he's met through conferences and conservation meetings to share knowledge and feel supported. "I mean, we're all after the same thing," he adds. "Just trying to do a better job." 
And although he knows his farmer network is a big part of what keeps him moving forward with more sustainable improvements, he's not as sure about what got him and his brother started. "I always get asked, why do you think you make them decisions? I can't tell you why," Seiler says. "It seemed like it made sense what we was doing, and now I wish I would have only done it sooner."
About the Author
Discussion