Environment
Don't toss your rotting pumpkins — smash them!
Millions of pumpkins end up in landfills every Halloween season, but there's a better alternative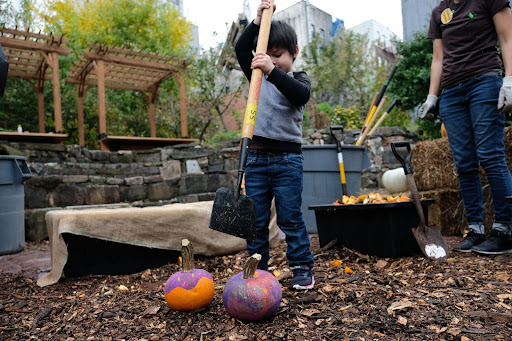 Pumpkin smashes make it fun to learn about composting, the event organizers say. [Credit: Lori Youmshajekian]
"One, two, three, smash!" Four-year-old Vincent Nenavich plants his feet on the damp soil at a community garden in Manhattan's East Village and takes a swing. "Yes! Yes! We got smashed!" he yells with each swat of the pumpkin tenderizer.
He is one of about a dozen kids circling the piles of pumpkin carcasses in the patch of open space among the vegetable plots. Each child has a shovel in hand, trying to pierce the tough outer shell of their discarded jack-o-lanterns and decorative gourds. 
Vincent's mom, Jennifer, filled a stroller with pumpkins and brought him along to this local pumpkin smash at La Plaza Cultural Community Garden on East 9th Street. 
"I didn't want to waste my pumpkins," she says. "I love the concept … I don't have to have any of the tools to do it myself." 
The event is one of seven around the city run by New York City's Department of Sanitation. They aim to turn organic holiday waste into compost. 
"It helps raise awareness about food waste that gets created during the holidays," says organizer Lia Lucero, the outreach and education manager at the Lower East Side Ecology Center. "I love to see people get excited about smashing pumpkins. Even adults get really into it." 
About 1.5 billion pounds of pumpkins are grown each year, but only a fifth of them are used for food – meaning the millions of pumpkins populating front yards and window displays will be left uneaten and might end up in a landfill, according to the U.S. Department of Energy. 
There, they decompose and produce methane, which is notoriously bad for climate change – it's about 80 times more potent than the other major climate-warming culprit, carbon dioxide. Landfills account for about 17% of the country's total methane emissions, making them the third biggest source of methane, outranked only by the production of fossil fuels and livestock emissions. 
Those spooky statistics are the reason behind local efforts to turn hordes of pumpkins into garden compost. Last year, pumpkin smashes diverted more than 3,000 pounds of pumpkins from landfills, according to a spokesperson for New York's Department of Sanitation. 
It's a small dent in New York's food waste problem – about a third of the city's waste is compostable, but still ends up in landfill. 
Event volunteer and property manager Becky Adkins emphasizes that composting is simple and accessible. "It's like something that one person can do," she says. "I know that dropping my food scraps off at a compost center is making a difference." 
While composting also produces methane as organic matter decomposes, it contributes far less than landfill emissions. That's thanks to all the air that scraps are exposed to – the more air, the more carbon dioxide is produced, replacing some of the atmosphere-warming methane. 
If you can't make it to a local pumpkin smash, Lucero suggests dropping off food scraps at one of more than 200 composting locations around the city. She also encourages people to learn more about composting from the city-run composting certification, a hands-on workshop that's free and available to the public. 
And if you're a Queens resident, it's now easier than ever to turn your chow mein leftovers into the nutrient-dense soil that feeds the City's parks and community gardens. The borough kicked off New York City's first curbside composting program in October, hoping to divert the dinner scraps of more than 2 million residents from landfills. While a city-wide equivalent isn't being served up just yet, local composting campaigns are cropping up all around the City – some food for thought for the holiday season.
About the Author
Discussion