Environment
A mushroom walk on Staten Island
The New York Mycological Society is a "mushroom club for anyone"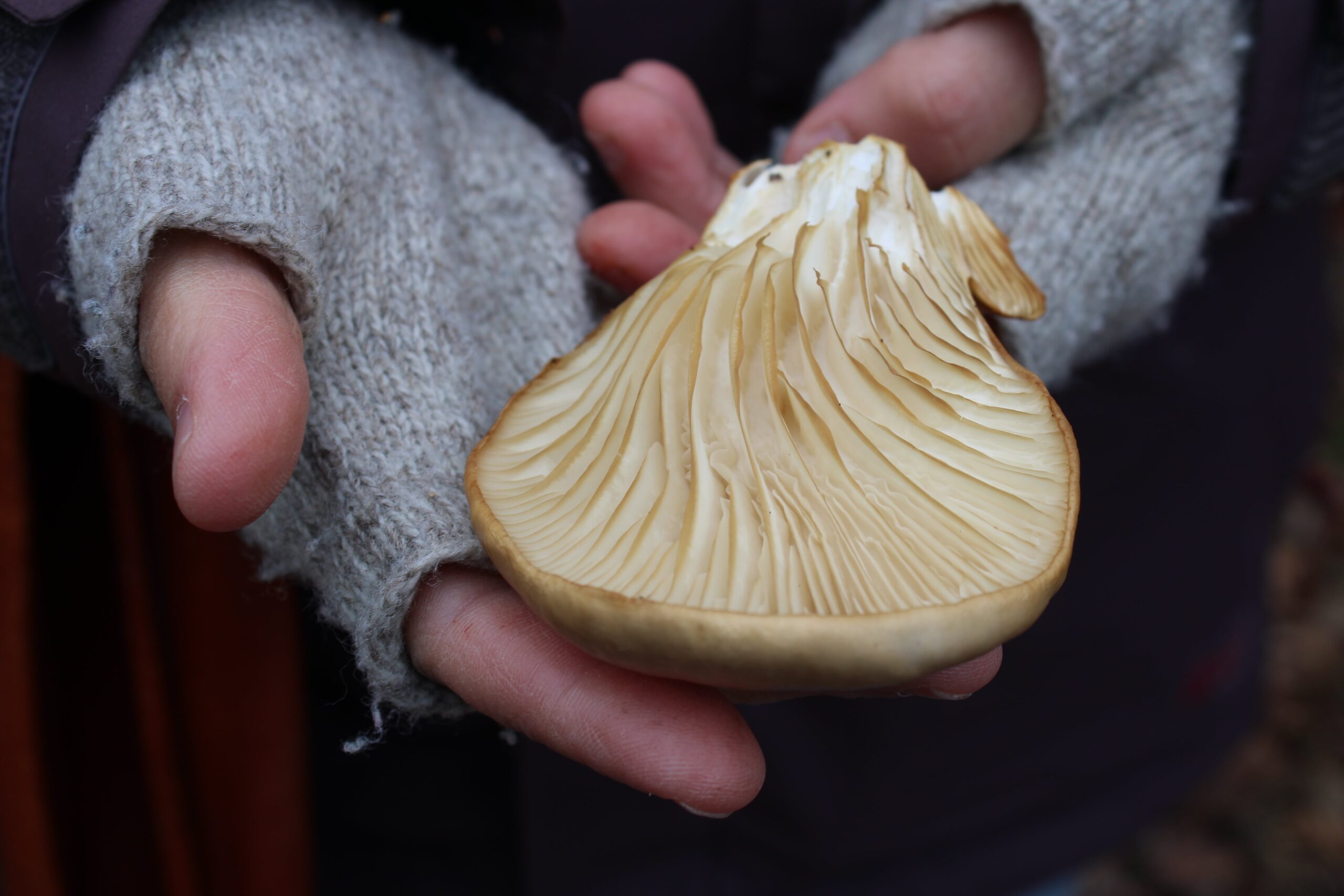 A white oyster mushroom found on Long Pond Park, Staten Island. [Credit: Meryl Phair]
When they enter the woods at Long Pond Park on Staten Island, The New York Mycological Society spreads out. In groups and pairs, participants of the Society's weekly walk turn over logs and investigate tree roots as if on the most thrilling treasure hunt of their lives. Within minutes, the teams return to the path, carrying branches of various sizes which they inspect with magnifying glasses that the Society's President Sigrid Jakob buys in bulk. I joined the Society for a walk this winter, intrigued by the weekly excursions and curious to learn more about local fungi. One branch we gather around is covered in the wavy ridges of crowded parchment (the mushroom is formally called Stereum complicatum, if you want to get technical). "This isn't what you typically think about when you think about mushrooms," says Jakob as we look closely at the ripples of coral-like ridges covering the decaying wood. "This walk will challenge your definition of fungi."
The Society promotes public awareness and appreciation for New York fungi. They meet almost every weekend at 22 different parks and green spaces around New York City. The walks are typically three hours, but participants can leave whenever they please. Walkers are encouraged to take their time because as Jakob says, "There's always something to look at. Everything has something growing on it." Led by local experts, the "mushroom club for anyone" is open to everyone who becomes a member — from professional mycologists to those who have never seen a wild mushroom. Even in the winter, their walks frequently amass upwards of 50 people. Walks in more remote areas like those on Staten Island still gather relatively large crowds, ranging from 20 to 30. 
Founded in 1962 by music composer John Cage, the Society was inspired by a popular class he taught at The New School on mushroom identification. The club's purpose, in the words of Cage, was to spend "pleasant hours and days in the woods and fields away from concrete and metropolitan air" — and this mission still rings true today. The Society hosts numerous community events, including a lecture series and workshops. Last October, the Society held NYC's first-ever "Fungus Festival" on Randall's Island Park. Their website also serves as an extensive resource on local fungi, with a glossary explaining terms like fusiform (spindle-shaped) and an FAQ page on mushroom cultivation where people can ask questions like, "I have fungus gnats, what do I do?" (In case you were wondering, "unfortunately, there is not much you can do," according to the site).
On the wooded trails of Long Pond Park, the milder temperatures and recent rainfall have made the forest a perfect location for sightings of jellies and polypores, commonly found fungi during this time of the year. After each walk, the Society records the fungi they encounter on their ever-growing Walk Lists. The organization also maintains a running list of all NYC's fungi spotted across the five boroughs, which now totals more than 1,400 species.
The more experienced mushroom walkers pause every now and then to impart an interesting factoid about witches' butter (Tremella mesenterica) or the gilled polypore (Trametes betulina) while answering questions about how fungi form their distinctive shapes. Local mycologist Tom Bigelow explains this as we gather around a fallen log to look at the rippling outer umbrella and sponge-like underbellies of a cluster of turkey tails (Trametes versicolor). "If you look closely at the undersides, these little holes are all pores," he explains. The pores produce spores when the mushroom is mature which is how they reproduce. 
Unlike plants that convert sunlight into energy through photosynthesis, fungi obtain nutrients from their surrounding environment. The mushroom typically grows above ground like a flower, while the roots of the fungi known as mycelium form a dense network of threads below ground like a cobweb. Through mycelium, some fungi – called mycorrhizal fungi – can facilitate an exchange of nutrients and water with plants, playing a vital role in sustaining forest ecosystems. Some scientists argue that this natural network, known as the "wood wide web," allows trees to communicate with each other through chemical signaling. As I walk through the woods, I think about the neuron-like maze hard at work beneath each footstep. 
"We've stumbled upon a crime scene," says Bigelow, immediately drawing me out of my fungi thoughts. I freeze, looking tensely around for a body and yellow tape. Seeing none, Bigelow motions upwards to the branchless chopstick of a tree with lines of bright orange dots making their way up the truck. "The murder suspect is an orange hobnail canker," (Amphilogia gyrosa) he says. Some fungi act as plant pathogens, infecting trees and cutting off their nutrient supply until branches or even the entire trunk die.
Fungi are decomposers. They feed on dead organisms and convert natural materials back into the earth. While often associated with creepy crawling things we would like to stay away from, fungi play an essential role in the life cycle of the forest. Certain mycorrhizal fungi can sequester planet-heating greenhouse gases like carbon dioxide and break them down under the soil, which can help mitigate climate change. 
Throughout the walk, the gray woods light up in teal, orange and yellow as we find more mushrooms to inspect. Nearing the pond, one group member peels off, appearing from a tangle of branches a few minutes later with a creamy white oyster mushroom (Pleurotus ostreatus). Oyster mushrooms are delicacies, often used in stir-fries and pasta dishes. This one, she proudly announces, will be going in lamb stew tonight.
About the Author
Discussion