Health
Smoke your way to better health?
As the FDA takes its first regulatory steps, state and local governments opt for a cautionary approach toward a controversial product that looks (too much?) like the real thing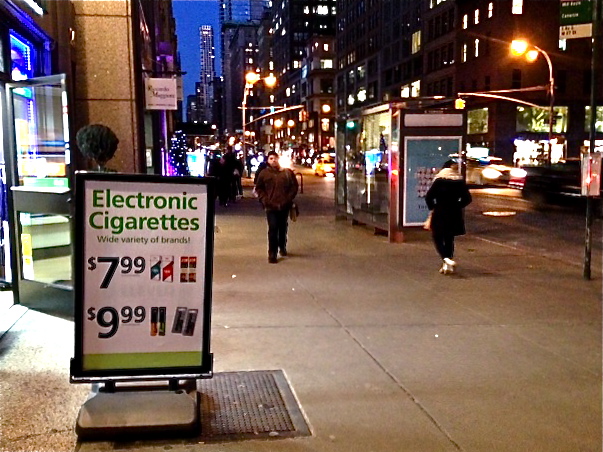 A convenience store advertises electronic cigarettes in New York City, where it is now illegal to smoke an e-cig in many public places. [Amy Nordrum]
Last December, New York City Council's Health Committee met for four and a half hours to decide whether e-cigarettes belonged in the city's Smoke Free Air Act. If they voted yes, smoking e-cigarettes in public places would be outlawed under one of the city's most progressive public health laws. The testimony in Council Chambers that day opened with arguments from Maria Del Carmen Arroyo, then-chair of the Health Committee and Dr. Thomas Farley, then-commissioner of the New York City Department of Health and Mental Hygiene. Both Arroyo and Farley pled for a cautionary approach, arguing e-cigarettes can't be considered safe and worrying aloud about their allure to curious teens. In the next breath, Farley called for additional research on the long-term health effects of e-cigarette use and a close look at "exactly what chemicals come out of these" when a vaper (or e-cigarette user) puts it to her lips.
Meanwhile in the audience, e-cigarette supporter Russ Wishtart puffed away on a slim nicotine-filled vessel, legal for now. He used a technique called "stealth vaping," or holding the vapor within his lungs for a few seconds before exhaling, that he says masks the sight and smell of his e-cig's emissions as a courtesy to others. Nearby was Mike Seilback, regional vice president of Public Policy & Communications for the American Lung Association. And next to Seilback was a pregnant colleague, who Seilback said soon excused herself for fear that the "clouds and clouds of e-cigarette emissions" might harm her unborn baby.
To opponents, e-cigarettes represent a step back for a country where the battle against smoking has largely been won. Now that all the major cigarette companies are in the e-cigarette business behind brands like Blu, VUSE and MarkTen, anti-smoking advocates might be forgiven for having flashbacks to the days of Joe Camel when 42 percent of adults smoked cigarettes. Today about 42 million Americans, or 18 percent, are smokers and that rate is steadily dropping.
The critical question that remains is: are e-cigarettes aiding in this crusade, or undermining it?
A policy drama surrounding this question has been playing out in the theaters of City Councils all across the country, with growing pressure for the Food and Drug Administration (FDA) to take up its rightful regulatory role in the debate. After that hearing, the New York City Council voted to ban e-cigarettes as part of the Smoke Free Air Act. Today, smoking e-cigarettes is prohibited in every place that smoking tobacco cigarettes was banned, including restaurants, bars, sidewalks and city parks.
"When New York City does something for public health, it often gets replicated," Seilback of the American Lung Association said. "I think we're going to see this really become a movement."
Indeed, that sentiment has already swept across 172 state and local governments, all of which have chosen to categorize e-cigarettes as no different from normal cigarettes in the eyes of the law. In every case, e-cigarette users have gone up against anti-smoking advocates and public health officials who prefer to keep a safe distance from any device that even remotely resembles a cigarette.
But an e-cigarette is a cigarette only in the sense that it transfers nicotine to the user, which is also true of nicotine gum or patches. There is no flame in an e-cigarette, so the toxins formed from the burn of a normal cigarette aren't inhaled into the lungs or exhaled into the surrounding air. Instead an e-cigarette user puffs on a battery-powered heater that transforms nicotine into a vapor, which is inhaled like the steam over a pot of pasta.
To a smoker who is willing to switch, e-cigarettes already hold the promise of better health. No matter what comes of long-term research and regulation, e-cigarettes are almost certainly much, much safer than tobacco cigarettes. In fact, one study found that e-cigarettes could be nine to 450 times safer for smokers than tobacco cigarettes (that wide range is due to irregularity in ingredients). "When we're talking about absolute risk — are they safe? I would say, probably not," said Maciej Goniewicz, author of that study and oncologist at Roswell Park Cancer Institute. "But if I'm asked, are they safer than tobacco cigarettes — I would say yes."
But to a nonsmoker or an unborn baby, e-cigarettes emissions are an ambiguous threat, generally considered to be safer than traditional secondhand smoke but perhaps not safe enough. Goniewicz and others have warned that smoking an e-cigarette still exposes users to traces of lead, formaldehyde and volatile organic compounds. Contact with a cocktail of VOCs can cause eye, nose, and throat irritation, nausea, damage to the liver and kidneys and cancer. When exhaled, another study found that the emissions mix low levels of formaldehyde, acetone and other compounds into the air. Formaldehyde is thought to be a carcinogen, and can give a person a bad cough and watery eyes. Acetone irritates the eyes, nose and throat.
"Aerosol" is the term for these emissions that is preferred by anti-smoking advocates like Cynthia Hallett, executive director of Americans for Nonsmokers' Rights, who thinks "vapor" is too tame a term. Goniewicz partly agrees. "A lot of companies claim that this is water vapor. That's absolutely a false claim."
The traces of these toxins are so low, though, that another study out of Drexel University measured them against common workplace concentration limits and found that the volatile organic compounds and carcinogens given off by e-cigarettes were far below any level that would qualify as a safety hazard. But that study was funded by Consumer Advocates for Smoke-Free Alternatives Association (CASAA), an independent e-cigarette advocacy group. Goniewicz said that the study doesn't prove innocence on the part of e-cigarettes, stating "it's hard to rely only on this study.
Most everyone agrees with Farley, NYC's Health Commissioner, on one point — scientists need to do long-term studies on whether trace amounts of carcinogens and other toxic chemicals in e-cigarette vapor are harmful to users. Most will also agree that the FDA could help by regulating e-cigarette manufacturers and enforcing quality control standards, as e-cigarettes vary dramatically in ingredients and nicotine content. That irregularity is enough for some opponents to condemn their use. The FDA has finally taken steps in this direction, announcing their intent to require manufacturers to add health warning labels to packaging and disclose all ingredients with stricter regulations likely to follow.
Habits — or how people partake of e-cigarettes — are just as important as health studies for determining whether they are a net gain or loss for public health. For example, a smoker who buys e-cigarettes so that he or she may "smoke" indoors at bars or restaurants where tobacco cigarettes are banned is actually adding to their bad habit, rather than subtracting from it.
Opponents of e-cigarettes recently gained ground on another sticking point following a report by Centers for Disease Control and Prevention that e-cigarette use more than doubled among teenagers from 2011-2012, and a study from the Journal of Adolescent Research finding that e-cigarette use in teens corresponds with smoking as many or more tobacco cigarettes than before they started vaping. Many fret about whether these new products, which come in flavors like bubblegum, cotton candy and sugar cookie, will attract teenagers who normally wouldn't touch a tobacco cigarette. Or — even worse — that e-cigarette companies will find it lucrative to market directly to teens.
E-cigarette advocates say that's not a fair case to make in a society that tolerates cake-flavored vodkas and banana-flavored condoms. Adults obviously enjoy sweet flavors, too — like the candy apple, buttered popcorn, marshmallow and cherry cola cartridges available on the e-cigarette market. "In fact, a lot of adults find that going with a non-tobacco, non-menthol flavor helps distance them from their former smoking habit," said Julie Woessner, legislative director of CASAA and a mother of two.
Vapers like Woessner — many of whom are ex-smokers — insist that public health officials are hampering public health by ruling out what they consider to be a highly effective smoking cessation product.
"We believe this is a misguided ideological war," said Woessner. "It's basically an effort to scale back anything that even remotely looks like smoking. And we think it's unfortunate, because it's costing lives." Woessner tried every available therapy to quit smoking before turning to e-cigarettes five years ago. She hasn't smoked a normal cigarette since.
To her point, a study published in The Lancet last fall showed that e-cigarettes were at least as effective as nicotine patches in helping smokers quit after six months and another study from England showed them to be more effective than either gum or patches, though a third paper published this March in JAMA Internal Medicine found no difference in efficacy after a year. Even if future studies reinforce the first findings, the American Lung Association isn't ready to grant its blessing until e-cigarettes are regulated and officially approved by the FDA as tobacco cessation products, in the same class as nicotine gum or patches.
"It's not just a matter of science, it's a matter of oversight," said Erika Sward, assistant vice president of national advocacy at the American Lung Association. "There are over 250 brands [of e-cigarettes] on the market today and I guarantee there's not been research on all 250. There's nothing to stop a manufacturer from adding additional components, increasing nicotine at any time. So what we really need is a regulatory framework to make sure people are protected."
That's on the way, as the FDA is accepting comments on the first set of federal regulations on the e-cigarette industry that will include the labeling requirements as well as measures to cut back sales to minors and stop companies from handing out free samples. These regulations will help clear the air, Sward said, at least when it comes to quality control.
Though both sides believe public sentiment rests with them, the political tide seems to have turned toward a precautionary public health approach — at least for now. In the same week that New York City brought forth its ban, Chicago and Los Angeles initiated similar bans that have since passed and San Francisco has followed closely in step. In February, Maryland's state legislature introduced a bill prohibiting e-cigarettes in all places that cigarettes are banned across the state.
Gregory Conley, a former legislative director for CASAA who spent years advocating for e-cigarette smokers' rights, is resigned to the fact that all his efforts merely stymied, but couldn't stop, the movement underway. "It's slow but steady as far as moving toward these bans," he said.
Wishtart, the devout e-cigarette user, organized a protest in which he and fellow vapers smoked e-cigarettes in Central Park last month and plans to repeat the action at future NYC Health Committee meetings. E-cigarettes empowered him to stop smoking, he says, and he still believes they could do the same for many others.
"The way I learned about [e-cigarettes] — I was at a bar, somebody was using it one day," Wishtart said. "If I wasn't sitting there in that bar and I wasn't able to have that discussion — it would have been a few more years or maybe forever that I'd still be smoking."
Meanwhile, scientists are doing what they can to contribute meaningfully to the debate, but they can't always work as fast as public policy moves.
"It's changing so rapidly right now," Goniewicz said. "Sometimes, as a scientist, we feel the pressure to provide the answers. We are really doing what we can. Research takes time. We need good studies — we need the huge populations. You know, it's not so easy."
About the Author
Discussion