Health
Killing infectious bacteria: Is copper the way to go?
Researchers are still looking for ways to eliminate deadly infections and copper hospital beds may help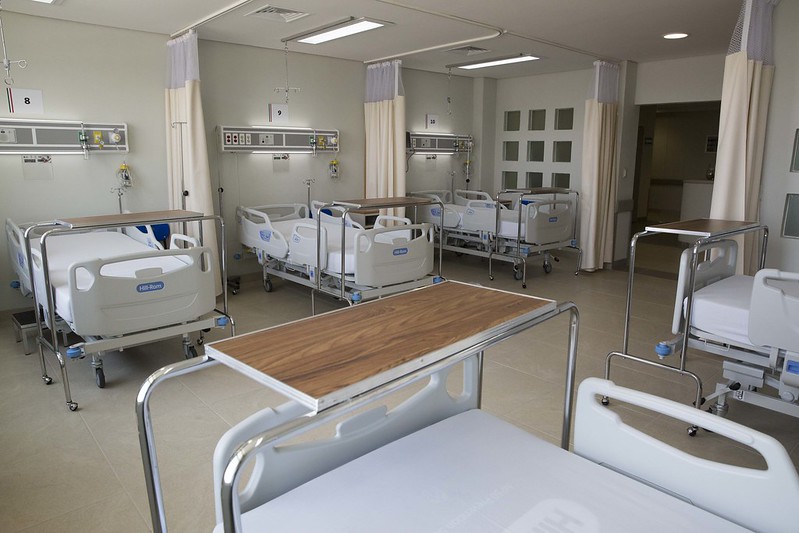 Hill-Rom plastic hospital beds in the Regional Hospital Apatzingan in Michoacán, Mexico. Hospital beds are the most polluted surfaces in patient care settings, according to the American Society for Microbiology. [Presidencia de la República Mexicana | CC BY 2.0] 
This fall, three babies died in a hospital in Pennsylvania from infections caused by a bacteria called pseudomonas, a common bacteria that is a minor threat to healthy people but can kill individuals with a weak immune system. The infections were linked to equipment used to administer donated breast milk to infants. The deaths speak to the dangers of infected hospital equipment, but also to a larger, stubborn trend — infections that routinely occur in patients admitted to U.S. medical centers. 
Healthcare administrators typically look to reduce hospital-acquired infections through strategies that focus on improvements in handwashing and hospital cleaning regimens among health care workers. But microbiologists have recently looked into an innovation that may eliminate the factor of human error — copper hospital beds.
The most polluted surfaces in patient care settings are hospital beds, according to the American Society for Microbiology. The eighth leading cause of death in the U.S. is hospital-acquired infection.
In November, a new study demonstrated that hospital beds with copper-covered rails, footboards, and elevation bed-control panels effectively kill nearly all the bacteria on beds' copper surfaces. Led by Michael Schmidt, a microbiologist at Medical University of South Carolina in Charleston, the researchers found that copper hospital bed surfaces reduced bacteria by 94%, along with the use of standard cleaning products, while a patient was in the bed. 
Copper ions form a hole in the cell membranes of the microbes, allowing the "guts to leak out," says Schmidt. The ions then slip inside the microbe and dismantle its DNA, ultimately killing it. The copper appears to kill viruses such as norovirus as well as C. difficile and other harmful bacteria, says Schmidt. 
Out of the 215 copper beds that were sampled for bacteria, 94% of them had less than 250 bacterial colonies — the disinfection risk threshold. Instead, 53% of the 350 plastic conventional plastic beds investigated were above the risk threshold. Patients are at a higher risk for acquiring a healthcare associated infection when the concentration of bacteria exceed 2.5 bacteria per 1 centimeter squared, says Schmidt. This amount of area is about one-third as big as a penny. The results were recently accepted for publication in the journal Applied and Environmental Microbiology, Schmidt says.
Some 1.7 million infections occur in U.S. hospitals annually, causing 99,000 associated deaths each year, according to the Alliance for Aging Research. One major life-threatening bacterium, C. difficile, causes deadly diarrheal symptoms and accounted for 12,800 U.S. deaths in 2017. But in November, the U.S. Centers for Disease Control (CDC) reported a 12% decrease nationally in C. difficile infections in acute care hospitals between 2017 and 2018. Significant progress has been made to prevent hospital-acquired infections in the past decade, but U.S. hospitals still struggle to control the spread of these infections. 
"As the care gets more complex, the risk of infections developing, and the risk of organisms being transmitted from person to person, those risks also go up," says Arjun Srinivasan, associate director for Healthcare Associated Infection Prevention Programs at the CDC. "And so, we're always in a situation where we have to make sure that technologies advance." 
Bed surfaces, typically made of plastic, are key transmitters of infectious microbes in health care facilities, says Schmidt. In his previous copper bed study, published in 2013 in the journal Infection Control and Hospital Epidemiology, Schmidt found that hospital bed surfaces were a critical burden that increased a patient's likelihood for infection. Patients and medical staff touch these beds repeatedly around the clock, and hospital patients spend most of their stays in beds.
"The bacteria are falling off of the patient and are coming in contact with the sheets and can come into contact with the plastic surfaces very easily," says Schmidt.
Copper hospital beds may be promising for eliminating these infections, but further research is needed to demonstrate that copper beds not only reduce bacterial counts but also reduce patient infection rates in hospitals, says Cassandra M. Pierre, an infectious disease specialist at Boston Medical Center, and Carlos Figueroa Castro, an infectious disease specialist at the Medical College of Wisconsin. Both doctors were not involved in the study.
Schmidt says the new results suggest that copper beds could be effective at reducing hospital-acquired infections well beyond intensive care units (ICU). Figueroa Castro acknowledges the benefits of copper beds and the potential for them to reduce hospital-acquired infections but also thinks copper shouldn't be the first thing a hospital should turn to for reducing infections. Instead, hospitals should improve hand hygiene and monitor the environmental cleaning staff that disinfect the hospital room, says Figueroa Castro. 
Pierre agrees that it is critical for healthcare facilities to stay on top of handwashing because hands are the main transmission route for most hospital-acquired infections, other than those acquired through the inhalation of air. 
"I cannot stress enough the importance of hand hygiene and hand washing as a mechanism to prevent hospital-acquired infection," says Pierre. "I really don't think there's anything that measures up to that. It is one of the bedrocks." 
Plastic v. copper
In the new study, Schmidt's team tested the copper beds at Highpoint Health Hospital in Lawrenceburg, Ind., between 2017 and 2019. Using U.S. Environmental Protection Agency registered antimicrobial copper materials, the beds were manufactured by hospital bed supplier Bed Techs, Inc., based in Greendale, Ind. 
The copper beds were used in eight patient rooms in the ICU of Highpoint Health Hospital. For about two years, bacteria samples were collected and measured daily from copper and control beds with plastic surfaces in the same unit, each while occupied by ICU patients. The results showed that plastic hospital beds accumulated more bacteria than copper ones for patients that stayed in the ICU for more than five days.
Peter Sharpe, principal at Irwin P. Sharpe & Associates in Westfield, N.J. and a consultant to Bed Techs., says the staff of Highpoint Health Hospital did a good job cleaning plastic beds daily, but touch surfaces still carried a concerning level of bacteria, as the researchers found. Multiple approaches could be key to reduce hospital-borne infections, says Sharpe. "I think the beauty behind this antimicrobial copper is that it's always there working between cleanings," he says.
In Schmidt's 2013 experiment, the incidence of hospital-acquired infections in the ICUs of 3 medical centers dropped by 58% when common surfaces in hospitals were covered with copper rather than with plastic. These surfaces included bed rails, bed tables, and arms on visitors' chairs. The study sites included the Medical University of South Carolina, the Memorial Sloan-Kettering Cancer Center, and the Ralph H. Johnson Veterans Affairs Medical Center. 
"We literally cut the legs out of the [hospital-acquired infections] statistic," says Schmidt. 
That study prompted the new one which extended the use of copper to beds.
Costly infections
Bed Techs found it could make each copper-encapsulated bed for about $2,000, says Schmidt. It's costly but less expensive than treating a patient for a hospital-acquired infection. A copper-encapsulated bed lasts five to ten years, says Schmidt. For comparison, an average of five patients staying in conventional hospital beds acquire infections annually. Each of those cases costs over $75,000 on average to treat, says Schmidt. This cost is solely based on the patient's length of stay, says Schmidt, and does not factor in antibiotic costs which can add thousands of dollars per day. 
The copper-encapsulated beds are durable and require little maintenance, says Schmidt. They still need to be cleaned about once a day to remove visible soil and blood, as do conventional plastic hospital beds, says Sharpe. But unlike plastic surfaces, the copper surface continues to kill lingering bacteria and viruses 24 hours a day. 
By reducing the bacterial burden on surfaces like hospital beds, this will likely reduce infections in patients which will result in lower healthcare costs, says Schmidt. The next task is to compare the costs and benefits of copper hospital beds with optimization of already practiced strategies, like hand hygiene and room cleaning regimens, says Pierre.
A possible step toward fighting off infection
Schmidt thinks copper beds can play a significant role in reducing bacteria ranging from C. difficile to methicillin-resistant Staphylococcus aureus (MRSA) and more in hospitals in the future. He plans to investigate whether copper beds will reduce infections in patients, not just reduce the bacterial count on hospital surfaces.
Copper hospital beds could be a "certainly compelling" component of hospitals' anti-bacterial package if larger studies bear out their effectiveness, says Pierre. If hospitals do acquire copper beds, the first ones should go to critically ill patients, such as those in ICUs, she says. 
Although copper hospital beds are still not entirely validated by research, Srinivasan says it's encouraging that studies like this are experimenting with different materials to reduce hospital-acquired infections. 
"It's exciting to see people pushing the envelope and looking for novel strategies and approaches to reducing the burden of healthcare-associated infections and antibiotic resistance," says Srinivasan. "We need innovation in this space. We can't simply say 'Oh, let's do more of the things that we currently have.'"
---
Feb. 5, 2020: In the original version of this article, the 12,800 deaths per year from C. difficile were misstated to refer to hospital deaths when it correctly refers to total U.S. deaths from 2017. Also, the CDC reported a 12% decrease in C. difficile infections in acute care hospitals, not all hospitals. These facts have been corrected. 
About the Author
Discussion