Social Science
Resilience and rebirth on display at the Ukrainian Museum
Manhattan's East Village is home to a neighborhood known as "Little Ukraine." We sought to learn more about Ukrainian culture by visiting the neighborhood's central museum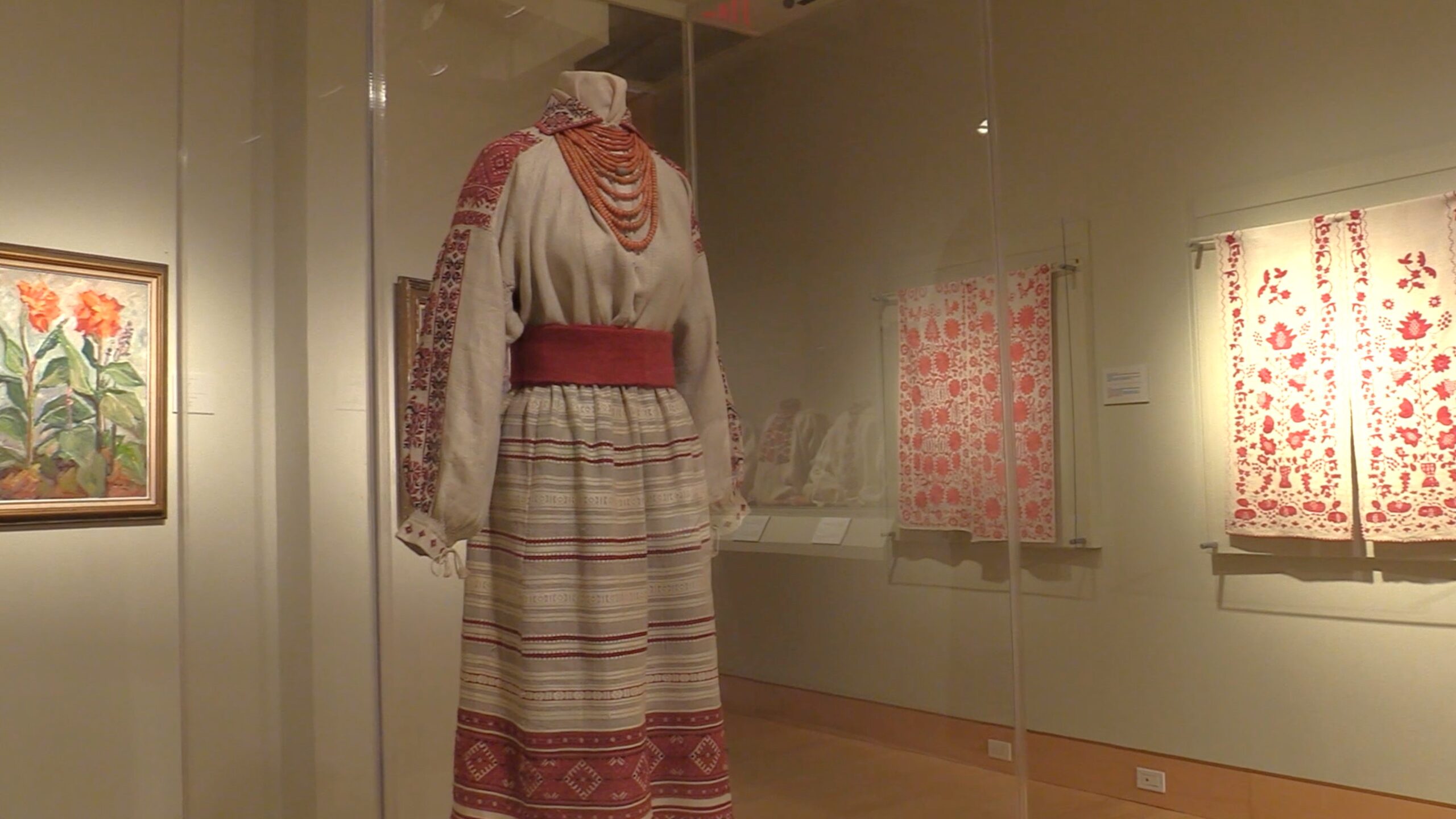 The Ukrainian Museum showcases a mix of folk art and fine art. The museum has been in the East Village since 1976, and at its current location since 2005. [Credit: Daniel Leonard]
Since February, the Eastern European nation of Ukraine has been in the global spotlight due to Russia's ongoing invasion of the country. Most media attention has focused on the bloodshed and destruction within the country's borders, as well as reactions to the crisis around the globe. But we wanted to take a step back and learn more about Ukraine itself, especially Ukrainian culture.
Manhattan's East Village neighborhood is home to thousands of Ukrainian immigrants and their descendants; a region of the neighborhood has been dubbed "Little Ukraine" as a result. At the center of Little Ukraine is the decades-old Ukrainian Museum, which showcases a variety of artworks made by Ukrainians at home and abroad. Exhibit pieces include traditional dresses, expressionist paintings and "pysanky," Ukrainian colored eggs.
Join Scienceline's Daniel Leonard as he learns about art and folklore at the Ukrainian Museum — and see how many trees of life you can spot.
Daniel Leonard: In the heart of Manhattan's East Village is a neighborhood known as Little Ukraine, home to many Ukrainian-Americans. And, in the middle of Little Ukraine, on East 6th Street between 2nd and 3rd Ave, is the Ukrainian Museum. It's much bigger on the inside than it looks from the sidewalk, and it has a history going back almost 100 years.

Kalyma Cholhan Boychuk: In 1933, at the Chicago World's Fair, the Ukrainian National Women's League of America organized a pavilion of Ukrainian folk art. That was the year when there was Joseph Stalin's man-made famine in Ukraine, known as the Holodomor. And so this was a very timely project to raise awareness about Ukraine and what was going on.

(Ukrainian folk music fades in)

Daniel Leonard: That art collection was preserved, and in 1976 it was converted into a permanent museum, which moved to its current location in 2005.

Kalyma Cholhan Boychuk: Right now we are looking at our largest exhibition in the museum. The title is Nature in Art. Ukraine is known as the breadbasket of Europe. It's extremely fertile. So, the population — the ancient, especially the ancient civilizations — were overwhelmingly an agrarian society. And so the springtime, and the images that the spring has, and nature has, has extreme significance for them.

Daniel Leonard: One folk art representing springtime and rebirth is the pysanka. It's tempting to call it the Ukrainian Easter egg, but pysanky actually predate the arrival of Christianity in Ukraine. Another common symbol of nature is the tree of life.

(Music fades out)

Kalyma Cholhan Boychuk: Here is a rendition of this tree of life. This is a symbol of the continuation of life and the regeneration of life. There's usually a trunk in the middle of some kind — although there are variations. There are usually offshoots — sometimes just two, but sometimes there are several. And oftentimes it's flanked on either side by a bird, by birds, two birds, or, on the bottom, by two stags. By two deer.

(Ukrainian folk music fades back in)

Daniel Leonard: Be it folk art or fine art, this symbol was everywhere.

Kalyma Cholhan Boychuk: There's this tree of life. So you have that trunk with the offshoots. In the plate, this is the tree of life herself. She's the trunk with the two flowers. This is a tree of life here. Again, there's a tree of life there. These here… this is actually a tree of life. I just noticed that. I always notice something different.

Daniel Leonard: Besides renewal and rebirth, a lot of Ukrainian art also represents resilience in the face of hardship.

(Music fades out)

Kalyma Cholhan Boychuk: So this is a piece by Mikhail Turovsky. He was born into a Jewish family in Ukraine. And during World War II, they fled the Nazis. And then after the war came back.

Daniel Leonard: Turovsky joined a group of Ukrainian artists who became increasingly outspoken and experimental with their art — like with this abstract painting of sunflowers. This led to an artistic clampdown by Soviet leadership.

Kalyma Cholhan Boychuk: This was dangerous because it made too many people think about their freedoms that were being infringed upon in the Soviet Union. So he — so that's when he emigrated. That's when he emigrated to the United States.

(Ukrainian folk music fades back in)

Daniel Leonard: Many residents of the East Village are also Ukrainian immigrants or their descendants. And the Ukrainian Museum is just one staple of Ukrainian culture in the neighborhood. Kalyma also points to St. George's Ukrainian Catholic Church, the Ukrainian school, and a variety of other Ukrainian youth organizations. She says these are critical to preserving Ukrainian culture.

Kalyma Cholhan Boychuk: Because of our history of being dominated by other neighboring countries that want to suppress the culture, you feel obligated, the parents feel obligated to teach their kids… You know, in order to preserve it, so that it doesn't get lost.

(Music fades out)
Music:
Moonlight Night – Ukrainian Folksong by JuliusH | Pixabay license

Images:
Photograph #1 of Mikhail Turovksy by Pavel Terekhov | Source | Fair use
Photograph #2 of Mikhail Turovksy by Art Alliance – Elegant New York | Source | Fair use
About the Author
Discussion