Environment
Tracking hurricane-induced aging in our genetic primate relatives
Immune systems of rhesus macaques aged two years after Hurricane Maria, suggesting humans could also age more quickly after natural disasters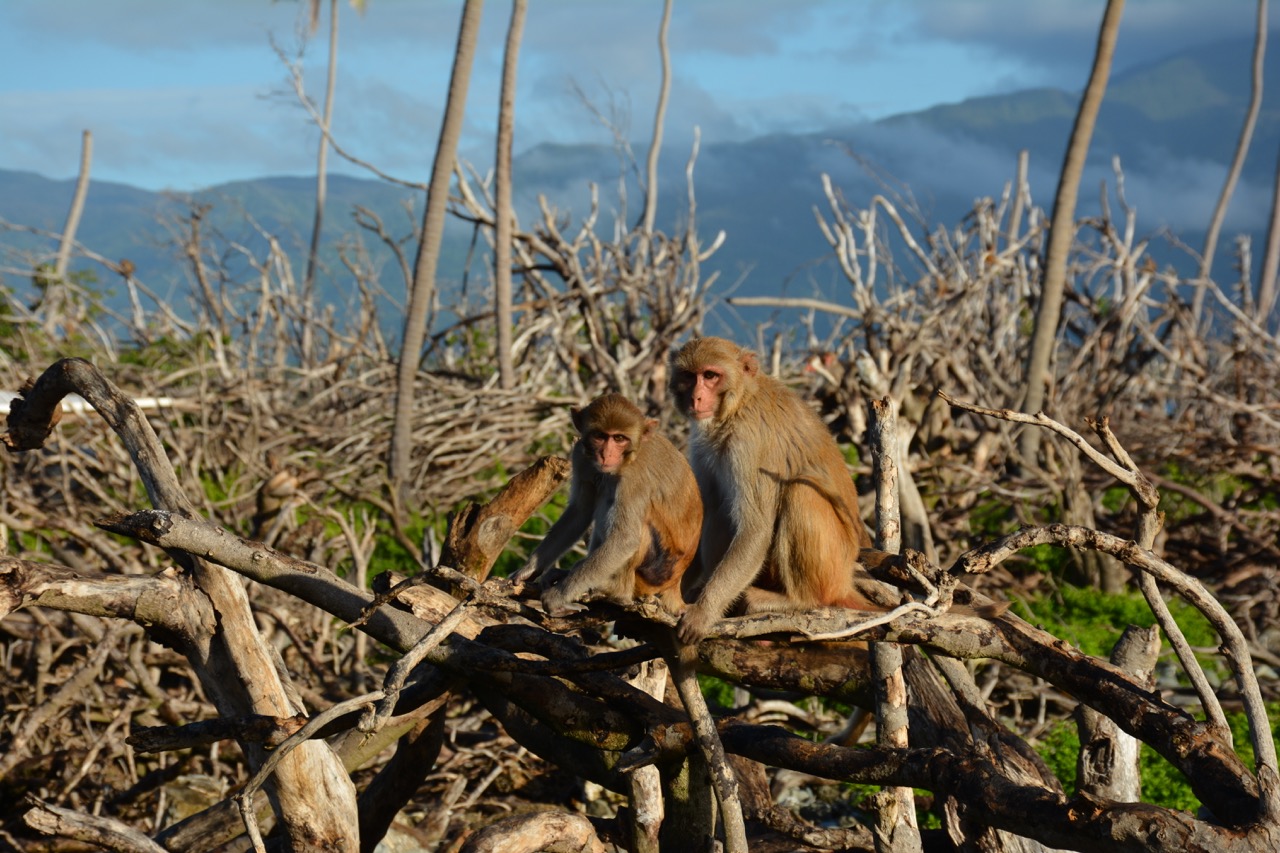 Rhesus macaques resting in the remnants of a forest that was destroyed when Hurricane Maria directly hit Cayo Santiago island and Puerto Rico in September, 2017. [Credit: Noah Snyder-Mackler, University of Washington]
Growing up in Houston, Marina Watowich was no stranger to hurricane seasons. This familiarity now drives Watowich's research in genomics, where she seeks to understand how the environment affects the aging process. She isn't studying aging in humans — but in a unique population of monkeys in Puerto Rico.
These monkeys live on an isolated island off Puerto Rico and give researchers unique access and insights into monkey genetics. In 2017, Hurricane Maria walloped Puerto Rico and tore down trees on the island where the monkeys live. After the storm, Watowich and colleagues discovered the primate survivors aged rapidly, findings that have implications for human aging after natural disasters. 
Scienceline reporter Hannah Loss speaks with Watowich on her journey to uncover the aftermath of hurricanes on aging.
(stormy wind sounds fade in)
Newscaster1: We're having major flooding in the greater Houston area…
Newscaster2: Some cars underwater, people stranded on the roads… 
Newscaster3: The eye of Hurricane Ike is moving towards major population areas along the Gulf Coast…
Newscaster4: You can see the horizontal sheets of rain continue to pound…
(Newscaster voices fade under the stormy wind sounds)
Hannah Loss: Growing up in Houston, Marina Watowich was no stranger to hurricane season. Names like tropical storm Allison, hurricanes Ike, Rita and Katrina all bring frightening memories of flooding and high winds. In August 2017, Watowich was about to start a PhD in genomics at the peak of hurricane season. 
Marina Watowich: Maybe the week that I started Hurricane Harvey hit my hometown of Houston just directly on and dumped over 50 inches of rain. And it destroyed several friends' homes, and actually my wife's family's home was destroyed. 
(stormy wind sounds crescendo then fade out)
Hannah Loss: In her first year of graduate school at the University of Washington, Watowich met professor Noah Snyder-Mackler who studies how environmental experiences impact the health and well-being of rhesus macaque monkeys in Puerto Rico. The same year Harvey hit Houston, Hurricane Maria had also devastated Puerto Rico. Puerto Ricans lost power and drinking water supplies for months, and eventually almost 3,000 people died. Still processing Hurricane Harvey, Watowich saw it as a sign.  
Marina Watowich: That was kind of a no-brainer for me to start in on this project. And so I was like, this is the perfect opportunity to turn my interest in genomics to something that I'm really personally invested in and have just experienced. 
(calm ocean waves sound fade in)
Hannah Loss: A year after Hurricane Maria, Watowich traveled to Cayo Santiago, an island just over half a mile off of San Juan, Puerto Rico. It's made of two islands connected by a thin stretch of land, 37 acres in all. Snyder-Mackler describes the L-shaped landscape: 
Snyder-Mackler: It's called an isthmus. [We] call that Big Cayo and Small Cayo, 'Big Cay', 'Small Cay'.
Hannah Loss: Instead of sunburnt tourists, the island shore is covered with free-roaming rhesus macaques, monkeys with grayish-brown fur and close-set eyes. They were brought here from India in the 1930s to start a research colony. The macaques are accustomed to humans, like researchers and staff from the Caribbean Primate Research Center, which oversees island operations and delivers food daily to the macaques. Cayo Santiago was not spared from Hurricane Maria's winds — 60% of the tree cover was lost, and even today almost five years later, most vegetation is still gone. But when staff returned to the island the day after the storm, they were surprised to find most of the macaques still alive. 
(Monkey calls fade in)
Marina Watowich: Of course we all wish that we could have put cameras on the island because no one knows exactly where they went or how they cope with the storm.
Hannah Loss: The Cayo Santiago research center has over 75 years of macaque data, providing a unique look into macaque families over time. On top of that, island collaborators had blood samples from just a few years before the hurricane that Watowich could compare to samples collected after the storm to look for genetic changes. 
Hannah Loss: Watowich and her colleagues took a few microliters of blood from 100 macaques. The samples were frozen and sent back to a lab in Washington State, where the researchers extracted and sequenced the RNA to do their genetic comparison. What they found astonished them: The stress of living through the storm, and then coping with a transformed environment, seemed to cause the macaques to prematurely age—at least genetically—and at a stunningly rapid rate. The team published its results in February in the Proceedings of the National Academy of Sciences. 
Marina Watowich: And so, what we found is that in animals after the hurricane, the genes that were being expressed were very similar in many ways to genes that are expressed in older animals. But what we were surprised at was really the magnitude of those effects. We really didn't expect to see this two-year average increase in biological aging. 
(monkey calls fade out)
Hannah Loss: When scaled to humans, this roughly equates an increase of seven to eight years of a human life. Instead of chronological age, Watowich was recording biological age, which is how old an individual, whether human or monkey, appears to be at the molecular level. This is different from simply the amount of time that someone has been alive—and likely more relevant to health. 
Marina Watowich: We can think about, you know, presidents who come into office that first year, even though only one year has gone by, generally, they have way more gray hair. But it's that idea at the molecular level that we can estimate biologically what age animals are more similar to. 
Hannah Loss: Watowich has always been fascinated with species conservation and how animals might be affected by climate change. As an undergrad at Carleton College she studied pollination behavior of moths and the effects of ocean acidification on reef fish.
Marina Watowich: I think that there's so much benefit to having your hand in lots of different jars, so to speak. I'm really excited about non-human animal ecology.
Hannah Loss: The macaque blood data from before the storm was an opportunity to learn from the destruction that impacted so many people that busy hurricane year, from Cayo Santiago to Texas. 
Marina Watowich: I mean, on one hand, it was so incredibly devastating. But I'm glad that from that devastation, that the people throughout the Caribbean and especially in Puerto Rico suffered, that hopefully something beneficial can come out of that with this study and others.
Hannah Loss: Usually, studies of natural disasters are only able to look at broad impacts on people, like hospitalizations and disease risk. Zeroing in on genetic changes gives more insight into how trauma increases the risk of age-related diseases. Rhesus monkeys make good models to study these changes because they are 93% to 95% genetically similar to humans. They even show age in similar ways.
Julie Mattison: You can look at an old monkey and go, "Hmm, it looks like my grandma." (laughs)  
Hannah Loss: Julie Mattison is a staff scientist at the National Institute on Aging at the National Institutes of Health who also studies rhesus macaques. Mattison says it would have been great if Watowich's study had analyzed the exact same group of monkeys over several years before and after the hurricane, instead of just a portion of the survivors. But, she notes, the population is probably the same since Cayo Santiago is such a controlled environment.
Julie Mattison: But I think they did a really good job with what they had available. It basically bolsters what we do know about the fact that this kind of disaster situation is so detrimental in so many ways that we don't even necessarily know immediately, specifically at the immune function and inflammation and heat shock response.
Hannah Loss: The results do fit into what previous research scientists have found about what happens to humans after a natural disaster or traumatic events. 
Marina Watowich: We see that they have increased risk of age-related diseases, particularly cardiovascular diseases.
Hannah Loss: Numerous studies in humans link greater risks of cardiovascular disease and chronic inflammation to adverse events. One study of people living near the epicenter of an earthquake in Japan found a three-fold increase in heart attacks afterwards. But Watowich's study stands out because it compares genetic changes before and after the storm, data that scientists don't always have. They can't just subject humans to natural disasters whenever they feel like it.   
Julie Mattison: And I think what makes this particular study so important is the fact that we can't do this stuff to even monkeys. And so here's a situation where it happened. And it's a wonderful opportunity to be able to use the data from something that was a naturally occurring incident.
Hannah Loss: Watowich will continue to sample the macaques to see if they retain their advanced biological age, or if their immune systems are playing out a story of Benjamin Button and reverting to a younger state — at the microscopic level, at least. This could give more insight into how increasing natural disasters will impact humans during the era of climate change. It also raises questions about health inequities following a storm. People who can afford to flee a storm in advance, or live in higher income areas with better infrastructure that protects them from things like flooding may have less trauma-induced aging. However, these aging inequities may, in some cases, at least, be offset by strong social support.
(pause in narration. macaque chirps and calls)
Hannah Loss: Rhesus macaques are social primates that live in groups. So Snyder-Mackler and Watowich are looking to see whether these relationships may help macaques cope with an unpredictable environment after a hurricane.
Marina Watowich: Anecdotally, and I think a lot of people who have suffered natural disasters would agree that stronger social connections really help you recover faster. And that extends beyond just the people in our community, but thinking about federal funding, and how we can structurally help communities to recover faster. 
(macaque sounds fade out)
Hannah Loss: Watowich graduated with a PhD in genomics and is thinking about post-doc research positions. For Snyder-Mackler, he looks forward to seeing his mentees like Watowich thrive as young scientists. 
Snyder-Mackler: And to see them develop and have their own sort of eureka moments when they're doing the science and see them really come to understand the value of the scientific tools and approaches and questions that we have and that we use, I think is the best part. 
Hannah Loss: Watowich hopes to use these tools and one day apply what she's learned in rhesus macaques to humans, adding to ongoing epigenomics research. 
Marina Watowich: There's so much more to tear into at the molecular level to help us understand the entire landscape of how the peripheral immune system might be being shaped after natural disaster.
(monkey sounds fade in and out)
Hannah Loss: For Scieneline, I'm Hannah Loss.
SOUNDS USED: 
Cyclone Hurricane Hugo 1989 by solostud | CC BY 3.0
Dj0287 via The Weather Channel 
Tetana Adkins Mace via NBC News
Sloan's TV Airchive via KHOU TV 
Cayo Santiago monkey sounds courtesy of Noah Snyder-Mackler
About the Author
Discussion