Blogs
Why we're not ready for GMO labeling — yet
Until the public can see eye-to-eye with the majority of scientists, extra labeling isn't worth the stress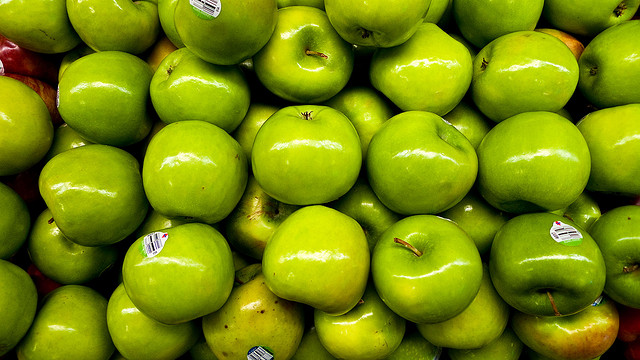 Granny Smith apples like these turn brown when damaged, but modified versions of them could appear whiter for longer. [Image credit: Flickr user Jim Roberts]
If I had to pick, I'd honestly say that my favorite food is a crisp, tart Granny Smith apple. I eat them almost every day like most people drink a morning cup of coffee. I love the sound of the crunch when my teeth break the skin and the way the juice splashes my tongue.
In February, the U.S. government agreed to let Okanagan Specialty Fruits start selling their genetically modified seeds for Granny Smith and Golden Delicious apples for commercial planting. The apples from these seeds, called Arctic apples, will have all the qualities we love about them, but will block an enzyme that normally turns apples brown when they're sliced or bruised. It's a small change, but one that is aimed to reduce the amount of food waste Americans generate. Right now, we throw away about 40 percent of perfectly good food.
We probably won't see these apples in grocery stores for a few years — they're still undergoing voluntary safety tests with the U.S. Food and Drug Administration — but already there's concern about how the apples will be labeled. According to the New York Times, Neal Carter, president of Okanagan Specialty Fruits, plans to label them as Arctic or maybe non-browning, but not genetically modified because he doesn't want to advertise the fruit in a negative light.
Carter is right to be concerned: At the moment, genetically modified organisms (GMOs) have a lot of bad press. According to a January 2015 poll by the Pew Research Foundation, only 37 percent of American adults believe GMOs are safe for consumption. That's a 51 percent difference from the 88 percent of prominent scientists who stand behind them. Interestingly, according to The Washington Post, people who disapprove of GM foods are all over the political spectrum. Other scientific issues such as climate change tend to be polarized between Democrats and Republicans, but not this one — everybody seems to distrust GMOs.
As a journalist, it's hard for me to argue that anyone should be denied information, especially about when it's about what they're putting into their bodies. Even so, until the general public and expert opinions come into closer concordance, I've reluctantly concluded that we're not ready to label all of our GMOs. I worry that at present it would cause paranoia about food safety based on a misunderstanding of the risk. Perhaps as scientists continue to study GMOs and more factual information gets out to the public, we could get to a place where GMO labeling is safely understood. But we're not there yet, and if climate change denial has taught us anything, we might never get there.
Technically, we've been eating GMOs for thousands of years, ever since farmers started selectively breeding crops to have certain traits. Now, though, modifying our crops has become more advanced: Scientists can alter genes with more precision in a lab. Since the 1990s we've been eating genetically modified crops like soy, canola and corn in more than half of our processed foods.
In the controlled conditions of a genetics lab, unlike the in-the-field experiments of plant breeders, scientists can precisely manipulate genes that code for certain traits. They can either use a plant, animal or bacterium's original set of genes, or they can take genes from a different organism and insert them where they are needed. Some crops are modified to be pest resistant or herbicide resistant, while others are altered to handle new kinds of climates. Some are fortified with extra vitamins. No matter what the outcome, the FDA mandates that GMO foods need the same safety standards as conventionally bred crops. FDA scientists with backgrounds in nutrition, toxicology, chemistry and genetic engineering work with GMO producers to answer questions about the nutritional values in the new crops, as well as any new material that may be in the food. Food cannot go to market until these scientists are satisfied they are safe.
Could there be risks with GMOs? Yes. There's always a chance that someone will have a food allergy to modified crops, or there could be some consequence that scientists haven't foreseen. The European Union's strict labeling policy on GMOs is based on this concern about unknown risks, often called the precautionary principle.
But the foods we already eat every day have possible risks. Undercooked chicken could contain salmonella, yet we Americans eat 8 billion chickens a year — about 25 chickens per person.
There are risks to all kinds of behavior. Every time you get in your car to go to work, there's a 1 in 6,700 chance you'll get into a fatal accident, and that's just the known risk. There's no way of predicting all the possible harm you could encounter in your day. Buying food that's been deemed safe by the FDA is just the same: Testing, and a large number of experts, agree that it's mostly safe, but there could always be risks.
Consumers can already buy products with organic levels if they want to be assured they are at least 95 percent GMO-free and grown without synthetic pesticides or herbicides. Organic foods are typically more expensive than their inorganic or modified counterparts, but if some people want to spend a little more for their own peace of mind, that's their choice.
Personally, I don't have the extra money to spend on all-organic food. But I don't mind, because if the large majority of scientists feel GMOs are safe, I'm willing to bet on them, too. If we begin labeling GMOs, the fear those letters already ignite in most Americans may lead to panic about technology and risk that is simply not well understood. Until most Americans are better educated about the realities of GMOs, labeling them would just cause unnecessary stress, not clarity.
About the Author
Discussion